Our 2023 Emerging Venture Markets Investment report, one of our MAGNiTT flagship publications, takes a comprehensive look at the ins and outs of venture activity across Emerging Venture Markets in 2022. In this edition, we look into the impact of the ongoing global macroeconomic uncertainties on the performance of the Venture Capital market in the MEAPT region. To learn more about this report and access the underlying data, contact our sales team. 
---
The Venture Capital (VC) market in the Middle East, Africa, Pakistan and Turkey (MEAPT) region captured mixed signals as it moved forward throughout 2022. The region collectively succeeded in surpassing the $7 billion mark for the second year in a row, despite overarching macroeconomic and geopolitical uncertainty. The year started strong with the first quarter carrying a spillover impact from 2021 to achieve a record high. However, the following quarters to Q3 saw subsequent retreats, as the market absorbed the impact of global macroeconomic challenges, mirroring the performance of global VC markets.
5 Year funding EVM markets $M and # deals
Delving into the numbers, the value of funding in emerging venture markets (EVM) aggregated $7.2 billion in 2022, 2.3% lower than its 2021 value. Deals, however, reported a faster decline of 4.4% and stood at 1,473 in 2022. This contributed to pushing the mean value of deals in EVM north from $5.6 million in 2021 to $5.9 million in 2022. The breakdown of EVM deal sizes that developed in 2021 as the market overcame the impact of the pandemic continued into 2022, with round sizes of $1M+ sharing around 25% of the proportion previously captured by the 0-$1 million range. However, the tighter liquidity imposed by rising interest rates has made funding harder to secure for larger investments, leaving the $1M-$5M round size as the most attractive.
Median deal size evolution for EVM, MENA, Africa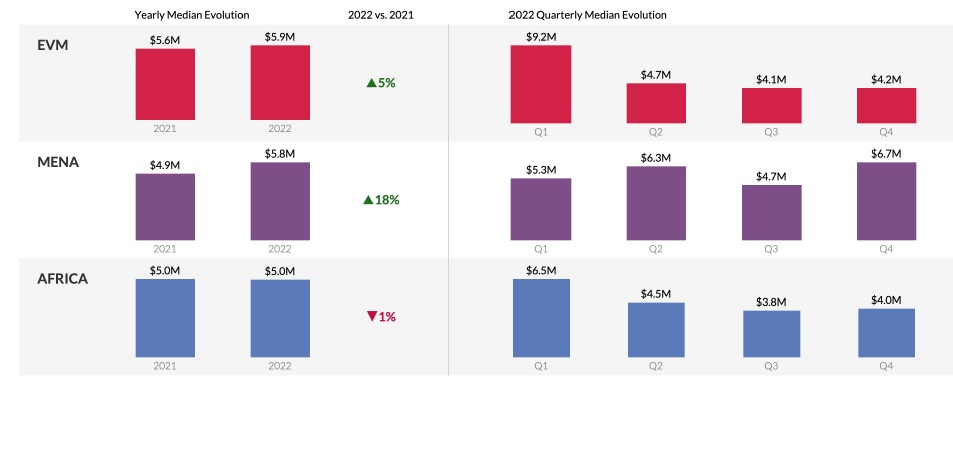 ---
---
Scanning the different geographies, the MENA region, being the only sub-region to surpass its 2021 funding level, saw a record year of funding in 2022. MENA funding crossed the $3 billion mark, reporting an annual rise of 8.3%. The quarterly performance in the MENA region echoed the overall EVM performance with Q1 carrying forward the growth seen in 2021, due to the delayed impact emerging markets face in reflecting global macroeconomic shocks. The region again saw subsequent declines in Q2 and Q3, before reporting a rise in Q4 slightly offsetting the seasonal summer-based decline registered in Q3. Africa reported a performance close to its 2021 levels in 2022, whereby funding was short of only $82 million. Pakistan and Turkey reported a clear reflection of the EVMs' performance in 2022 with both countries starting the year strong, yet falling short of 2021's funding levels. Both countries saw a significant decline in funding following Q1.   
FinTech maintained the industry lead in MEAPT for both funding and number of deals. FinTech funding reached $2,256 million across 351 deals in 2022. The industry closed four out of the 13 MEGA deals reported in the EVM in 2022, of which Nigeria's $250 million Flutterwave deal and $110 million Interswitch Group deal, Bahrain's $110M Rain deal, and KSA's $100 million Tamara deal all aggregated $570 million.
Exits reported record highs for EVM and most of its sub-geographies in 2022. While exits usually are a sign of maturity, it is unclear yet how tighter liquidity has impacted the funding landscape and the ability of keeping up with investor returns. M&A activity in the region posted 144 transactions in 2022, up by 36% from its 2021 levels.
5 YR Exit evolution across EVM
---
What's in the Report? 
This report provides a comprehensive overview and a deep dive into the Middle East, Africa, Pakistan and Turkey venture capital and funding investment space::  
• A 5-year analysis of MEAPT venture funding evolution, with a focus on 2022 country and industry performance benchmarks
• A 2-year quarterly funding breakdown and comparison of all Emerging Venture Markets 
• Top 10 investor ranking, together with their number of investments in 2022
• Top 5 startup funding rounds that were closed during the analyzed period 
• Top exit evolution across all Emerging Venture Markets
---
Who will benefit from the report?
This report is ideal for investors tracking startup activity, consultants looking to identify technology innovation trends, as well as government entities searching for investments.
---
This report was created with data from MAGNiTT, a comprehensive directory of technology innovation trends. The platform provides the following analytics tools:
• Investment directories, a comprehensive list of all startup venture funding across the Middle East, Africa, Pakistan, and Turkey
• Market Sizing Tools to visualize investment growth and trends across industries, geographies, and stage
• Comparison Tools to benchmark geographies, industries and investor performance
• Exit comparisons, looking at Mergers & Acquisitions from across the region
Learn how MAGNiTT's proprietary data can help your business. Contact us now!
2023 Emerging Venture Markets Investment Report