The E-commerce 2022 Emerging Venture Markets (EVM) Venture Investment Report is one of MAGNiTT's flagship industry reports that takes a comprehensive look at the sector's full-year performance in 2021 within the venture capital and startup ecosystems in the Middle East, Africa Turkey and Pakistan.

2021 marked the fourth consecutive year growth in venture funding into the sector across Emerging Venture Markets covered by MAGNiTT (Middle East, Africa, Pakistan and Turkey). Both funding deployed into the industry and the number of deals closed by E-commerce startups scaled to a record-high in 2021, growing by 199% and 13% YoY repectively. 
E-commerce ranked in the top 3 industries by both funding and deals across the Middle East, North Africa and Pakistan. Across all Emerging Venture Markets (including Turkey), the industry accounted for 10% of all VC deals and 9% of all venture capital deployed into startups.
Take a look at some high-level geography-specific insights from the report below. 
---
                         To keep track of real-time data on E-commerce funding and deals, contact our sales team here 
---
Key highlights - E-commerce 2022 Venture Investment Report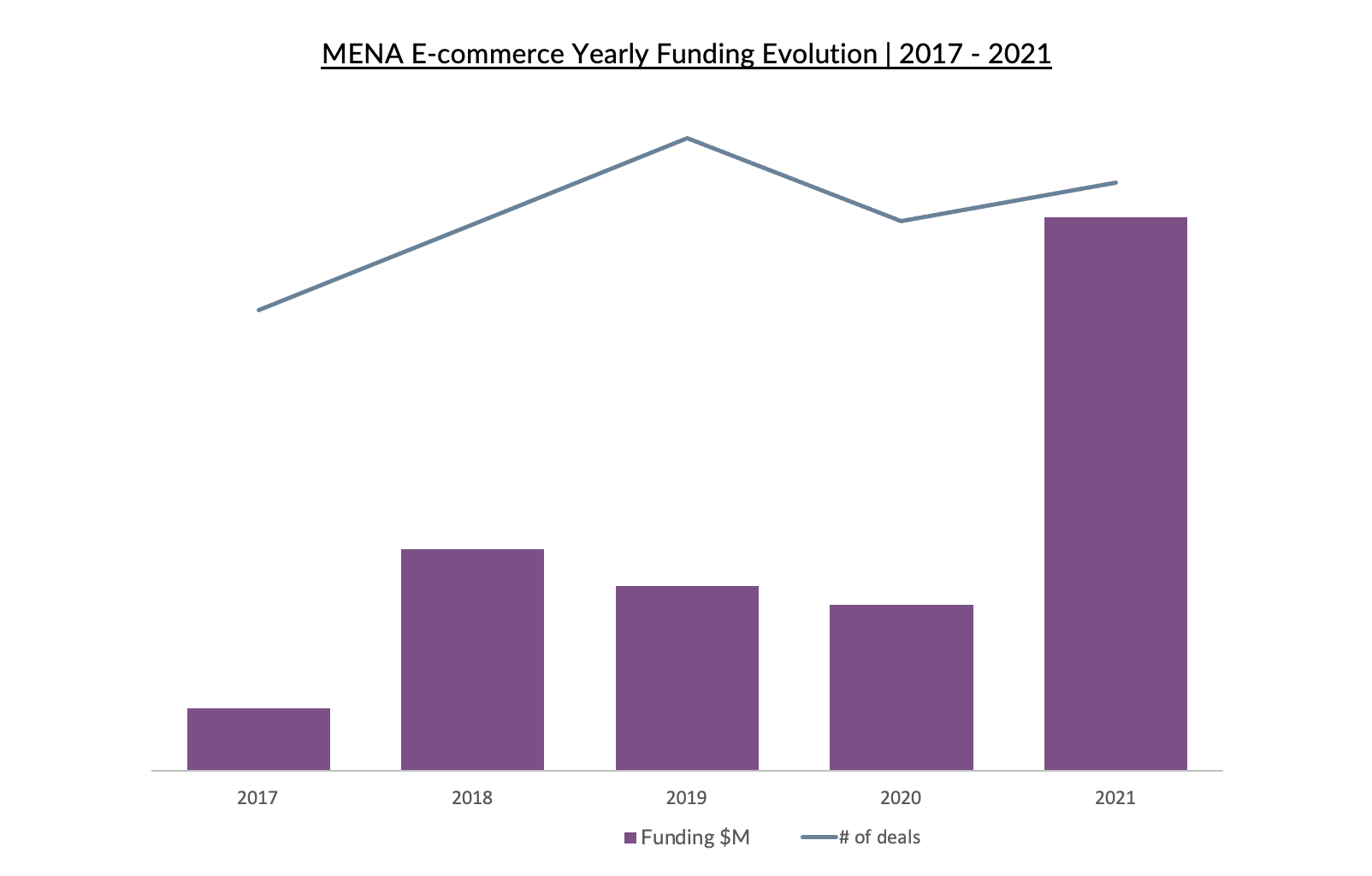 MENA:
• Funding into E-commerce grew by 235% between 2020 and 2021 to reach record-high in 2021 
• KSA accounted for 38% of the total capital deployed in E-commerce in 2021
• Five exits were announced by E-commerce startups in 2021
---

AFRICA
• 2021 was the fourth consecutive year of growth of VC deals closed by startups operating within the E-commerce industry
• E-commerce funding grew by 261% between 2020 and 2021 to hit an all-time-high 
• Seven E-commerce startups announced exits across Africa in 2021
---
PAKISTAN:
• In 2021, E-commerce startups noted record-high funding across the highest ever yearly volume of deals
• 158% more investors backed Pakistan's E-commerce startups YoY in 2021, more than the past four years combined   
• E-commerce ranked 2nd in Pakistan in 2021 by both deal count and funding amount 
---
TURKEY:
• Deals closed and funding raised by Turkish E-commerce startups declined between 2020 and 2021 
• The largest five E-commerce deals raised the majority of the capital (90%) deployed into the industry in 2021
• Three Turkish E-commerce startups announced exits in 2021
---
What's In The Report?
This report provides a comprehensive overview and a deep dive into the Middle East, Africa, Pakistan and Turkey E-commerce venture capital and funding investment space and includes the following: 
• A 5-year analysis of E-commerce venture funding evolution, with a focus on country and industry performance benchmarks
• A 2-year quarterly E-commerce funding breakdown and comparison of all Emerging Venture Markets
• Top 10 investor ranking, together with the business type and HQ analysis of all investment firms 
• Top 10 startup E-commerce funding rounds that were closed during the analyzed period, as well as the ticket size split of the entire deal flow
• E-commerce exit evolution across all Emerging Venture Markets
---
This report was created with data from MAGNiTT, a comprehensive directory of technology innovation trends. The platform provides the following analytics tools:
• Investment directories, a comprehensive list of all startup venture funding across the Middle East, Africa, Pakistan, and Turkey
• Market Sizing Tools to visualize investment growth and trends across industries, geographies, and stage
• Startup Resources including a deal flow tool for applications to leading Venture Capitalists for investment
• Exit comparisons, looking at Mergers & Acquisitions from across the region
Sign-up for a demo to learn more about how our platform can help you make data-driven decisions
---
E-commerce 2022 Venture Investment Report