Did you know that Jordan is one of the fastest-growing ecosystems in MENA? Discover and download our Jordan VC Report to understand the country's performance in the venture capital landscape over the past five years (2018-2022). Happy reading!
---
Access our suite of Q3 2023 reports here or get access to our premium reports by contacting our sales team!  
---
Overview
The 2018-2022 Jordan Venture Investment Report delves into the evolution of the country's venture capital landscape, benchmarking its progress compared to other key MENA geographies.
Jordan has emerged as a pivotal player in the MENA venture capital arena, ranking fourth in total funding and transaction volumes between 2018 and 2022.
Introduction
With a capital influx of $246M across 220 deals, Jordan accounted for 7% of the total deal share over the past five years.
Diverging from regional industry investment trends heavily skewed towards fintech, Jordan has exhibited a pronounced emphasis on the E-commerce/Retail sector, capturing more than 15% of the country's total funding and deal share. 
Despite being relatively nascent, the market has witnessed notable acquisitions, signaling its growing significance within the regional startup landscape.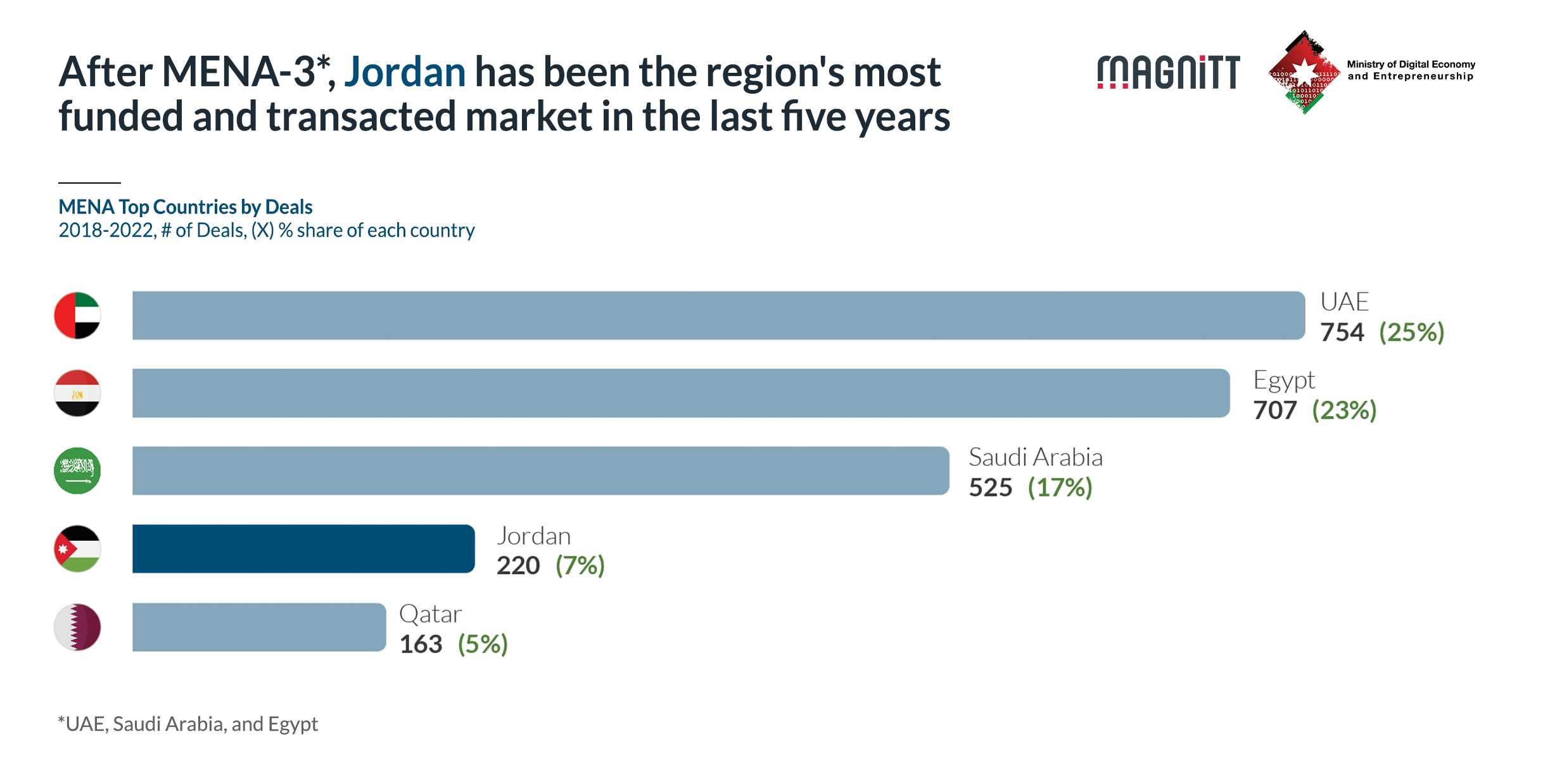 ---
What's In The Report?
The 2018-2022 Jordan Venture Capital Report offers strategic insights covering the VC space in Jordan. This report covers a 5-year analysis of Jordan's funding evolution, with a country comparison against MENA peers and industry performance covering the past five years. You will get access to precious information such as:  
Jordan's Venture Funding Evolution: Get an overview of the past five years, highlighting the country's growth and development of venture funding.
Key metrics include the split of investors by deals, Top 5 funding rounds, and 5-year exit evolution of Jordanian Startups.
Who is it for?
Whether you're a private investor, a VC, an investment company, a CVC, or working in corporate, our reports give an overview of the ecosystem and cater to a diverse audience including any curious minds who want to use yearly, quarterly, and monthly charts to track investment activity.
You can also see in which country and industry the investment activity focused in terms of deals and capital deployed, allowing you to leverage insights and make wise choices.
The report can also be used by consultants looking to identify technology innovation trends and who will find it valuable to look at the evolution of M&A activity and concentration of acquirers/acquired startups.
Last but not least, government entities searching for investment opportunities will also find valuable information to make informed decisions.
Where is this information from?
Our reports are 100% created using data from MAGNiTT. MAGNiTT is the leading verified VC data platform and offers a comprehensive directory of technology innovation trends. Our unique SaaS solution includes investment directories listing startup venture funding across the Middle East, Africa, Pakistan, Turkey, and now Singapore. By using MAGNiTT, you will also get access to market sizing tools to visualize investment growth and trends across various industries, geographies, and stages, as well as comparison tools for benchmarking geographies, industries, and investor performance. Furthermore, MAGNiTT offers exit comparisons by examining mergers and acquisitions.
Learn more about MAGNiTT's Data Methodology.
---
About MoDEE:
The Ministry of Digital Economy and Entrepreneurship (MoDEE) has evolved its role from the previous role of the Ministry of ICT towards creating the policies to enable the transformation towards a digital economy and support the enabling pillars for this transformation, including Digital Entrepreneurship, Digital Skills, Digital Financial Services, Digital Infrastructure, and Digital Platforms. MoDEE performs its duties in cooperation with other government institutions and the private sector to overcome the challenges entrepreneurs face, including access to markets, funding, regulatory challenges, and talent.
2018-2022 Jordan Venture Investment Report