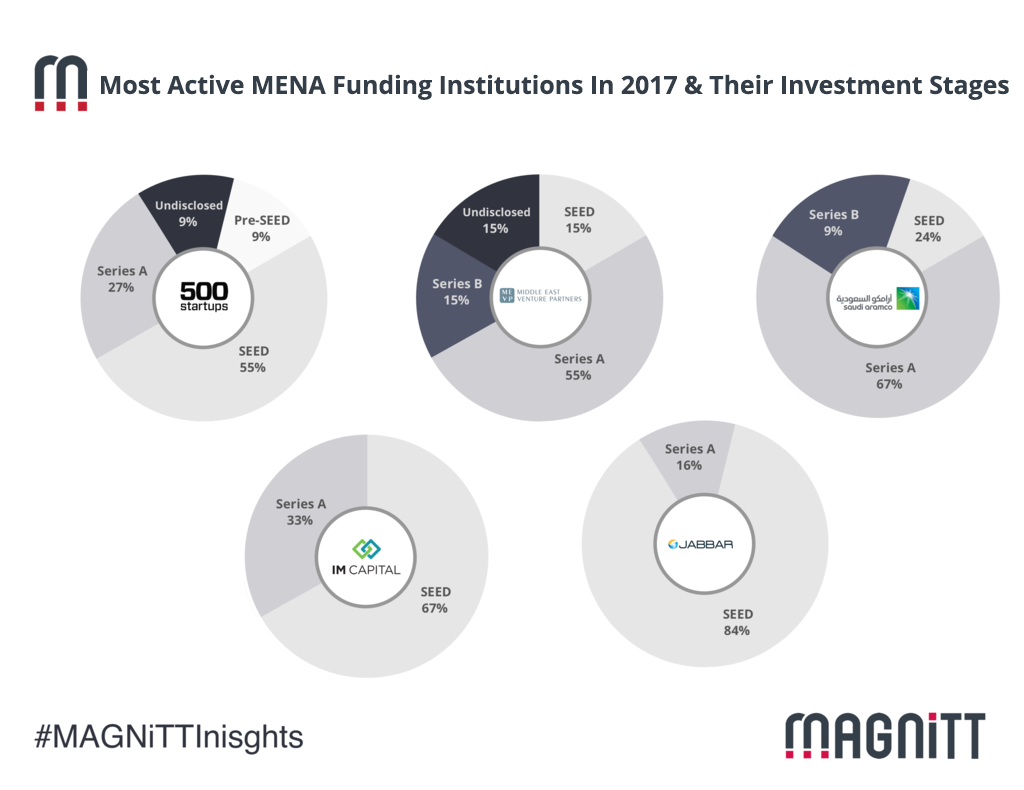 What stage did MENA's 5 most active VCs invest in during 2017?
By MAGNiTT
Posted 5 years ago - Apr 19, 2018, 9:36 AM
By Ali Abouelatta / MAGNiTT Staff
---
The startup ecosystem in the Middle East and North Africa (MENA) region has grown rapidly over the last 4 years, with a Compound Annual Growth Rate (CAGR) of funding (excluding investments in Souq and Careem) of almost 75% between 2014 and 2017, according to MAGNiTT. In this article, we look at who were the most active MENA-focused Venture Capitalist firms in 2017, to identify which stage (SEED, Series A, Series B, Late Stage) they were investing in based on number of deals.
This article only investigates Venture Capital Funds, not incubators or accelerators.

Among the top 5 VCs, the disclosed investments were mainly spread across three funding rounds, by number of transactions: SEED, Series A and Series B. Below, these VCs are mentioned, with in brackets the percentage of deals in the most common investment stage for that firm. Again, these numbers are based on the number of disclosed deals in the MENA region in 2017.
500 Startups - (55% at SEED Stage)
500 startups is a Silicon Valley-based Venture Capital firm established in 2010. Since its inception, 500 Startups has specialized in early-stage investments, having invested (and exited) in some of the most successful startups in the world. Globally, 500 startups has had over 150 exits, including the likes of Twilio (US$1+ billion), Makerbot (US$100+ million) and Wildfire (US$100+ million). After an announcement in December 2015, 500 startups has a dedicated fund of US$30 million, 500 Falcons, to be invested in MENA-based startups. The first investment of this fund, in the Dubai-based startup Wrappup, took place in September 2016. Yesterday, it was announced that Wrappup was acquired by US-based artificial intelligence pioneer Voicera.ai. Moreover, since their first investment, the fund has ramped up its activity in the region, with a proportion of 55% in SEED-stage startups in 2017.
Middle East Venture Partners (MEVP) - (55% at Series A Stage)

MEVP is one of the oldest Venture Capital firms in the region, since it was established in 2010. The venture capital firm has a two-headquarter operational structure, with offices in both Lebanon and the UAE. Across those two offices, the firm manages over US$220 million, spread over 4 deployed funds.  Furthermore, they recently announced the launch of MEVF III, which has a target of $250M and is focused on Series B and later-stage investments across MENA and Turkey. With its first fund, MEVF I, MEVP became an investor i one of the biggest startups in the region: Anghami, the on-demand music streaming service. In contrast to 500 Startups, who mainly focus on early-stage investments, MEVP focuses on both early and growth stage investments.  The firm's focus is on the GCC and Levant countries, with 55% of their investments taking place at the Series A stage.
Wa'ed Ventures - (67% at Series A Stage)
Wa'ed Ventures is the venture capital arm of the Saudi Aramco Entrepreneurship Center (Wa'ed). Originally, the arm was established by Saudi Aramco with the vision of igniting the spirit of entrepreneurship in the Kingdom of Saudi Arabia. Unlike most other venture capital firms, Wa'ed VC's focus is not only profit, but also the creation of quality jobs and economic diversification in Saudi Arabia. Like MEVP, their focus has predominantly been towards Series A investments, making up 67% of their investments in 2017. 
IM Capital - (67% at SEED Stage)
IM Capital is a Lebanese funding institution that targets early-stage startups that struggle to access capital. IM Capital is not a VC fund per se, but they do offer a variety of options for both startups and investors. These options include, but are not limited to, matching capital (up to 50%), equity guarantee, and support programs for both investors and entrepreneurs. With this approach, IM Capital has made a total of 67% of their disclosed investments in the SEED stage in 2017, underlining its commitment to early-stage startup support.
Jabbar Internet Group - (85% at SEED Stage)
Last, but not least, on our list is the Jabbar Internet Group, a venture capital firm that focuses on technology and internet startups in the Middle East. The firm was founded by Maktoob founder Samih Toukan in 2009, after Maktoob's successful acquisition by Yahoo in the same year. To date, one of the most notable and successful investments of this firm is its early-stage investment in the e-commerce platform Souq and its online payment platform Payfort, which were acquired by Amazon in 2017 for a total sum of $625M – the largest acquisition in the region so far. Souq was not the only early-stage investment of Jabbar, as roughly 85% of the firm's investments took place at the SEED stage in 2017, underlining this venture capitalist's commitment to early-stage investments.
As the market continues to develop, we are seeing new investors enter the space at different stages. With more startups continuing to grow and develop, capital injection is required at all stages of the investment cycles. The trend that emerges with this evolution is that more established players are now focusing on later-stage investment opportunities. In contrast, family offices and other new entrants have tended to focus on earlier stage opportunities as they build their portfolios. 
Want to find out more? Subscribe to MAGNiTT's Analytics package to check out all the investors funding round details as well as gain access to all our monthly Analytics reports to keep up to date with the MENA ecosystem.
What stage did MENA's 5 most active VCs invest in during 2017?