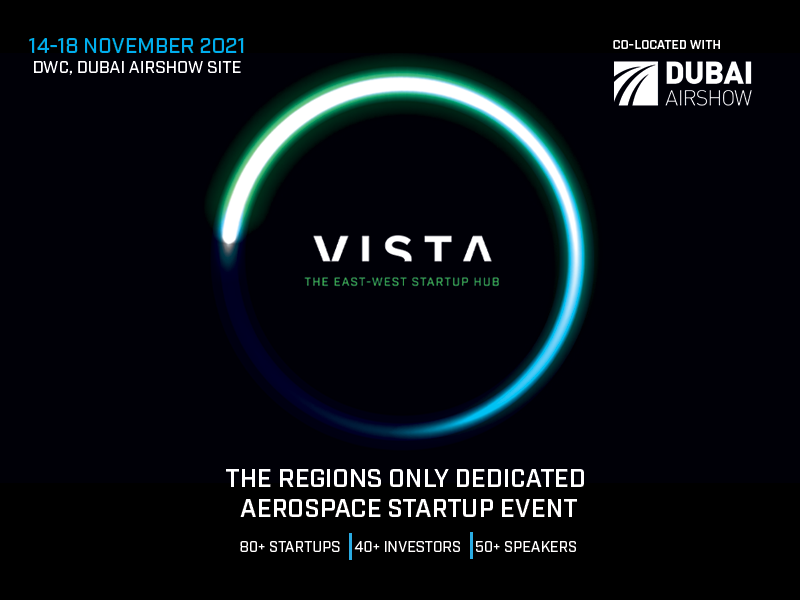 VISTA at Dubai Airshow this November: Meet the Top Industry Players
By MAGNiTT
Posted 2 years ago - Nov 2, 2021, 10:05 AM
Interested in more data on startup investments? Access our data on 7,490+ startup funding rounds
---
Only Two Week separates us from the regions most anticipated Aviation and Space event Dubai Airshow 2021. Introducing its new dedicated startup hub, VISTA - the ultimate platform for innovators, creators, and market disruptors to display the latest technologies and play a part in accelerating the future of aerospace and defence industries. 
Within this 5 day program running from 14 – 18 November 2021, VISTA is partnering with leading global Aviation innovator Boeing, to bring you 4 days of unmissable content, exclusive insight, and the world's latest technologies in conferences and panel discussions. VISTA is excited to announce the speaker line-up from space sector investors to leading venture capital arms of the aviation industry:
---
---
Chad Anderson- Founder and Managing Partner, Space Capital
Founder and Managing Partner of Space Capital, a SEED stage venture capital firm with $100 million under management | Described as "among the best-positioned people on either the investment or the operator side to weigh in on the current and future state of the space startup industry"
 
Alex Fielding- CEO and Chairman, Privateer Space
CEO, Chairman, and co-founder with Steve Wozniak of Privateer Space | Listed as an inventor on multiple robotics, machine learning, and artificial intelligence patents
 
Steve Allen- Executive Vice President, dnata 
Responsible for all dnata's businesses covering ground handling, catering, and travel across six continents | Managing Emirates Group's relationships with its associated businesses, including MMI, Emirates CAE Flight Training, and Premier Inn.
 
Ayal Somech-  Director, Applied Innovation, Office of the CTO, Boeing
Leads the Applied Innovation team with the mission of Bringing Outside-In Innovation into Boeing | Reporting to the CTO, Ayal is responsible for helping drive external innovation adoption and partnerships with Boeing.
 
Amir Husain- Founder and CEO, SparkCognition
Founder and CEO of an award-winning artificial intelligence company SparkCognition | Featured in world-leading outlets such as Forbes, Fox Business News, and Fortune| Author of the best-selling book "The Sentient Machine: The Coming Age of Artificial Intelligence"
 
Adnan Al Rais- Senior Director, Remote Sensing, MBRSC
Responsible for all downstream activities of MBRSC space missions and Program Manager of Mars 2117
Don't miss out on the opportunity to meet and network with 40+ investors from companies including Boeing Applied Innovation, MBRIF, Space Capital, innovaMENA, and many more. The event will also feature over 80 startups that will receive a chance to participate in a number of sub-events including one-on-one mentorship sessions, workshops, high-level networking, and the highly anticipated pitch competitions including The Sustainability Challenge with Etihad Airways, and The Palm Tree Challenge with MRSC and AWS. 
To learn more, check out the full VISTA program
---
Looking to get a bird's eye view? Access real-time data on 120+ Aerospace startups in EVMs 
VISTA at Dubai Airshow this November: Meet the Top Industry Players