Investor Decks: VC Evolution in Pakistan & Nigeria
By Majd Shidiac, Content Editor
Posted 1 year ago - Mar 18, 2022, 4:01 PM
How different are Pakistan & Nigeria in VC dynamics and how does that reflect in the data? We explore two Emerging Venture Markets in 3 years of deals reaching up to a cross-roads that only investors would know how to take.
---
Request specific data sets, export tailored directories, and explore the full potential of our Platform. Reach out to our Sales Team
---
Investing in Emerging Venture Markets remains closer to the ethos and risk dynamics of venture capital than investing in say a tech startup coming out of silicon valley. While the latter seems more saturated, it carries with it a "mode of work" where valuations, ROIs, and venture tracks could be predicted- unless in cases of force majeure, say like a global pandemic. Nonetheless, VC funding growth in Emerging Venture Markets has been more staggering and faster-paced than that of established markets, nearing the $7Bn mark last year as recorded in our State of Startup Funding- 2022 Emerging Venture Markets report. What's most interesting about VC investment across EVMs, is that despite sharing many common ingredients and conditions, the VC evolution of every geography remains unique to the market itself- we present the case of Pakistan and Nigeria. 
Based on recent findings, these two geographies across continents share fairly similar population sizes; Pakistan being home for a population of 220M and Nigeria being home for 206M as of 2020. However the similarities in population sizes, Nigeria's GDP doubles that of Pakistan, and surely, based on recent publishing by Statista- while more than half the population engages the internet in Nigeria, internet adoption in Pakistan is nearing 40% as of 2021. The almost parallel conditions in both markets create conducive environments for Tech disruptions and venture innovations which kicked in gear back in 2013/2014 in the case of Pakistan; with ventures like Careem, Foodpanda, and Daraz introducing lean thinking to disrupt traditional and family-oriented businesses. However, the VC dynamics have taken completely different paths and intensities over the years as these markets evolve. 
As recorded in our Pakistan 2022 Venture Investment Report, the Pakistani VC ecosystem observed a 335% surge in capital investment to cross the $330M mark for the first time in 2021. This case was completely different for Nigeria, as the ecosystem observes a 431% YoY growth in capital invested to near the $1Bn mark in 2021- this sets a funding gap of more than $600M between the two geographies. However wide is the gap, the VC dynamics weren't always that far spread, we go back to the year 2017 as a starting point. 
 
---
---
VC Evolution 
Nigeria and Pakistan started off at a fairly similar footing with conservative investments in 2017. Over 28 deals, Pakistan had raised a total of $12M. While Nigeria closed 3 fewer deals that year, it raised $2M more in total investment- a meager difference yet an important foreshadowing of the availability of capital and willingness of investors in the Nigerian market. Over the next year, Nigeria observed an unprecedented 1,042% YoY growth in capital investment to cross the $100M mark for the first time in 2108, while Pakistan still raised the conservative total of $15M. 2018 was also the year Nigeria records its first Series B funding round closed by mobile payment startup Paga (while Pakistan closed its first Series B round only in 2020) and shows its first signs of Mega Round capability with E-commerce and logistics network Jumia raising $85M in financing- the highest funding round in Pakistan to date was also for $85M closed by T&L startup Airlift last year.  
The disparity in VC activity could be attributed to a mix of geographic, financial, and social conditions including the mobility of capital. On one end, Pakistan's neighboring countries made for great VC contenders, where based on VC reports India for example had raised south of $26Bn in private equity and VC investment in 2017, while Nigeria's vicinity presented a market up for grabs (and surely Nigeria's tech advancement was able to scoop the market.) While Pakistan remained uncharted and exciting territory for VC investment, Nigeria was quickly able to scale & exit startups which was a great market attractor for global and local VCs. The latter also played a major role in the disbursement of capital, where Nigeria boasts a healthy 105 local VCs while Pakistan grows steadily into 86 local investors.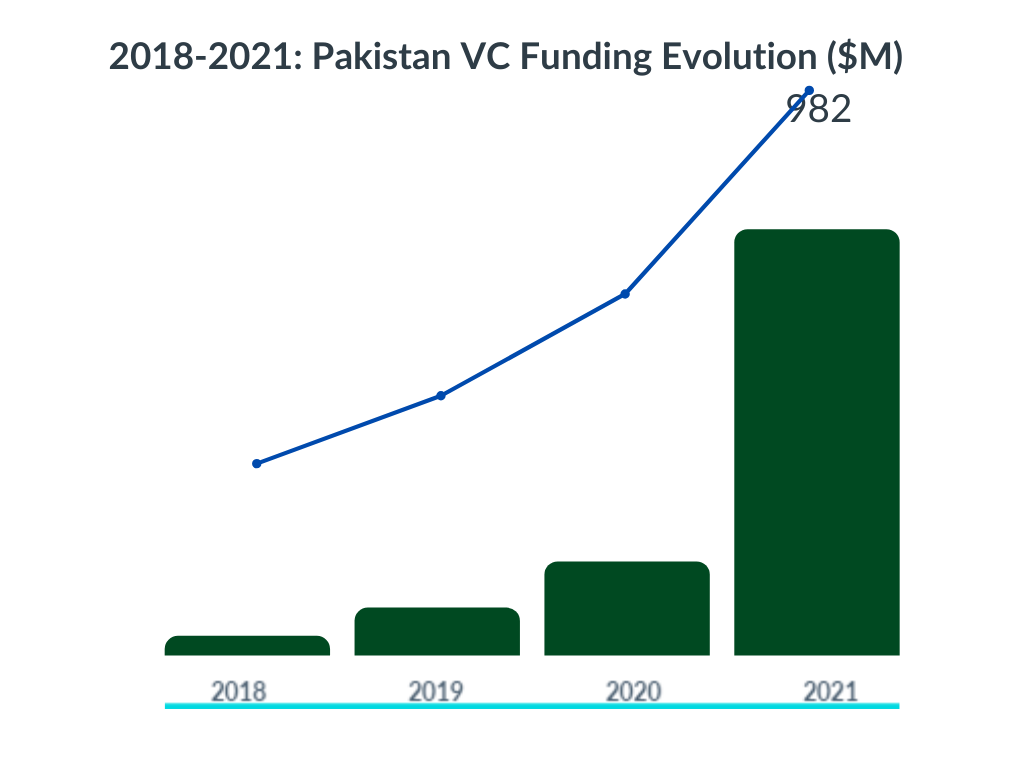 State of Funding 
So far, Nigeria surpasses Pakistan with the volume of transactions and capital investment. However, the consistency and growth we've seen in select Pakistan-based startups like Tazah, Bazaar, and Airlift, the proactive activity in FinTech (observing a 320% YoY growth in total transactions and more than 2,500% YoY growth in investment to cross the $70M mark in 2021), and the government support with initiatives like the 3-year tax exemption signals a new daw for the Pakistani VC ecosystem. Will the Pakistani VC ecosystem close its first Mega Deal as Nigeria did back in 2019 (to then go on and record 3 Mega Rounds in 2021)? The answer lies in startups' business acumen in successful scaling and VC investors' willingness to roll the dice on an ever so ripe market.


Dive into the granular and make your own conclusions, Purchase our  Pakistan 2022 Venture Investment Report or Nigeria 2022 Venture Investment Report
Get extensive visibility over all Emerging Venture Markets, download our Free State of Startup Funding-2022 Emerging Venture Markets Report 
---
Scan this venture space. Access real-time data on 21,400+ startups in Emerging Venture Markets
Investor Decks: VC Evolution in Pakistan & Nigeria