Unpacking Q-commerce: The Sector Making VCs Reach for their Checkbooks
By Noor Haider - Content Editor
Posted 9 months ago - Jun 17, 2022, 11:50 AM
Request specific data sets, export tailored directories, and explore the full potential of our Platform. Reach out to our Sales Team
---
There was a time when people would get their deliveries within a week's time and that was considered fast enough. The new generation of last-mile delivery, however, has given a whole new meaning to instant delivery with items being delivered in 30 minutes or less. The phenomenon is known as Q-commerce or Quick commerce and it has taken the VC ecosystem by storm. Sizable funds have been raised by Q-commerce startups and consequently, the T&L industry across MEAPT has scoured new heights reaching an all-time high in a single quarter in Q1'22 securing over $900M in funding. 
---
---
The Need for Speed
The Q-commerce companies are ruled by the clock and some startups have gone as far as promising grocery deliveries within 10 minutes inlcuding the likes of Pakistan's Krave Mart and Airlift or Egypt's Rabbit. The platforms operate through a network of strategically placed fulfillment centers and dark stores, and incorporate fleet management technologies to consign products in a limited amount of time. The need for instant delivery was fueled by the pandemic and industry players clambered to come up with a solution. The VC ecosystem could not resist the charms of Q-commerce as the idea itself was simple enough. Anyone already in the courier or delivery business could scale their operations to offer instant delivery. Investors opened their wallets and startups like Turkey's Getir, Pakistan's Airlift and Krave Mart, Egypt-based Yalla Fel Sekka, UAE-based Yalla Market, and KSA-based Barq recorded big scores to serve the delivery sector.
---
Access our suite of Full Year 2021 Reports covering MENA, Africa, Pakistan & Turkey. Browse our latest and pick your data focus
---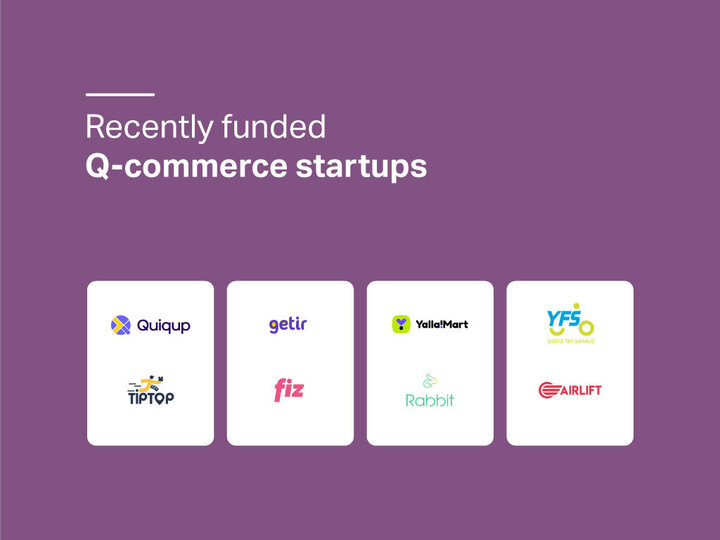 ---
The Challenges 
The sector that has been greatly popularized over the last few years does not come without its challenges. The race to deliver instant grocery comes with road safety risks as riders scramble to meet tight deadlines. As the pre-pandemic world gradually makes a comeback, the question of whether the urgency of having groceries delivered to your home would still garner the same level of interest. Not to mention the other problems plaguing the quick commerce industry including the rising fuel costs, companies having to take high losses due to aggressive expansion plans, navigating deadlines during surge times, and workforce shortage could lead to reluctance from the investors to shell money for an industry faced with critical challenges.
The Future
The industry giants are beginning to see the first signs of downturn with big players like Airlift pulling its operations from South Africa and a number of smaller cities in Pakistan, and Getir planning to reduce its staff globally and cut aggressive expansion plans. While operational costs arise due to high inflation in the global market, many Q-commerce businesses face a defining challenge considering their ultimate goal to achieve economies of scale. This leaves Q-commerce startups with some alternatives, and other dooming realizations. It remains to be seen which startups will be able to ride out this wave of uncertainty, and can still deliver when the dust settles.
---
Scan this venture space. Access real-time data on 23,100+ startups in Emerging Venture Markets
Unpacking Q-commerce: The Sector Making VCs Reach for their Checkbooks