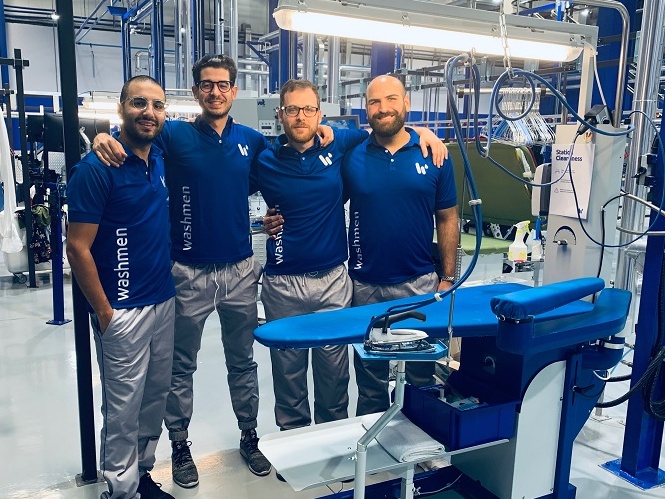 Washmen announces a 6.2M$ Series-B round to solidify its operations in the UAE and expand its digital technology hub in Lebanon
By MAGNiTT
Posted 4 years ago - Jul 8, 2019, 12:43 PM
Washmen, the Dubai-based mobile-native dry cleaning and laundry service, has closed a Series-B round of 6.2 million-US$. The total fund raise to date since their inception in May 2015 is 7.8 million-US$.
The latest round was led by AddVenture (Russia) as a returning investor, with the participation from new strategic investors, Henkel (Germany) and Cedar Mundi Ventures (Lebanon).
B&Y Venture Partners (Lebanon) and Clara Ventures (UAE) also participated in the round.
When Washmen started, its business model was focused on being asset-light, by connecting logistics partners to existing laundromats under the brand of Washmen. Today, Washmen has shifted to fully owning the supply chain with the launch of its 30,000 sqft laundry and dry cleaning facility in this June 2019. "We have traveled to 17 countries in search of what it takes to clean the items in your closet in the right way: from machines to processes and products. Our new facility, equipped with our proprietary tech, will allow us to clean up to 25,000 items a day when we are at peak utilization." said Cofounder and CEO Rami Shaar.
The startup explains that its strategy to vertically integrate across the supply chain was gradual over the last 4 years. This strategy has helped improve unit economics and customer retention, allowing Washmen to become the largest retail laundry and dry clean operator in the UAE. "Vertical integration is a must, because it ensures the best quality of cleaning and it improves gross margins to a level that we haven't seen anywhere in the world in this industry. They are truly innovators in this space, developing new hardware and software for dry cleaning facility and disrupting the traditional thinking about the cleaning process." said Max Medvedev, Managing Partner at AddVenture.
Washmen has partnered with Miele to introduce its commercial handwash programs, through its wet cleaning machines. In addition, the startup has moved to hang-drying clothes, as opposed to using high-temperature driers, which extends the longevity of customer clothes. "We are commercializing the handwash and hang-dry process, as opposed to washing in your tub and hanging in your living room." added Rami Shaar.
Global consumer goods company Henkel joins as an additional strategic investor. Through its corporate venture capital engagement, Henkel Ventures, the company will contribute its experience in laundry detergents, which include Persil in the region. "We see a clear trend of consumers outsourcing more and more tasks as part of their lifestyle. Understanding this shift in consumer behavior and accompanying it with a high-quality service offering is part of our consumer-centric approach. We are very happy to have found an innovative and dynamic partner in Washmen, driving its disruptive business model in the region." said Thomas Schuffenhauer, Director New Business Laundry & Home Care at Henkel.

Washmen's investment round will contribute towards solidifying its operations in the UAE and expanding its technology development office in Beirut. Bassel Attieh, Chairman and Managing Partner of Cedar Mundi Ventures, a leading VC firm based in Beirut, said: "Washmen track-record and development model are strong. Digital technology is an integral part of it, leveraging premium tech talent pool and entrepreneurial ecosystem of Lebanon for regional scale. We are glad to come aboard to advise and further accelerate Washmen expansion plans."
Washmen announces a 6.2M$ Series-B round to solidify its operations in the UAE and expand its digital technology hub in Lebanon