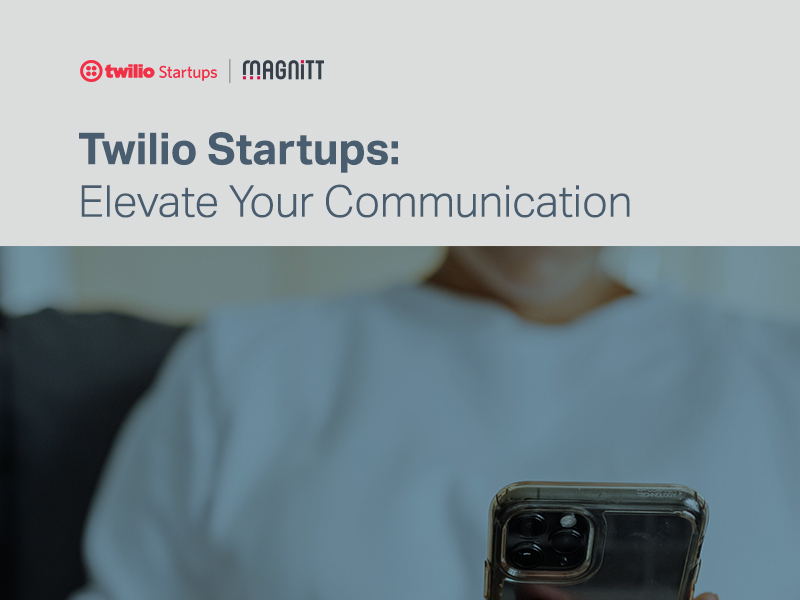 Twilio Startups: Elevate Your Communication
By MAGNiTT
Posted 2 years ago - Nov 22, 2021, 10:44 AM
Interested in more data on startup investments? Access our data on 7,490+ startup funding rounds
---
Here at MAGNiTT, we continuously cover the growth capital backing promising startups on their journey to scale and expand beyond their geo markets, yet we're constantly curious about the back works of that attempt. In Emerging Venture Markets observing a spike in internet adoption like Pakistan and Egypt, growth hacking outreach campaigns have been resulting in major returns across the board. Alternative communication, email marketing, and content marketing have culminated in stellar results for major startups in established markets, where the window of exchange between brands and potential targets seems too narrow for impactful lead conversion. 
---
Get ready to elevate your communications. Apply for Twilio Startups Support 
---
Today, growth hacking your marketing efforts does not seem as enigmatic as 5 years ago, especially with the presence of communication Tech and API solutions providers like Twilio. Today, the US-based Tech company empowering businesses with native Tech integrations to customize and operate multi-channel campaigns is introducing its Startup Program. Here's how you can benefit from pocket-friendly, impact-driven bundles under Twilio Startups: 
---
Reach targets, convert to leads. Build your comms with Twilio Startups 
---
Twilio (SMS, Voice, WhatsApp) - $500 in credits (12-month expiry) - (One Time Credit):
So what is Twilio? Simply put, Twilio is a developer platform for communications.  Software teams use Twilio APIs to add capabilities like voice,
video, and messaging to their applications. This enables businesses to provide the right communications experience for their customers.
Behind Twilio APIs is a Super Network, a software layer that connects and optimizes communications networks around the world. This is what
allows your users to reliably call and message anyone anywhere.  With Twilio, you can reach customers in the ways they prefer, and engage
with them effectively using context related to that interaction.
You will receive $500 in Twilio credits, education, and support, plus access to the Twilio Startups team. All applications are subject to conditions. 
Apply to power your communication with Twilio Startups
Twilio SendGrid (Email API + Marketing Campaigns) - $1,000 in credits (over 12 months):
So what is Twilio SendGrid? Twilio SendGrid is a cloud-based platform that solves the challenge of email delivery. SendGrid provides and manages an email server
on your company's behalf, so your communications with customers are reliably sent and delivered as needed.  
Twilio SendGrid credit includes:  
Email API: Send transactional email using dedicated IPs, white-labeling, sub-user management, and advanced API features. 
Marketing Campaigns: Send newsletters with powerful list segmentation, A/B testing, engagement features, and marketing email performance.
You will receive $1,000 in SendGrid credits, education and support, plus access to the Twilio Startups team. All applications are subject to conditions. 
Apply Today, and scale your startup with free credits and resources!
---
Looking for leads in the startup landscape? Browse 21,760+ startups in Emerging Venture Markets 
Twilio Startups: Elevate Your Communication