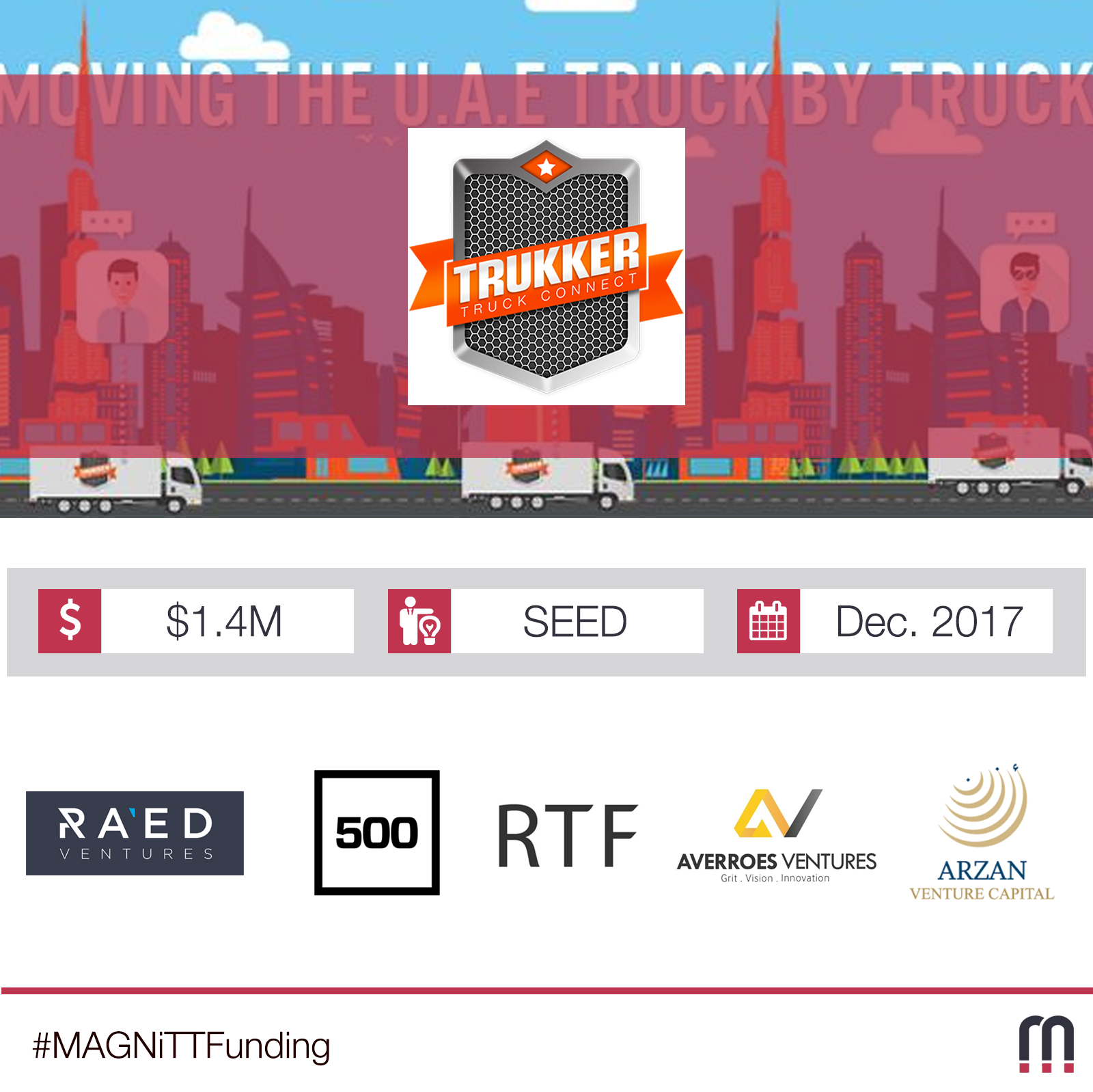 TruKKer raises $1.4M seed round led by RAED ventures along with Riyad Taqnia Fund
By MAGNiTT
Posted 6 years ago - Dec 18, 2017, 3:20 PM
TruKKer, the region's fastest growing truck aggregator, is preparing for large-scale expansion after witnessing 2000% growth in its first year of operations in UAE.
The company has closed a seed round of USD 1.4 million, notable for the high profile of the investors and how quickly TruKKer has demonstrated ability to attract institutional funds.
The round was led by the Saudi-based Raed Ventures and includes institutional funds like Saudi-based Riyad TAQNIA fund (RTF), 500 Startups , Averroes  Ventures and Arzan VC.
TruKKer is an on-demand truck aggregator that operates as a full service trucking company with a tech-enabled trucking network. The company focuses on on-boarding individual transporters to its capacity after stringent training for compliance to its technology and operational standards. TruKKer currently services 100+ corporates in UAE and also does cross border movements to KSA and Oman. This is in addition to its thriving consumer business where it services hundreds of home moves every month.
Gaurav Biswas, Founder & CEO of Trukker.ae said "We have focused on execution from day one along with quick to market strategy for all our products and segments, which has been one of the primary driver of our growth. The trucking industry has remained traditional for a very long time, relying on brokers to connect trucking companies and shippers, an uneven process, which is ready for technology-based transformation. Our services and products are designed to fill the gap between what the industry requires from an organized transportation company and what services are received from the unorganized small and individual owner-drivers. Our technology and operational set up allows all member transporters to operate on a common performance standard and service quality."
Pradeep, TruKKer's Co-founder and CTO said "Our products are developed with a quick to market focus and we have often not waited to perfect the product before launching it. This has helped us to get rapid feedback and create a product that our users and customers need instead of something that we feel they need. Simplicity and convenience drive our product and technology development.'
Gaurav adds – "We have been lucky to have a very dedicated and super hard working team in our early days. For a start up, there are multiple highs and lows that teams face frequently but I am proud of our teams to have prevailed and also flourish. It is now our time to rapidly strengthen the team with resources and means of a more organized set up. We understand the plans and have multiple lessons learnt over the last year and it is now time to build strong foundations to support exponential growth into regional markets.
Our customers demand simple things – reliability and quality. Our focus is to ensure that we continue to meet these requirements as we grow along with obvious target to reduce transportation costs where possible. TruKKer has successfully reduced transportation rates by 20 – 30% on many instances based on higher asset utilizations of its member trucks."
TruKKer is working on multiple opportunities in KSA and aggressively hiring for its KSA operations and business development teams in the Eastern and Western regions.
TruKKer raises $1.4M seed round led by RAED ventures along with Riyad Taqnia Fund