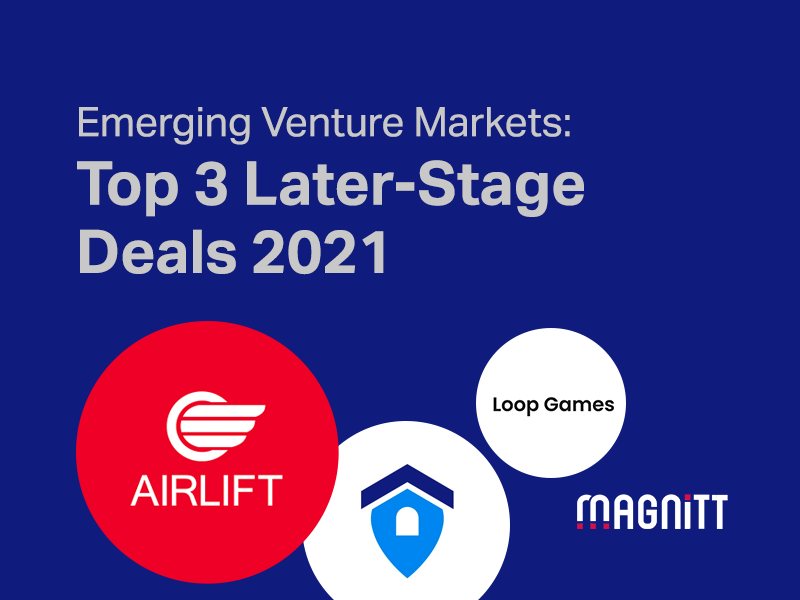 Emerging Venture Markets: Top 3 Later-Stage Deals
By Majd Shidiac, Content Editor
Posted 2 years ago - Sep 27, 2021, 1:30 PM
Interested in more data on startup investments? Access our data on 7,490+ startup funding rounds
---
Rupture moments have been some of the most exciting aspects of the venture ecosystem activity in Emerging Venture Markets this year. Some milestones could have been projected as investors gravitate towards later-stage investments, like the record-breaking growth of funding in FinTech startups across MENA, or the yearly and half-yearly records of Megadeals recorded across MENAPT in 2021. Others weren't as foreseeable, like the Emergence of MENAPT's first Decacorn with Turkey-based Trendyol or Pakistan-based startups raising more funds in 2021 YTD than the previous 4 years combined.
Later-stage deals (below $100M) have been great indicators of positive cracks in the Venture Space, giving insight into the dynamics of the startup ecosystem and the potential focus of major VCs and investors. Later-stage deals (between $3M and $100M) have been recording a consecutive yearly increase of volume since 2019. Later-stage deals in MENA observed a 55% YoY growth in 2021 while Turkey recorded 107% more rounds compared to 2020. What was most exciting to watch was investors' drive towards Pakistan-based startups, as they backed more later-stage deals resulting in a 466% spike in 2021 YoY. 
So who were the most anticipated profiles raising later-stage rounds and how did they impact their industries, this week we explore the Top 3 Later-Stage Funding Rounds in 2021:
---
---
It's definitely a first for the Pakistani startup ecosystem to raise a major round like this one, let alone MENAPT's largest Later-Stage round in 2021. To put this into perspective, the $85M Series B round was not only the highest round to ever be raised by a Pakistan-based startup, but it is also only $2M short of total funding invested in Pakistan in the first half of the year and $11M more than total funds raised in full year 2020.
Airlift Technologies hit the golden formula when they pivoted from a mass transit startup to delivery & logistics upon the beginning of the pandemic. As soon as they raised their first $22M Series A from major investors like First Round Capital, Indust Valley Capital, and Quiet Capital the Pakistan-based startup quickly rose to stardom as one of the most anticipated D&L startups in the region. Earlier this August, Airlift raises the highest later-stage funding round across MENAPT this year with the addition of US-based VC Buckley Ventures into its investor roaster. 
 
The Turkey-based Proptech startup founded in 2017 underwent extensive journies of growth and evolution; from Evtiko to Tiko, and most importantly, from a $4.3M SEED round by Global Founders Capital to a $65M Series A round backed by 3 new major investors. 
The Turkey-based Proptech startup exported its operations to the European market gaining traction and solidifying its innovative purchasing model. Tiko aims to lead a major change in the real estate sector by making offers to those who want to sell their house within 24 hours, driven by its algorithms and supported by artificial intelligence (AI) technology in its infrastructure. After raising multiple rounds, Tiko reaches its watershed moment with a Series B round led by Rocket Internet ME, Class 5 Global, and btov Partners. 
 
The gaming industry in Turkey started showing signs of growth in the second half of 2020 but really took full effect over H1 2021. Driven by a record-breaking 17 deals, Turkey-based gaming startups raised a quarterly, yearly, and half-yearly record in funding in Q1 2021 to only top it off by a new record in Q2 2020 raising $48M more to bring funding up to $178M in the second quarter of this year.
Even though Turkey-based gaming startups may have been outshined by Getir raising 4 Megarounds this year, Loop Games raised the third-highest later-stage deal in MENAPT in 2021; closing its Series A funding at $60M led by US-based major game publisher Tilting Point. 
---
Want to grasp this startup landscape? Browse 2,400+ Early-Stage startups in Emerging Venture Markets
Emerging Venture Markets: Top 3 Later-Stage Deals