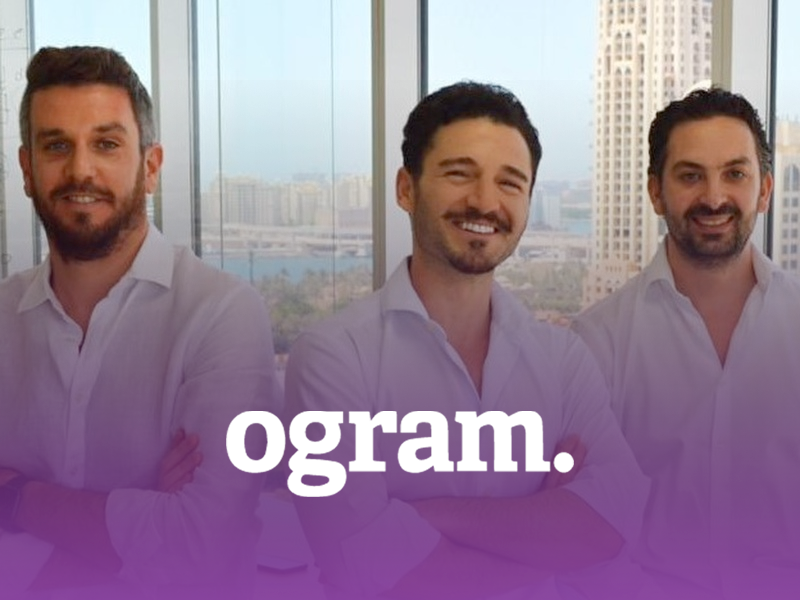 The future of work: MAGNiTT interviews Co-Founders of Ogram, a supply and demand matching platform
By MAGNiTT
Posted 3 years ago - May 20, 2020, 7:36 AM
Ogram, a platform to enable demand and supply matching for part-time on-location work recently announced its Pre-Series A equity investment by reputed investors Global Ventures.
Following the exciting announcement, MAGNiTT spoke with Co-Founders of Ogram, Shafiq Khartabil, Karim Beyhum and Karim Kouatly to discover more about their plans for this growing startup, how they managed to raise this round with the ongoing pandemic, how the crisis has affected their platform, their thoughts on future ways of working, and more.
Q1. Tell us briefly about Ogram. How does it work? 
SK: Ogram is a supply and demand matching platform connecting talent to temporary roles across several sectors in the UAE. Our business model is commission based, we charge companies a commission on top of the hourly rate provided by the service providers. Engagements vary by quantity and duration, with some businesses seeking and engaging multiple service providers through our platform for periods as long as a year. We facilitate service providers to find opportunities with businesses that have an ongoing need for staffing, as well as, seasonal businesses that want to optimize their staffing costs. 
Q2. What is your big-picture vision for the future of Ogram?  
SK: The gig economy is the future of work - we really believe that multiple jobs will be the norm for future generations and we plan to be one of the first movers in the region and, eventually, hope to be a dominant player in the global space. 
Q3. It is quite extraordinary that you managed to raise this round with the current COVID-19 crisis. Was this round in the works from much earlier? How did COVID-19 affect your fundraising efforts? 
KB: We were in discussions with Global Ventures prior to the COVID-19 pandemic. The current crisis has only reinforced the need for flexible staffing solutions as companies adopt corporate austerity measures and we see significant changes to the ways we work and interact with each other. 
Q4. It's safe to assume that after this round, you're going to have some exciting growth plans. Can you share some of Ogram's short-term plans for expansion with us? 
KK: Next month, we plan to test the beta version of our virtual platform with our existing user base and, following this, we expect to officially launch the first versions of the client and service provider applications. Our platform will optimise our user journey, allowing customers to seamlessly book, manage, and pay for their services and offering service providers the convenience of accepting and managing their jobs directly with employers. We continue to selectively hire good talent with experience in taking a product to market, and are focused on creating value for our users, as well as growing our revenue streams. We have short-term plans to scale into other parts of the region and long term plans to expand globally. 
Q5. How has the current climate affected behavior on the platform e.g. number of roles available vs the amount of talent? 
KK: We embraced shifting consumer demand early on and strategically adjusted our efforts to funnel the growing workforce available into sectors that are seeing a demand during this period, such as grocery retail and e-commerce. We have also successfully re-allocated a lot of our hospitality supply (waiters, runners, etc.) to jobs within the sectors that have been positively impacted by COVID-19. 
Q6. How do you think the current climate will affect the way we work in the future? Do you think we'll go back to our normal ways of working, or do you think there will there be changes that will stick? 
SK: I believe that the post-COVID-19 work environment will be one that is more mindful, and consequently more effective. The crisis has pushed us to be more thoughtful about our interactions, and we have seen that there are viable virtual alternatives to almost all in-person meetings. We can argue that this has been a wake-up call to the global workforce, pushing individuals to learn new talents, engage in multiple jobs, and enable multiple crisis-proof income channels. Companies are already leaning into the future of work and staffing, seeking temporary and flexible solutions to reduce fixed costs amid the market uncertainty. Going forward, we believe that flexible workers will allow businesses the agility to recover in line with the economy. 
Q7. What were you looking for from your investors, beyond capital? 
KB: Mentorship for growth, strategic actionable insights, and increase in network reach. 
Q8. What do you foresee as the largest challenges to scaling Ogram in MENA/beyond?  
KK:
- Labour regulatory frameworks - regional governments have been cautious with regards to the gig economy. We believe that the current crisis will serve to accelerate legislation in favour of flexible work and align labour laws to fuel the growth of this economy.
- Quality and trained supply - we were fortunate enough that the UAE consists of quality supply that are well trained. However, as we enter new markets, we expect to increase training efforts with service providers.
- We also anticipate that we will need to educate and train both customers and service providers to adopt our virtual platform - these services have conventionally been managed offline. The focus of our user journey is to be as simple as possible! 
Q9. Finally, what advice would you give to yourself five years ago? 
SK: To learn certain skills, such as the basics of coding, data analytics, digital marketing, and creating customer value on a product. I would also tell myself "I believe in you, keep it going!" – Shafiq Khartabil, CEO & Co-founder
---
Are you a startup looking for investment? Apply for funding to 75+ investors now. 
The ongoing crisis has placed the Healthcare sector under a microscope unlike ever before. Learn all about the industry's funding and investment trends in our 2019 MENA Healthcare Venture Investment Report. 
The future of work: MAGNiTT interviews Co-Founders of Ogram, a supply and demand matching platform