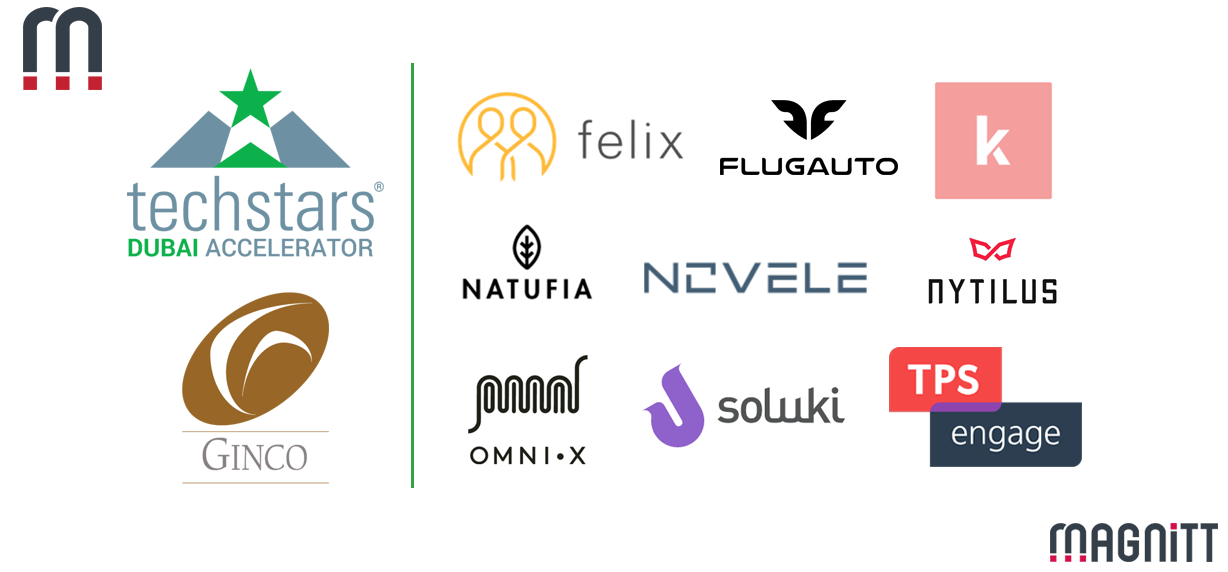 Techstars Dubai Accelerator in Partnership with GINCO Culminates in Demo Day
By MAGNiTT
Posted 5 years ago - Apr 17, 2018, 8:17 AM
Techstars Dubai is a new up and coming accelerator which was launched in October 2017. The Techstars Dubai Accelerator will host 10 startups a year for a three month programme at the Area 2071 hub area in Emirates Tower. The programme is intended to facilitate the startups' growth while parterning with companies like Uber, Digital Ocean and Sphere.
15 April 2018, Dubai, UAE: This week Techstars Dubai Accelerator in partnership with GINCO will culminate in a Demo Day, which will see companies from the inaugural Dubai class pitch their ideas to prospective investors and startup community enthusiasts at The Park Hyatt Dubai on the 17th of April 2018.
During 13 weeks of the program, the nine teams took part in more than 600 meetings, workshops and mentoring sessions within Emirates Towers startup hub Area 2071. More than 70 external mentors from Dubai and the greater Techstars network helped them refine their business strategy and provided feedback, coaching and insights, in line with Techstars mantra of #givefirst.
GINCO's investment arm alongside Techstars provided over US$1M in direct investments to the founders as part of a multi-year US$5M commitment from GINCO Group for investments, programming, infrastructure, and staffing. In addition, each team had access to over 152 partner perks, from legal support to infrastructure credits, tier 1 enterprise support and consultation from Amazon Web Services, valued at $2.5M from Techstars global network.
The debut Dubai program boasted a stellar leadership team including Managing Director Vijay Tirathrai, previously the Global CEO and Chairman of the Entrepreneurs Organization, where he led a global network of 12,000 members whose combined revenues exceeded $500billion represented in 165 cities worldwide. Vijay was supported by Program Director Ramzy Ismail, former Managing Director at Flat6Labs Abu Dhabi and Program Manager at Techstars Connections in New York.
Four key Entrepreneurs-in-Residence acted as in-house mentors for the companies, including Carla and Brian Gardepe, long-time Silicon Valley entrepreneurs, Nancy Wolff - Former Vice President of Technology at the Jumeirah Group and Carlos Domingo, a venture investor and former Chief Digital Transformation and Innovation Officer at du Telecom.
Mr. Vijay Tirathrai, managing director of the program stated, "Our first Dubai program has been a phenomenal success. As a cohort, the nine start-ups have made significant traction on all fronts; as in, the development of their prototypes, LOI's signed and funds raised from early investors. I am particularly proud of our founders, associates, and mentors that came together and helped us build a unique environment to enable our entrepreneurs to do more faster."
Mr. Gheyath Mohammed Gheyath, Chairman of GINCO Group of Companies, added "GINCO has been very pleased with not only the lineup of incredible companies but also our excellent team of mentors who have brought real value to the founders over the past three months. We are excited to kick off Demo Day and show local and regional investors what great additions these companies will be to the MENA startup community."
Check out the MAGNiTT profiles of the nine startups who will present at Demo Day:
Felix: Software for modern insurance brokers.
Flugauto: Revolutionizing metropolitan life by providing air transportation for everyone and everything.
Klasha: An online fast fashion retailer for 20-somethings with fast delivery to West Africa.
Natufia Labs: The Nespresso for plants and herbs.
Novele: A real estate technology company that designs and develops solutions for the building in the digital age.
Nytilus: Helping the industrial workforce to see, learn and work better by leveraging AR and AI technologies.
OmniX: A trained machine vision platform enabling businesses and customers to create actionable insights from any captured moment anytime, anywhere.
Soluki: Helping to bring simple web development solutions to the Arab-speaking world.
TPS Engage: The first platform in the world to offer permanent contextual advertising features for outdoor advertising.
Demo Day will take place on Tuesday 17th of April 2018 at The Park Hyatt Dubai, starting at 1:00pm.

To register your attendance, please RSVP here.
Techstars Dubai Accelerator in Partnership with GINCO Culminates in Demo Day