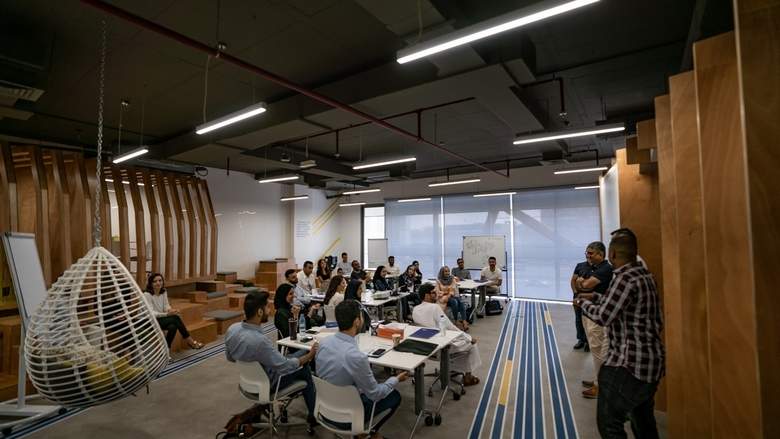 Tech giants join hands to nurture Arab talent
By MAGNiTT
Posted 5 years ago - Oct 7, 2018, 6:10 AM
By Saman Haziq / Khaleej Times
SOURCE: Khaleej Times - Tech giants join hands to nurture Arab talent
---
Jadarah candidates will attend a series of boot camps on AdWords and Google Analytics delivered by product experts at Google Dubai.
A total of 30 Arab nationals have been shortlisted for a six-month intensive training by mentors from tech giants - Google, Twitter, Amadeus, Facebook and Udacity - in Dubai.
The unique one-of-a-kind programme Jadarah - being held in Dubai until February 28, 2019 - includes teaching students how to pitch their business ideas, problem-solving methods, market research, stress management, training on Twitter platforms, knowledge-sharing trips to Facebook's regional office etc. Run by Al Tayyar's Strategic Online Business Units in Riyadh, Dubai and Cairo, not only will the programme offer training for the 30 participants, but it will also be a paid opportunity, which will possibly lead to a full-time role at the online unit, potentially with one of the programme partners.
Jadarah candidates will attend a series of boot camps on AdWords and Google Analytics delivered by product experts at Google Dubai. "The curriculum will include local case studies combined with interactive and practical sessions which eventually lead to official certifications. By the end of the training, graduates will be able to apply their learnings to develop advertising strategies, as well as measure the success of their campaigns," said Bilal Kabbani, head of the travel sector, Google Middle East and North Africa.
Talking about how the programme allows participants to explore their talents and work on their strengths, Aseel Al Qutob, a graduate from American University of Sharjah, who quit her job to join the programme, said: "I don't regret quitting my job as the training I've received here is like no other. I have gathered that we all want to be the best versions of ourselves, but we are also helping everyone be the best versions of themselves too. We work in teams, and by the third week, we already knew the strengths and weaknesses of every team member.
"Jadarah is divided into two parts - one, where you can work on a project with a team, so you get that startup kind of experience. Secondly, through a job rotation where you have the freedom to experience different departments and skill sets. These types of experiences are exactly what's needed to help young people kick-start their careers."
Another graduate Rahaf Kaddoura from Emirates Aviation University, Dubai:
"Coming from an engineering background, my challenge was learning new areas of businesses - going in-depth in areas such as market research, creating a business canvas, and financial modeling. But with the help of everyone in the office, I'm making great strides and understanding things easier. Jadarah is preparing us all for a real-life working environment, where we will be working with people we have never met, giving us the skills to excel."
Muhammad Chbib, head of Al Tayyar Strategic Online Business Unit, commented: "A topic dear to my heart is to encourage and support women in Mena throughout their professional journey. We are really pleased to report that over a third of the applications are from females. We are certain to be able to increase this number in upcoming years, to encourage young Arab women into the workforce of the future."
Tech giants join hands to nurture Arab talent