Dutch development bank FMO has financed liwwa, a start-up that offers finance to small and medium enterprises (SMEs) through its digital lending marketplace. FMO will support liwwa on its journey to improve access to finance for entrepreneurs in Jordan and the Middle East and Northern African (MENA) region. The investment contributes to FMO's efforts to drive financial inclusion by supporting innovative, technology-driven newcomers in the financial services industry. Funding is made available from the MASSIF fund, which is managed by FMO on behalf of the Dutch government.
The investment in liwwa fits the further focus of FMO to support economies in the MENA region, specifically in countries which deal with a strong influx of refugees, such as Jordan. While offering strong potential in terms of volume and combatting unemployment, SMEs have been identified as a strongly underserved market segment throughout the MENA region. By targeting SMEs in both growing and underbanked areas, liwwa supports job creation where it matters most.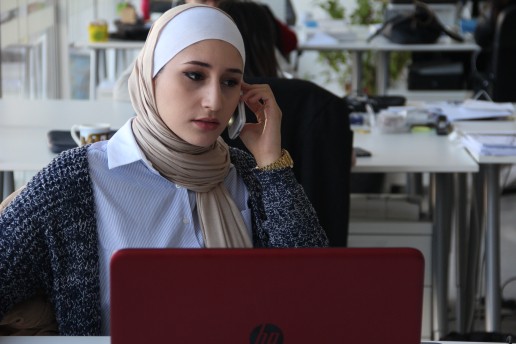 Iiwwa Customer Service Representative Dua'a Al-Hawamdeh. 
liwwa was founded by Ahmed Moor and Samer Atiani and incubated at Harvard University's Innovation Lab. Since 2015, the digital lending marketplace has issued USD 9 million in trade finance. The marketplace allows local banks, retail investors and institutional financiers to contribute to closing the USD 240bn SME finance gap in the MENA region. liwwa has established a unique brand in Jordan based on excellent customer experience and a Sharia compliant loan product, even as it develops other products for the market.
MASSIF provides financial and non-financial resources to small businesses and micro-entrepreneurs by supporting local financial intermediaries and institutions that can contribute to their development. The Fund invests in low income countries and fragile and conflict-affected states with special focus towards rural areas, women, youth and companies that are developing new innovative products and services for the so-called 'Base of the Pyramid'. "Supporting liwwa is an important step for the Fund to further support entrepreneurs in this conflict affected part of the world", explains Mr. Jeroen Harteveld, Fund manager of MASSIF.
liwwa's co-founder and CEO Ahmed Moor stated: "Being able to count FMO among our partners is a great honour for us. FMO's guidance and support will be critical as we scale the business. We share goals, a vision and a mission in common, which are critical components of any successful partnership."
Other investors in liwwa include Silicon Badia, Dash Ventures, Bank Al Etihad, MENA Ventures Investments and SAT Capital.
Supporting digital SME lending in Jordan