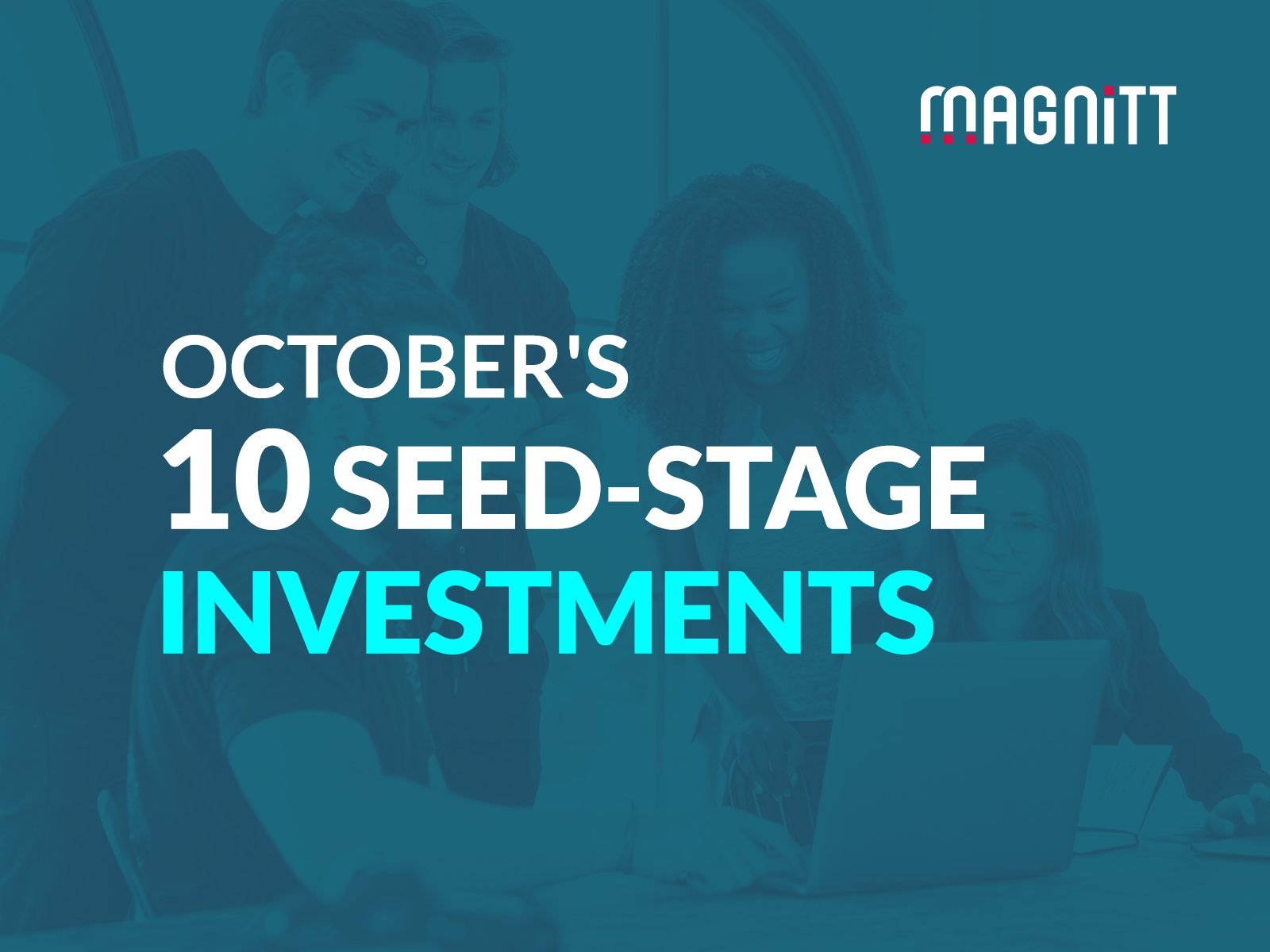 Super-Seed? A round-up of October's 10 early-stage investments
By Zara Choudhary, Content Executive, MAGNiTT
Posted 2 years ago - Nov 11, 2020, 9:43 AM
MAGNiTT's October 2020 Dashboard revealed that despite the COVID-19 impact, by October 2020, MENA VC investment has reached $867M which exceeds the full year of funding in 2019. 


October saw 15 deals take place in the MENA region (a decline from the previous month), but the majority of these startups (10) secured Pre-Seed or Seed investments - a considerable increase from what we have seen in previous months. Are these closures a result of the COVID-19 effect slowly wearing away? With several investors only investing in later-stage startups during the peak of the pandemic and putting any new or potential fundraises on hold, we're now witnessing a promising increase in early-stage investments.
To that effect, at MAGNiTT, we believe it's important to highlight these startups and earlier funding rounds. Meet and connect with the MENA startups who raised their Pre-Seed or Seed rounds in October below (the startups are categorised by the date they were announced).
Access the October 2020 Dashboard for full, detailed, and data-driven insights on all funding rounds in the month. 
---
Get access to over 2,100 Seed funding rounds in the region on MAGNiTT
---
1. Flick 

Flick is an Egyptian seamless peer to peer app that digitizes the cross-border end to end money transfer.
They raised a $1M Pre-Seed round to invest in new hires, as well as marketing campaigns.
2. La Reina

The Egypt-based startup is an online platform for fashion items rental and provides a sophisticated connection between both, owners and renters. 
La Reina raised a six-figure Seed round and launched a new fashion subscription service alongside the announcement. 
3. Milango

Milango is a community management solution provider that digitises every interaction between residents, patrons, and management.
Their six-figure Seed round was led by A15 and strategic angel investors.
4. IQRA'A

Jordanian Edtech startup IQRA'A is focused on innovative content creation for school students and seeks to address the issues that many have faced with online educational content providers.
They secured their first round of investment - a Pre-Seed round earlier in the month.
5. dreevo

dreevo, a last-mile delivery-focused startup that facilitates the e-commerce business cycle whilst offering merchants and customers quality services, launched and raised a bootstrap, Pre-Seed funding round.
6. NowPay

Another Egyptian startup NowPay - a FinTech that focuses on improving the financial wellness of corporate employees in emerging markets, announced the closure of a $2.1M Seed investment round. 
7. Retailo

Retailo is a B2B marketplace that aims to technologically supercharge retail supply chain in the region.
Their Pre-Seed round of $2.3M was led by Shorooq Partners, with participation from 500 Startups and 92-Ventures. 
8. MARJ3

Online Edtech platform MARJ3 connects MENA youth to educational opportunities around the world. The startup raised an undisclosed Seed investment, led by U.S based investment Expert DOJO. 
9. Miswag

Iraqi E-commerce platform Miswag originally made a name for itself selling cosmetics, accessories, electronics, and household goods. The firm has since expanded into food and grocery items and secured a Seed funding round in mid-October.
10. Garage

KSA-based Garage, a soon to be launched startup in the field of express vehicle service aspires to digitize the vehicle service sector in line with the 2030 Saudi Vision to contribute to digital transformation. 
Garage announced its Pre-Seed round, in which it raised 1M Saudi Riyals ($260K) from angel investors. 
---
Did we miss anything? Connect with me and share your thoughts!
Are you a startup looking for investment? Apply for funding to 95+ investors now.
Super-Seed? A round-up of October's 10 early-stage investments