By Matthew Martin and Gwen Ackerman/ Bloomberg - Image Credit: Tom Dulat/Getty Images
SOURCE: Bloomberg - The Sudden Rise of Arab Startups
---
In the rapidly evolving gig economy, there is a new way to car shop: spot one on the road that appeals, snap its photo with your phone and an app will contact sellers of similar cars near you and negotiate the lowest price -- all within a few minutes.
It's remarkable not only for its technique but its location -- Dubai. A few months ago, Tarek Kabrit, co-owner of Seez, the startup that makes the app, left a stellar career that included stints at Deutsche Bank AG and the Abu Dhabi sovereign fund Mubadala Investment Co. to focus on his new venture.
And while that's a relatively common move in North America and Western Europe, it's been virtually unheard of in the Middle East (apart from Israel) where, despite oil wealth and growing smartphone penetration, startup culture hasn't started up. Until now.
With Arab governments seeking to diversify away from crude sales, young, wealthy and tech-savvy populations are launching enterprises and getting local investors to back them.
Entrepreneurship
"A big bunch of people from my generation are seeing this as the opportunity to move into entrepreneurship,'' said Kabrit, who said his family and friends thought he was crazy.
Over the past year more than $3 billion has been raised from Middle Easterners for technology investments in the region, according to Bloomberg calculations based on public announcements. 
It's a shift that's been largely caused by outsider interest. In March, Amazon.com Inc. acquired Souq.com, a Dubai-based eCommerce platform, for $580 million, shocking locals. And in its last funding round, Careem Networks FZ, a regional Uber Technologies Inc. rival, became the Middle East's only Unicorn -- a tech startup with the valuation over $1 billion -- drawing backing from Daimler AG and Saudi billionaire Prince Alwaleed bin Talal.
Walid Hanna of Middle East Venture Partners, a Dubai-based venture capital firm, called both moves "major wake-up calls to investors not to ignore the sizable startup opportunity in the region."
The knock-on effect is pumping money and talent into the local startup scene. 
Wealthy Investors
Investors now include some of the Gulf's wealthiest individuals and biggest companies. Alain Bejjani, CEO of Dubai-based Majid Al Futtaim Holdings, owned by the richest man in the Middle East, said the company is focusing more on the area (while declining to provide specifics). This year it invested in Fetchr, which offers delivery and logistics services to e-commerce firms. Abdulrahman Tarabzouni, a Saudi national who was at Google in Silicon Valley, returned last year to run a $500 million investment fund for new technologies at Saudi Telecom Co.
Dubai-based tycoon Mohammed Alabbar says he has raised $1 billion from investors to put into tech deals in addition to the $1 billion he has put in place with Saudi Arabia's sovereign wealth fund to create Noon, an eCommerce platform. A year ago, Saudi Arabia's Public Investment Fundsaid it has $1.1 billion to put into venture capital firms in the kingdom.
There is room for massive growth, says Tarabzouni. "Take the pool of venture capital money available and divide it by any metric -- GDP, population, connected users -- and the numbers will speak for themselves compared to advanced economies,'' he says. "We aren't talking of the need to double or triple the numbers to get to those levels, we're looking at the need to deploy more than 10 times what we have today.''
Why it's taken so long for the Arab world to catch up is a matter of debate. "The education system, funding availability and lack of bankruptcy laws and well-paid public sector jobs have not fostered a risk-taking, entrepreneurial spirit in this region," said Monica Malik, chief economist at Abu Dhabi Commercial Bank PJSC.
Closer to Home
The availability of funding closer to home will mark a significant change for regional startups. When Joy Ajlouny was co-founding Fetchr in Dubai, the $11 million that got the idea off the ground all came from Silicon Valley. The last funding round, in May, raised $41 million from nine investors -- seven of them based in the Gulf.
"If we hadn't got money from Silicon Valley to begin with, we wouldn't be here," she says. "Now, we're starting to see investors in the region get the fear that they could be missing out on the next big thing."
On its face, the Gulf is fertile territory for startups. In the two biggest economies, Saudi Arabia and the United Arab Emirates, economic output per person is $22,000 and $40,000 respectively, according to the International Monetary Fund. Mobile broadband subscriptions in the Middle East and Africa are expected to grow threefold between 2016 and 2022, according to report by Ericsson AB.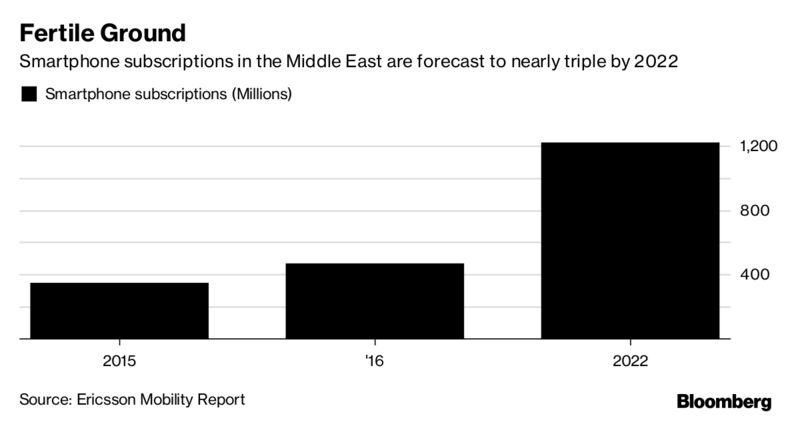 But it took outside interest to convince locals of the potential they were sitting on.
The Souq.com deal and Careem's billion dollar valuation have been a "lightning bolt to the ecosystem" that made investors realize now is the time to start putting money in, said Christopher Schroeder, a U.S.-based venture investor and author of "Startup Rising: The Entrepreneurial Revolution Remaking the Middle East."
"The region is 350 million people and in two years smartphone penetration will be almost 70 percent," he said.
The growth may also be fed by nascent, if still clandestine, relations between Israel and the Gulf kingdoms.
"Israel and the Arab countries, in particular the Gulf countries, are on a verge of a new era of cooperation, in particular with respect to technology, agriculture and water innovation," said Erel Margalit, an Israeli Labor Party lawmaker and former venture capitalist who plans to meet with people involved with startups in Dubai, Abu Dhabi, Cairo, and Morocco this month in the U.S. "We are talking about creating hub to hub cooperation on themes like healthcare, Internet of Things and agrotech. Should this be successful, Startup Nation will meet Startup Rising in the Arab world for investments and technology cooperation."
Finding another unicorn like Careem will not be easy. Most technology companies are young and looking for funding of around $25 million to $50 million. Low credit card penetration and a shortage of talented coders and managers are hindering potential.
Slow Development
Market development has also been slow because of the lack of specialized investment firms with proven track-records, a shortage of business founders and technical talent, and exit opportunities have been slow to materialize, said Khaldoon Tabaza, founder and managing director at iMENA Group, which invests in Middle East online classifieds and marketplaces firms. He expects this to change in the near future.
And like everywhere, startup funding is a risky business. Even the region's highest-profile deal offers a cautionary tale. Souq.com had been valued at about $1 billion in a funding round that closed in 2016, people familiar with the deal told Bloomberg. But when Amazon.com acquired the company a year later it paid $580 million.
In the short-term, more capital will drive up valuations and that could scare off some investors, especially if people start losing money.
As Tarabzouni put it: "Make no mistake, there will be failures. There will be devaluations. There will be investors who will get burned. There will be lots of lessons learned. On the flip side, there will also be tremendous growth and value from the winning bets. That's the nature of venture capital."
---
SOURCE: Bloomberg - The Sudden Rise of Arab Startups
The Sudden Rise of Arab Startups