SOURCE: Entrepreneur ME  - Making It Big: Four Steps To Grow Your Business To A Regional And Global Success
---
Mai Medhat and Nihal Fares created Eventtus in 2012. This Egypt-based startup has grown its web and mobile apps to an all-in-one platform for events ticketing, event management and networking. Eventtus has served 9,000 events in 15 countries, with clients including Expo 2020 Dubai, Informa Middle East, DMG Events, STEP Conference, Emirates Foundation and ArabNet, among others. How this event app provider achieve to deal with the top players in each continent ?
We get asked this question almost every day, and actually, there are a lot of lessons learned throughout our journey that we'd like to share with all entrepreneurs out there, who are looking to expand their business outside of their hometown regions. But, as we all know, the internet and conferences around the world offer lots and lots of advice, and some are really good of course, but the thing is that advice alone doesn't make a great cash inflow, or even leads. It's hard work and persistence that counts, and a driven mindset that makes you grow into your full potential. Here, we will try to boil it down to four steps to grow your business to a regional and global success.
1. Make a great product 
The first step is always to make a great product. A product that solves a real problem for your clients, and is designed in a way that makes them fall in love with it. On average, we reach a 90% engagement rate across all the events that we powered with an app, which is far ahead of the market average. That means that 90% of the people who downloaded the app actually used it- we calculate that based on the meaningful actions the user does on the app.
Now, this will never happen for you without an agile mindset and continuous development and fine-tuning of your product. We've listened to our clients and attendees after every event app we provided, and we've adjusted our technology and experience to optimize the results for both the organizers and attendees. We've done 9,000 events so far- so imagine the amount of fine-tuning our product went through. At the end of the day, you must remember that it doesn't matter how much marketing or PR you put on a product- if it doesn't really solve a problem, or provide value, it won't go far.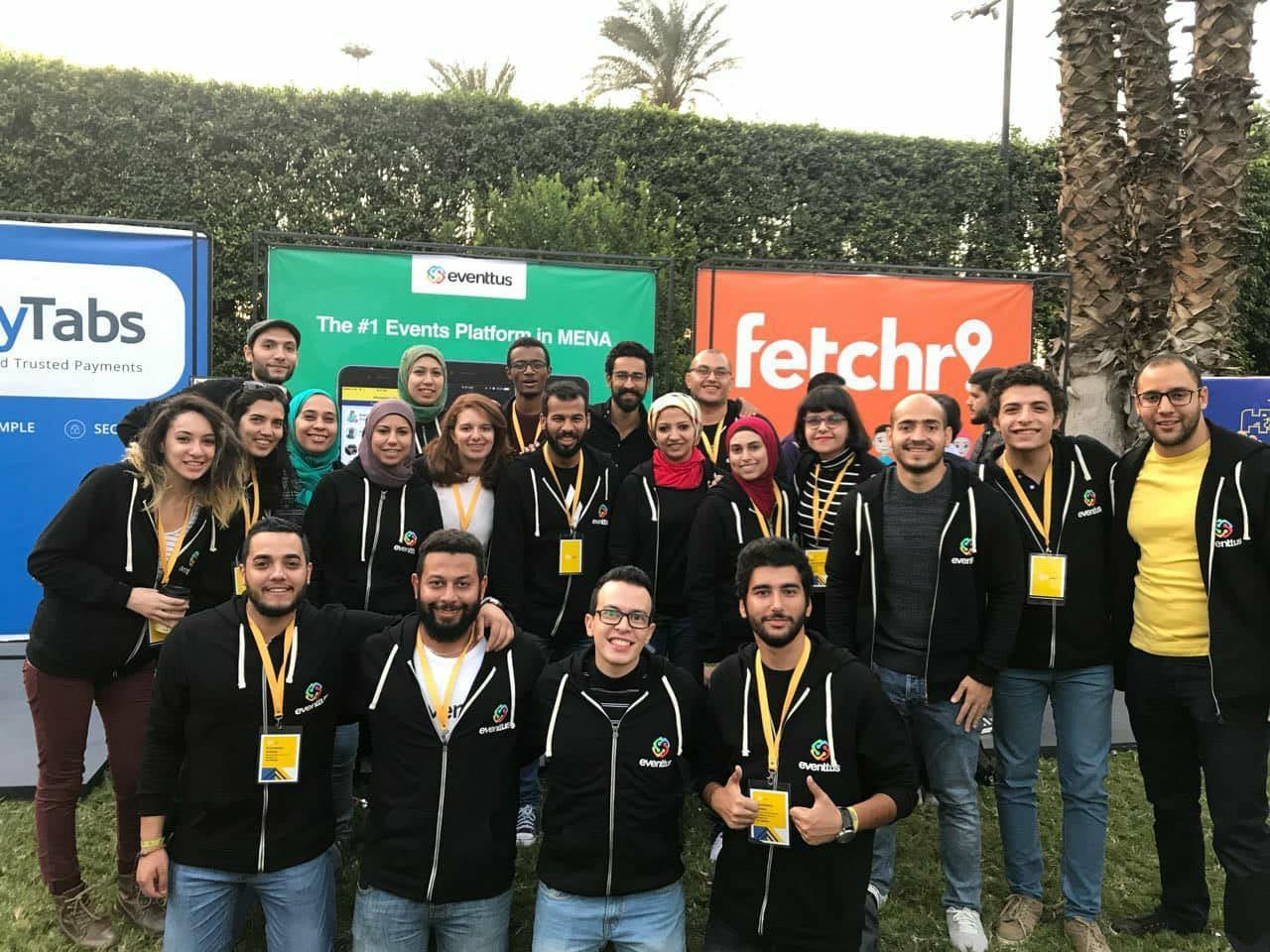 Eventtus team at RiseUp Summit. Image credit: Eventtus.
2. Dominate a vertical
For the global market to trust you, you need to be the top player in your region first. To achieve that quickly and effectively at Eventtus, it wouldn't have made sense if our focus was distracted by many verticals. We've managed to power almost all of the top events in the region, which include Expo 2020 Dubai, STEP Conference in Dubai, ArabNet, RiseUp Summit and many more. By focusing all our efforts to dominate one vertical first (i.e. the business events), we then went further, and sharpened our focus more on the tech and entrepreneurship events in the region. To get our brand attached to these conferences and exhibitions was our sole target- to make people think of Eventtus whenever they thought of a regional tech, entrepreneurship, or business conference or exhibition.
Once we achieved that, it was pretty easy to convince the global tech, entrepreneurship, and business brands to get the Eventtus app, because by then, they had already heard about us, and tried our app in the conferences they visited in our region. After achieving domination in the tech and business events, we're now using that background to expand into other verticals like sports and pharma. So, the key lesson here: keep all your efforts aligned in a focused vertical if you want better acceleration.
Step By Step : How To Grow Your Business To A Regional And Global Success