Groundwork: Digital growth and Startup success in Pakistan
By Omar Shah- CEO & Founder COLABS
Posted 2 years ago - Nov 2, 2021, 1:43 PM
Interested in more data on startup investments? Access our data on 7,490+ startup funding rounds
---
The Pakistani startup ecosystem has witnessed yet another record-breaking quarter consistent with a year filled with major funding rounds and buzzing venture capital activity. Driven by an almost 300% YoY growth in funding, as recorded in our Pakistan Q3 2021 Venture Investment Report, Pakistan-based startups have raised $15M more than all capital deployed between 2018-2020 in Q3 2021 alone. This comes amidst double the number of active investors compared to the same time last year, where international investors accounted for 80% of total investors backing local startups by Q3 2021.
For avid followers of and stakeholders in this booming startup scene, it is the digital disruption across industries that have been the most exciting aspect; driving innovations and investor traction in the ecosystem. As a result, Tech-driven sectors like Transport & Logistics (T&L), E-commerce, and FinTech have ranked as the three most-funded industries in Pakistan by Q3 2021, with FinTech recording the highest YoY growth (1,711%)  amongst these top 3 industries.
As we near the end of a record-breaking year in Pakistan, we invite serial investor and COLABS CEO & Founder Omar Shah to reflect on the drivers of growth key ingredients of Pakistan startup succes  in this week's thought contribution: 
---
---
Five to seven years after the transformational change in India and Indonesia took place, now Pakistan, also a developing country, is going through it.This integral transformation creates a very conducive environment for tech and digital startups. The fifth most populous country in the world, Pakistan has one of the fastest-growing economies in Asia, with more than 200 million people. Approximately 120 million people in Pakistan use the internet, which ranks it eighth in the world for Internet users. As a result of the startup boom, businesses have emerged to match unmet demands across the country.
Today, there are many E-Grocery platforms successfully catering to the demand of people through direct payments on channels like Easypaisa, Jazz Cash, and direct bank transfers. With 65% of the country's population under 30 years old, Pakistan is one of the most technological and digitally inclined countries in the world, providing uninterrupted and easy access to a population of more than 100 million people. Accordingly, Pakistan is an economically dense country with a consumer-driven economy, all these factors and more make Pakistan conducive for Tech and digital-focused startup growth.
As recorded in our Q3 2021 EVM Fintech Venture Investment Report, the top 5 deals in Pakistan-based FinTech startups alone raised $40M by Q3 2021; to put this into perspective, that is $4M more than all funding deployed across industries in FY 2019. It is startups like TAG, Finja, and SadaPay that are paving the way for fully digital financial infrastructures in 2021, however, this wasn't exactly the case in the ecosystem's budding years. 
As a result of startups' success in the region and the growth of the internet, the attitude towards entrepreneurship has drastically changed in Pakistan in the past few years. The Plan9 incubator was the only one in Pakistan in 2014, pioneering the digital and entrepreneurship ecosystem in Pakistan. 
By creating Ignite Funds in Islamabad, Lahore, Karachi, Peshawar, and Quetta, the Government of Pakistan initiated national incubators for startups. Building national and provincial incubators, introducing tax relief for three years, and pursuing regulations for local venture capital (VC) firms and investors has been a primary government effort. The private sector is following suit, with the emergence of incubators and accelerators supported by foreign organizations such as Google's Nest I/O in addition to new, local VCs.
Today, universities and educational institutions are also taking entrepreneurial careers into consideration for their graduates due to an unemployment rate of around 5%. Although still budding, a few private sector universities such as LUMS, NUST, IBA, and FAST lead the way, having introduced their students to entrepreneurship courses and their own incubators such as LUMS Center for Entrepreneurship, Technology Incubation Center NUST, Business Incubation Center Bahria University, etc. 
Altogether, there are 80-90 incubators and accelerators in Pakistan which has created an environment for almost everyone to talk about entrepreneurship. Fresh graduates are also opting for entrepreneurship instead of jobs. Conferences and events like Disrupt 021, Momentum, Startup Grind, Paklaunch have created a buzz of startups around Pakistan, which drove a significant increase in presence and investment from both international and local investors in Pakistan.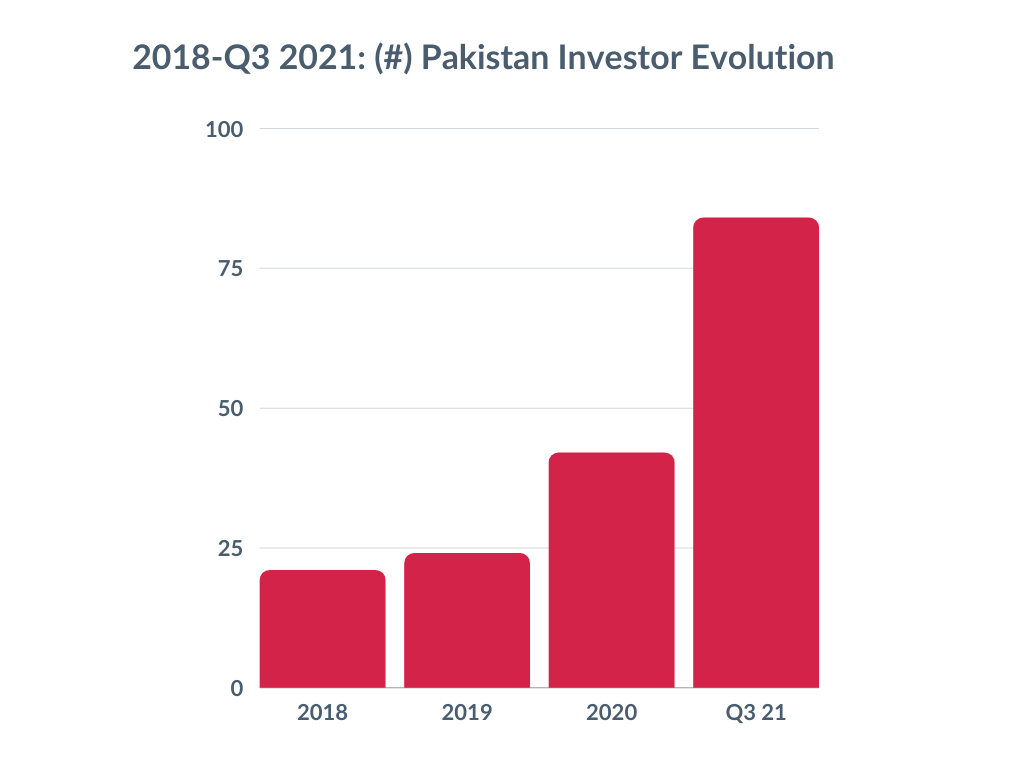 As continuous innovations and digital disruptions continue to lay the groundwork for a Tech-driven Pakistani market, industry movers, enablers, and weavers like COLABS who build workspaces and startup communities country-wide, have been working to connect Pakistan globally. With the return of Pakistanis living abroad, Omar being one of them, it became a crucial time for VCs and entrepreneurs to connect and build the future of the ecosystem. 
While moving back to Pakistan with a background in Private Equity, I wanted to build Venture Capital for the rising startup ecosystem of Pakistan. Observing VCs and NICs throughout Pakistan, I noticed the lack of a space that is more than just a physical space providing support in the overall journey of a startup turning an idea with a vision into a reality. International startup entrepreneurs and Wapistanis who need support in understanding the payment of bills, setting up their offices, and running their businesses could not find a reliable and meaningful platform. It led me to build COLABS as a 360 service which built an ecosystem of thoughtfully designed contemporary physical space that can support big ideas, meaning collaborations, knowledge sharing, and investment access. 
I believe that many startups have seen their first success through the networks and referrals they have built. Startups have been able to minimize their failure risk because of those factors. Creating a community of support among your colleagues and the surrounding business community is crucial to the ongoing success of your startup. 
I met Brandon Timinsky, founder of Sadapay through a mutual friend in Lahore and invited him to the Startup Grind conference for a panel discussion on Venture Capitalists. He was looking to hire someone for marketing and I recommended him a colleague with ex-fintech experience which made a meaningful impact as Sadapay's first hire, helping them set up their Pakistan office. This way, we are building an international gateway to Pakistan without Government engagement and tedious processes. We are also helping small teams in an impactful manner, Ailaaj, one of our highly recognized community members, was able to hire more than half of their team through our community partners and network. Startups on the verge of shutting down made their way back to life through the meaningful connections made possible through COLABS' collaborative platform.  We're proud of the integral role we're playing amidst this remarkable and record-breaking growth of the Pakistan VC ecosystem.
The development of this Thought Piece was supported by MAGNiTT's flagship Pakistan Q3 2021 Venture Investment Report and Q3 2021 Fintech Evm Venture Investment Report in partnership with Omar Shah from COLABS.
---
Scan this venture space. Access real-time data on 21,400+ startups in Emerging Venture Markets
Groundwork: Digital growth and Startup success in Pakistan