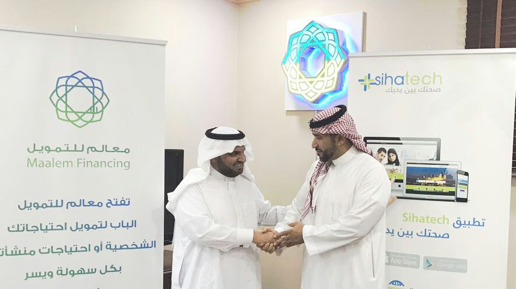 Sihatech Signs with Maalem Financing Company
By MAGNiTT
Posted 6 years ago - Aug 4, 2017, 11:09 AM

Sihatech signs with Maalem Financing Company to bring patient financing to Saudi Arabia and the MENA region.
Maalem Financing Company (MFC) is a leading Saudi financial institution licensed by the Saudi Arabian Monetary Agency (SAMA) with a 100 million Saudi Riyal capitalization and owned by reputable shareholders in the Kingdom of Saudi Arabia,
MFC provides a range of Islamic financial products and services focused on the Small and Medium Enterprise (SME) and consumer markets in Saudi Arabia.
MFC is proud wit partner with Sihatech to unlock the potential of the medical financing market, which is estimated to be in the range of 20 billion SAR.
---

About Sihatech
Sihatech is the Sihatech empowers patients to find the best doctor according to their needs. Book a direct appointment with an experienced and trusted doctor from over 100 different medical specialties and sub specialities.
Sihatech allows you to browse through our up-to-date database of doctors, clinics and hospitals
You can choose the doctor that is closest to you. Or a doctor that is a specific gender or speaks a similar language. You can also learn more about the experience and medical degrees of the doctor before booking a direct appointment. You can also see if that particular doctor, clinic or hospital accepts your insurance.
No insurance, no problem as all doctors also accepted cash payments. And don't worry, the Sihatech booking service is completely free and all appointments are verified by our Sihatech Call Center
Sihatech: "Putting Care Back into Healthcare"
"Winner of Start Up of the Year - ArabNet Riyadh 2016"
"Winner of Start Up Championship - ArabNet MENA 2017"
"Member Top 100 MENA Start Ups - World Economic Forum 2017"
For Further Press Enquiries:
Email Sihatech at: 

[email protected]
Sihatech Signs with Maalem Financing Company