Scale to KSA remotely NOW - A How to Guide to Setting Up in the Kingdom
By MAGNiTT
Posted 3 years ago - Apr 27, 2020, 1:29 PM
Are you looking to establish your startup in Saudi Arabia, but are unsure of how to proceed? Or are you simply curious to know the ins and-outs? In this webinar, Dr. Mazin Al Zaidi of MISA, chats with MAGNiTT CEO, Philip Bahoshy to explore how to successfully set up in the Kingdom. 
How to set-up in the Kingdom:
Dr. Mazin shares that Saudi Arabia is the largest market in the region, it is a G20 country - therefore, there are limitless opportunities. To be able to seize these opportunities, you will need a proper set-up and presence.
Some would want to do it remotely, but he believes that Saudi Arabia has a different structure and a different way of doing business, with many initiatives and big projects; it's a very unique market. To be able to seize it, most of all, you would need to have a team on the ground and to build your network. You need to explore and discover all of these opportunities, and MISA will provide the necessary support.
Having a presence on the ground will allow you to not only seize opportunities but also find new ones, to be able to develop new solutions. There are lots of needs within Vision 2030 and he believes entrepreneurs and innovators could come up with the right solutions and projects to solve them.
Steps to take:
- Register with MISA. This is the key to unlocking the Kingdom. For foreign entrepreneurs and investors, you will need to obtain a MISA license (which allows you to operate as any other Saudi entrepreneur). You will register at the Ministry of Commerce, and create a commercial registration, which will allow you to open a bank account, obtain a VISA and as an investor, allow you to sign contracts, issue invoices, receive funds, close deals, hire employees, and more. You can accept payments internationally without this, but the license will allow you to do this locally and much easier than remotely. This (MISA entrepreneurial license - since the rest of the licenses and visas has its separate fees) costs $500/year, and essentially allows you to operate. It is a checkbox for any VC in the region, it provides confidence that you are operating in Saudi with commitment and no issues.
- For VCs, there are 3 ways to do business in Saudi:
1. Work remotely and invest.
2. Set up your own fund in Saudi. This will allow you to be able to obtain or take support from government funds, whether that is SVC or match funding. 
3. Open an office and invest in Saudi or regional companies that are scaling or setting up in the Kingdom.
MISA has an initiative called Venture where they have more than 50 VCs (local, regional, international) and have a partnership agreement to support them and their portfolio companies to access the Saudi market.
Over 2 years ago, as a startup, you wouldn't have been able to set up in Saudi. Today if you are funded by a VC, accelerator, angel group, or one of the partners at MISA, you can obtain the entrepreneurs' license in less than 3 hours and set up a full company with work permits, visas, etc. For VCs, you will be opening the doors for your portfolio companies. You can set up your office in Saudi or in a co-working space, but there needs to be some kind of presence for this VC in the Kingdom. The cost for this registration is around 5000 (USD 500 for MISA VC license) Riyal.
- You will need to have joined an accelerator or a VC needs to have invested (seed, pre-seed etc.). They want to provide the opportunity to entrepreneurs who really deserve it, and who have proved that they have a market, a product, and raised initial investment, but need to scale and raise more funds. The ultimate goal is to help companies to grow and scale into Saudi, and connect the ecosystem between the Arabic region. Without this, they will not have a base of users, raise enough capital, or have a sufficient valuation.
- You can work from anywhere you want. However, it depends on the type of activity; if you are in the food and beverage industry, you would need and want to have some kind of physical space.
- There are 3 VISA options for investors. For any investor that obtains a MISA license, they have 3 VISA options that don't go into the Saudization Scheme 1. general manager VISA 2. executive manager VISA 3. chairman VISA. 
- You need to have a presence. No investor in the region will invest if you're doing business in Saudi without having a presence. If an investor wants to inject money and you believe Saudi is your biggest market, and 80% of your customers are from there, but you have no base, presence, or employees, this would be a concern for investors. 
- BUT you can still apply, even without an accelerator or VC. If you are a company who has been operating for at least 1 year and have your finances audited, you can still apply for the traditional MISA service license, which is around $15,000/year. This is a huge difference compared to the $500 license. So, it is possible, but is best to go through Saudi based accelerators or VCs (has to be a cohort in Saudi, they would be one of MISAs partners) and also angel groups.
Check out below the COVID-19 incentives in KSA:
For more info:
•    You can reach out to MISA by email on [email protected]
•    Or by WhatsApp on +966112035888
---

Q&A with Dr. Mazin:
What type of company or industries have you seen take advantage of the ability to set up from a venture-space, and what type of industries have you seen come and set up to benefit from these licenses?
Fintech, e-commerce, healthcare, edcare to name a few. There is no restriction. It is such a huge market, you have the largest healthcare system, the largest number of education institutes, largest capital market, so the opportunities are limitless. There are also lots of companies looking into e-commerce, delivery, and transportation.
Can a foreigner set up and own a company and have a CR in Saudi Arabia?
Yes, an entrepreneur can obtain 100% ownership of their business in Saudi, with no minimum capital. You're able to register a company without having a need for a local partner. 
What taxes are applicable to companies that are set up as a foreign entity in Saudi?
Corporate tax, which is 20% of net profit. For startups, it's not a big issue as they're burning more than what they're making. There isn't any income tax.
Do you have to have a business address in Saudi Arabia in order to operate?
Yes, you must have an address, However, you can have one hot desk in a co-working space.
Are you focused on successful businesses moving into Saudi or are you looking for good, innovative, and disruptive ideas? 
All entities in the Kingdom including MISA are working 24/7 to bring the know-how to Suadi, and to transfer the talent and technology to the region. We are working toward our 2030 Vision dream, and we would like all dreamers to participate in the journey.
Is it only those in the ME/GCC region that can apply, or can a startup be established in North America and then apply in Saudi?
In 2019, we licensed around 250 startups, who are located in GCC, MENA, Europe, North America, Latin America, and South America.
What is the largest opportunity in the Kingdom?
The largest opportunity for any startup in Saudi, is becoming a unicorn - there currently only is one. Therefore, there's a huge opportunity there and the government has been very supportive; capital is available and the market is growing. There is no better time to think about dreaming big.
Watch the full webinar below now:
In our 2019 Saudi Arabia Venture Investment Report, you will discover that the Saudi Arabia startup ecosystem is growing and now occupies the third place in the MENA region by deals and amount of funding:
•    $67M was invested in 2019, a 37% increase compared to 2018's $47M.
•    69 deals took place in Saudi-based startups in 2019, an increase of 86% from 2018. With this, the country saw the highest number of deals in startups on record, topping the previous high of 37 in 2018.
•    While the UAE continued to account for the lion's share of total funding in MENA, 60% in 2019, Saudi Arabia took third place, with 10% of overall MENA funding, making the country an up-and-coming ecosystem.
---
Here are some insights from the polls we launched during the webinar: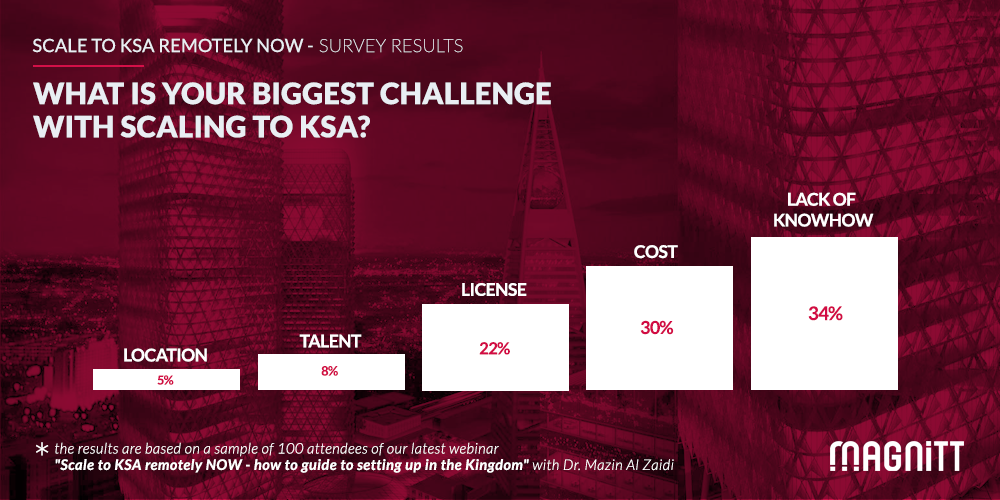 Scale to KSA remotely NOW - A How to Guide to Setting Up in the Kingdom