UAE-based blockchain-focused startup, Rekt Studios, has raised $1.5M to develop Meta gaming ecosystem.
---
Request specific data sets, export tailored directories, and explore the full potential of our Platform. Reach out to our Sales Team
---
Rekt Studios, a Dubai-based startup has announced it's secured $1.5 million in funding from Cypher Capital, a Dubai-based leading blockchain and web3 venture capital firm. The investment will augment development and enable Rekt Studios to launch a product capable of establishing itself as the leading gaming metaverse. The collaboration will also provide access to the substantial global network of Cypher Capital and facilitate the execution of Rekt Studio's first gaming metaverse, Unseen. 
The UAE has been leading the VC ecosystem in MENA crossing the $1Bn mark with half of Q4 still to go. The deals closed in the $1M-$5M bracket size have seen an uptick over the past two years and have accounted for almost 50% of the total deals. With that being said, a significant part of the funding was driven by larger-sized rounds (20M+), especially the Mega Rounds. UAE saw EMPG close a $200M round recently and earlier Pure Harvest closed a $180.5M round driving the ecosystem past the $1Bn mark. While deals remain short, the ecosystem could be well on its way to cross last year's funding depending on the level of activity we get to see in the last few weeks of this year as we continue to track real-time data with our Advanced Analytics tool. 
---
---
---
Access our suite of Q3 2022 Reports covering MENA, Africa, Pakistan & Turkey. Browse our latest and pick your data focus
---
---
The metaverse will bridge traditional gaming through blockchain technology in an open virtual world. The selection of games will range across various types, genres, and gameplay mechanics to eventually evolve into a fully-fledged game distribution platform. "I am confident that the ambitious plans which Rekt Studio have laid out to date alongside their stated goals of Rekt Studio will have a very positive impact on the region. The new funding will not only enable further game development but will also fuel expansion and the studio's marketing efforts. Our immediate goal is to provide the Middle East with a distinct and accessible gaming ecosystem, while also establishing the region as the most prominent space for abundant opportunities in this space," said Bill Qian, Rekt Studio's Board advisor.
Rekt says Unseen is an immersive fully interoperable decentralized virtual ecosystem centered around gaming, entertainment, and real-world utility. This world is accessible directly through the ownership of any EVM-compatible Non-Fungible Token (NFT) in existence. The ecosystem is made for entertainment first, and it provides ample opportunities for users to invest, create, sell, and buy digital assets and experiences, according to the blockchain platform. "At Cypher Capital, we strive to remain at the forefront of cutting-edge technology within the web3 universe. In light of setting the new norms, Rekt Studios' upcoming value-driven ecosystem "Unseen" showcases the maturity of the industry and its limitless potential. We are very excited to be investing in this project and cannot wait to see what the future holds for Rekt Studios, within both the business as well as the immersive world that they are building. Unseen's proprietary virtual economy that leverages emerging technologies and integrates them at the core of human interactions is unprecedented, and Cypher is delighted to help them bring this vision to the world." said Bijan Alizadeh, co-founder, and partner at Cypher Capital.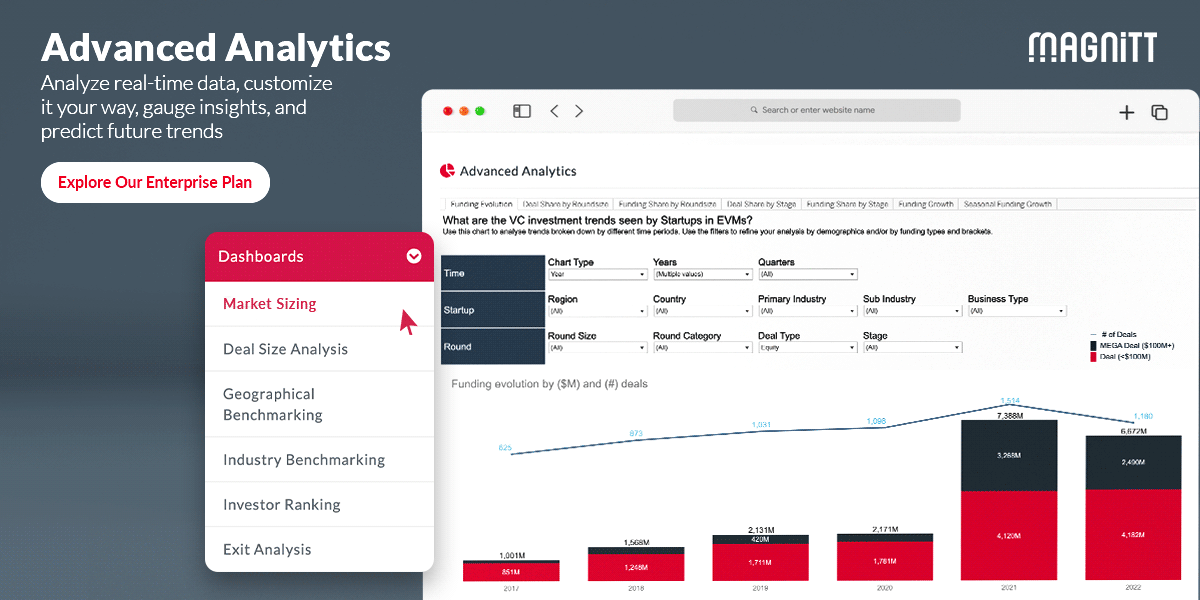 ---
Get a diagnosis of the landscape with real-time data on Real Estate startups in MENA
UAE's Rekt Studios secures $1.5M Investment