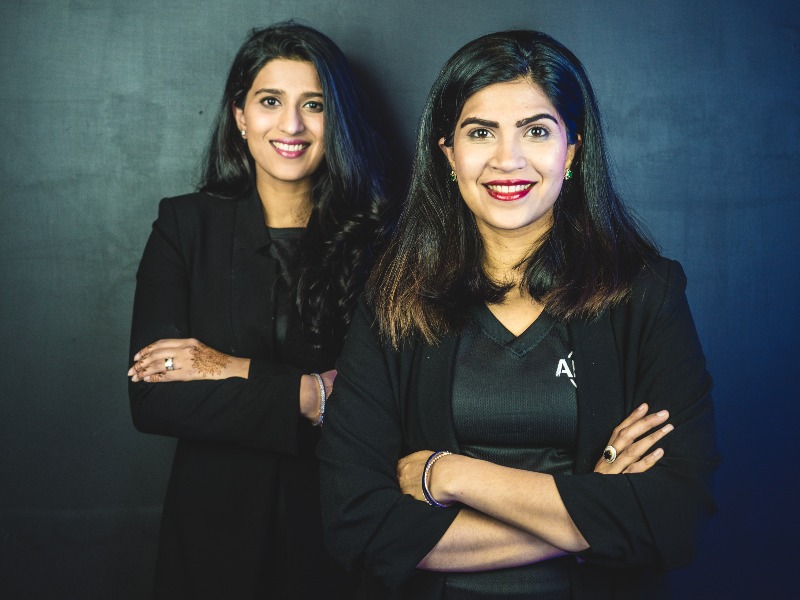 Pakistan's female fitness revolution: An interview with AimFit Co-Founder, Mahlaqa Shaukat
By MAGNiTT
Posted 3 years ago - Oct 15, 2020, 9:21 AM
Pakistan-based AimFit, a female fitness studio chain, successfully secured a $1M Seed funding round last month, led by Indus Valley Capital.
Following the Seed round, we caught up with one of AimFit's sister-duo Co-Founders, Mahlaqa Shaukat to delve into the startups' ambitions, how they quickly shifted online due to the pandemic, their hopes for the future of Pakistan's fitness space, if they're looking to scale to MENA, and more. 
---
Discover more than 400 Pakistan-based startups on MAGNiTT
---
How does AimFit work?
We offer group fitness classes and online workouts. We are on a mission to empower our female community through holistic fitness – fitness of the mind and body. Our members not only get to experience high-quality fitness sessions but become a part of a larger like-minded ultra-engaged group of 10,000 women from across the globe.
AimFit is a Happy Place, as clients refer to us. So all we do, our processes and operations, are centred on spreading positivity and strengthening a culture based on respect that we take pride in.
At AimFit, we believe in simplicity and community building – we have a lean structure in place that allows us to play on our strengths as a team. Our operations can be split into the central head office management, the branch teams that are the first point of contact for clients, and our amazing 55+ fitness instructors – trained and certified by the AimFit Fitness Academy, who bring energy to the studios and help in personal transformation journey of AimFitters. 
How were you able to quickly shift to an online offering with the onset of COVID-19 and how did you overcome any new challenges posed?
Honestly, we didn't pre-empt a lockdown at that time. We had to close down studios in March, expecting to re-open in three weeks' time. That clearly wasn't the case as we finally opened studios in August with strict implementation of COVID-19 SOPs and social distancing.
The team convened for an urgent brainstorming session as the lockdown was announced. We just knew one thing and it was clear: we have to convert this challenge into an opportunity; AimFitters cannot be left alone – their fitness journeys must continue and they must have a reason to be happy amidst the pandemic and the consequent lockdown. To add, we were aware their immune system has to be stronger than ever before to fight COVID-19. It is this thought that lef to the idea of structuring online classes.
We had two options: either bootstrap and launch an MVP within hours or refine our processes before launching. There was a unanimous vote for the first one. We had the advantage of an in-house design and production team and they exceeded their own expectations by how they filmed and edited workouts from multiple locations - studios and make-shift filming spots - round the clock. 
There were multiple challenges we faced during this time. For example, around 5000 clients had to be reached out to, sales procedures were to be put in place, sales representatives had to undergo training for the new service, though instructors had filmed for promotional campaigns before, but they had to be equipped for conducting virtual classes and commuting from one filming location to the other amidst a strict lockdown. The common factor in all these was the time crunch – it had to be done there and then.
Can you share some more information on what users can expect from your viral online fitness platform?
AimFit's current Home Workout Challenge (HWC) comprises of 4-weeks of follow-along fitness classes. A brand new workout video is released every day that must be completed anytime within 24 hours of the video release.
Having run 8 HWCs successfully, we can humbly say it's time to convert our learnings for a more holistic experience for our clients. We are currently working on building a holistic app-based fitness platform that will let clients view workouts, connect with a strong community, and track their fitness as well.
What do you hope to see from Pakistan's fitness/tech startup space in the coming months/years?
The tech startup scene has fast evolved over the last five years in Pakistan and now stands at a place where it can play a vertical role in bringing innovation in corporations and other industries including fitness. The situation around COVID-19 made us convert a challenge into an opportunity and plug-in technology in our service delivery. In the coming months, we are hoping to see more tech-based collaborations for the fitness sector for seamless digital payments, strong online communities pertaining to fitness and health, and more startups coming into the fitness sector, exploring more services such as fitness tracking and peer-based review platforms. 
How did the current climate affect your fundraising efforts?
The onset of the pandemic, the subsequent lockdowns, and developing HWCs as a service allowed us to be out of our comfort zone completely, explore our own potential and moreover, further strengthen our resolve that 'Yes, You Can'. With a rejuvenated belief in the larger purpose of AimFit and the overwhelming response by clients, the fundraising effort was easier for us.  
What were you looking for from your investors, beyond capital?
Where capital was a key objective, we wanted an advisor to give us a new perspective. We had been running AimFit for 6 years now, with no one challenging our decisions, we wanted an investor who really believed in our mission, there was an alignment with how we wanted to get there (the core values that drive us) and brought the experience to take AimFit to a new level. In Aatif Awan, we are lucky to have found a mentor and an advisor.
AimFit is looking to rapidly expand across Pakistan over the coming months, before targeting international expansion. Can you share some more of AimFit's short-term plans for expansion with us?
There are some exciting things planned out across the board. We are looking to expand our studio footprint in new markets including Karachi and Islamabad, and online in terms of a holistic fitness platform for online classes. Moreover, new programs are being designed and to be introduced by the end of this year. We believe that every woman should have access to holistic fitness and through our expanded services, particularly the online platform, we aim to reach out to 110 Million women of Pakistan.
What do you foresee as the largest challenges to scaling AimFit in Pakistan? And is the MENA region on your radar?
With the 5th largest population in the world, Pakistan shockingly ranked 149 out of 150 countries for recreational physical activity by participation in 2018 measured by the Global Wellness Institute. Creating awareness about female fitness is a challenge that we are aware of and is in fact a driving force. Women need to see themselves as having an independent identity, where they are drivers of their own thoughts, words, and actions – once they are fit, both mentally and physically, is when they can nurture the next generation and fulfill their responsibilities even better. Being a women-focused startup, with every 3 of 4 members of the management team being a female, we know how important it is to strike the balance.
The situation is no different across other similar geographies with large markets like Saudi Arabia and other MENA countries. So yes, absolutely – MENA region is a potential market for AimFit in the future.    
What is your big picture vision for the future of AimFit?
Our vision is to make Pakistan one of the fittest and healthiest nations of the world. We want each woman of Pakistan, and in fact in similar geographies, to be strong, fit, and believe in themselves by adopting a transformative fitness lifestyle. For this, we see AimFit as a place of discovery and transformation for the women and youth of Pakistan that enables them to become a better version of their selves. As we revolutionize fitness in Pakistan, we are looking to enter other emerging markets in the near future.
Finally, what advice would you give to yourself five years ago? 
To relax and just enjoy the journey because every next step will bring another challenge but we'll also find the right solution and get through it!
---
Turkey's average deal size was up 250% in H1 2020 to $2.8M, indicating the shift of investors' focus towards later-stage startups. Discover more trends and insights in MAGNiTT's H1 2020 Turkey Venture Investment Report.
Pakistan's female fitness revolution: An interview with AimFit Co-Founder, Mahlaqa Shaukat