Never too early for Early-Stage
By Majd Shidiac, Content Editor
Posted 2 years ago - Sep 22, 2021, 2:41 PM
Interested in more data on startup investments? Access our data on 7,490+ startup funding rounds
---
Early-Stage funding rounds are as important to assess as Later-stage rounds when analyzing the progress of our startup ecosystems. On one hand, a healthy Earl-Stage deal influx gives rise to the potential of consistent future deal flow, on the other, Early-Stage startups more often than not introduce new technologies and modern business models. As much as it is important to evaluate the success of scaling industries like F&B and FinTech in MENA, Gaming in Turkey, or Transport in Pakistan Early-Stage startups are the heroes of untapped potential. 
Funding in Early-Stage startups has been on a decline across geographies in MENAPT since 2019. As most recently recorded in our August 2021 Venture Investment Dashboard, the second half of 2021 hasn't been so far from that reality either. In MENA, Early-Stage rounds (below $500K) fell by 59% YoY despite MENA's 35% YoY increase in the amount of funding raised in 2021 YTD. While Pakistan-based early-stage startups observed a similar slump (57% decrease YoY), Turkey was the only geography in EVM's observing an increase in Early-Stage deals growing by 10% YoY. 
We examine two key elements in the nature of this dip in Early-Stage deals: 
---
---
Less and Less 
In both MENA and Pakistan, the dip in Early-Stage deals was in congruence with a general slump in total number of deals closed. A 40% drop in total amount of deals across MENA was recorded between 2019 and 2021, similarly, Early-Stage funding rounds observed a 47% drop in share of total rounds in the past 3 years YTD. A similar trend applies  where total number of deals in Pakistan observed a 10.2% drop in 2021 YoY as Early-Stage funding rounds' total share dropped by 21%. 
In contrast, growth in Early-Stage deals was in congruence with growth in total number of deals closed by Turkey-based startups. In 2021, a 25% YoY growth in total deal volume was paralleled by a 13.7% increase in total share of Early-Stage startups. 
This is not to imply any particular causality between Early-Stage funding and total number of deals, but it rather signifies a gap in VC deal flow that if not filled, by a 10% increase in later-stage funding rounds ($500k- $1M) between 2019 and 2020 in the case of Turkey, could verily impact overall deal volume. 
Less and More  
An interesting trend to remark is that despite a three-year slump in Early-Stage funding rounds across MENA, Turkey, and Pakistan, early-stage startups have been raising relatively higher rounds. Average ticket sizes raised by early-stage startups (Pre-Seed & Seed rounds) have been observing a 3 consecutive year growth between 2019 and H1 2021, from $400K to $1.4M in MENA, $500K to $1M in Turkey, and most interestingly from $400K to $2.3M in Pakistan.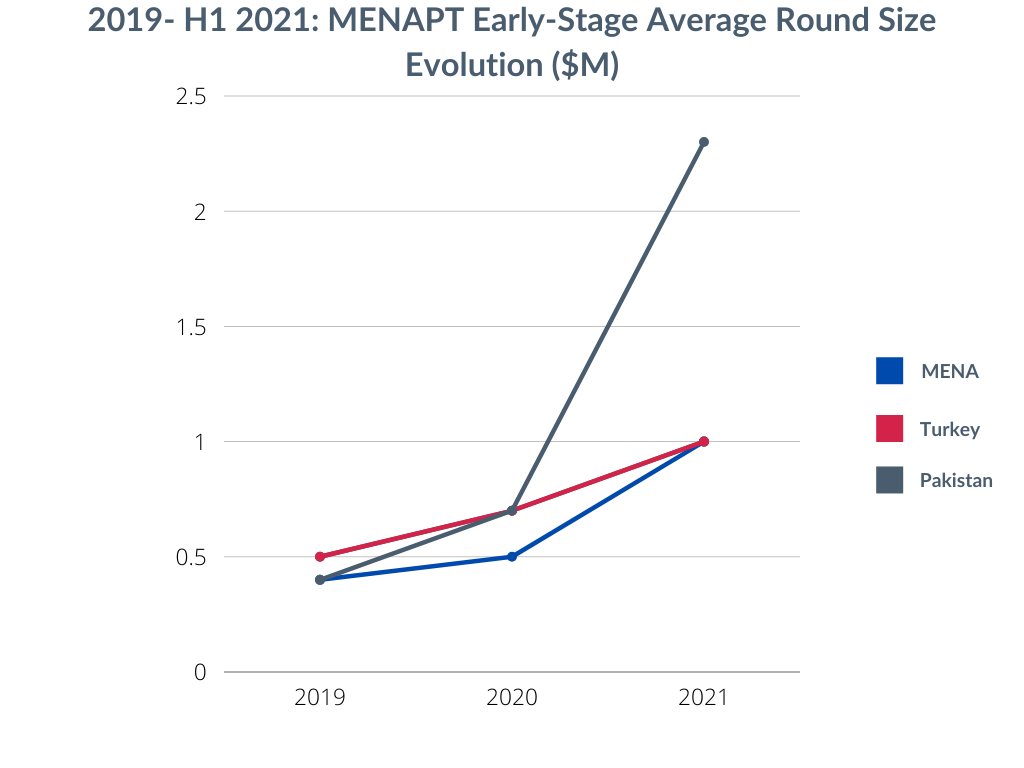 As we observe the shift in our ecosystem dyanmics across Emerging Venture Markets, it is safe to say that there lies a challenge in Early-Stage funding rounds that if cracked, could positively impact the overall deal flow; and if the Turkey case insinuates anything, it is that it's never too early to take this challenge head on.
Data sets used in this research piece are from MAGNiTT's MENA H1 2021 Venture Investment Reports and August 2021 Venture Investment Dashboard.
---
Want to grasp this startup landscape? Browse 2,400+ Early-Stage startups in Emerging Venture Markets
Never too early for Early-Stage