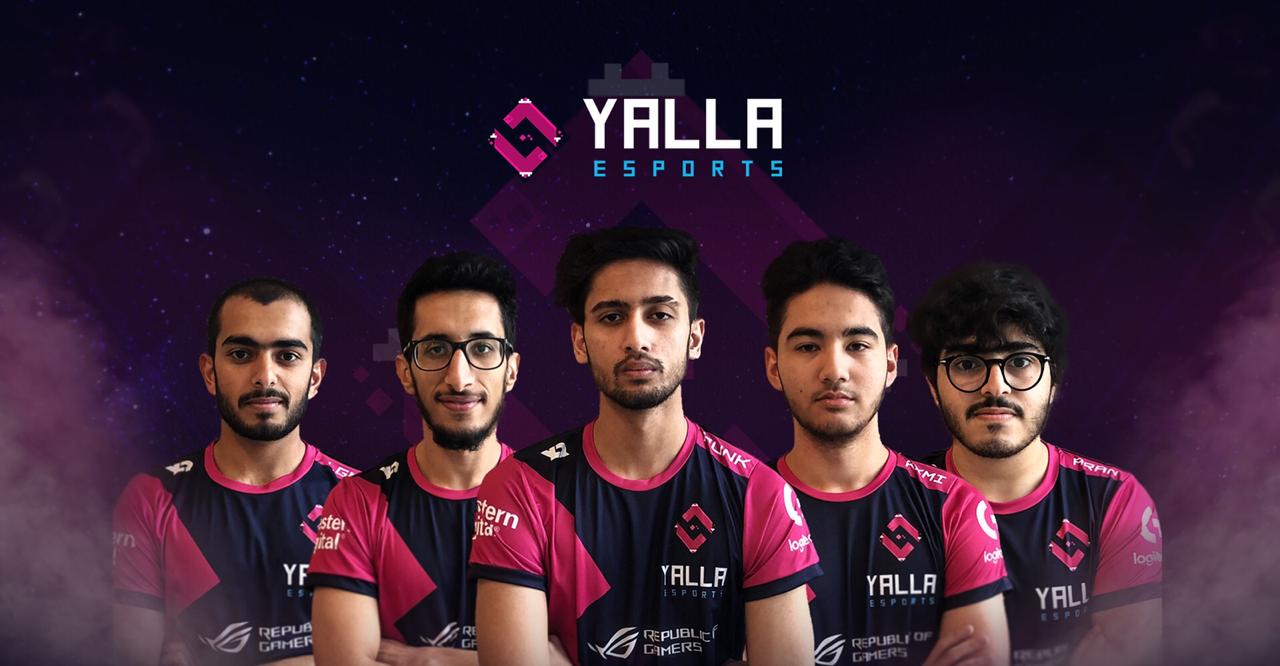 Press Release
---
- Startup aims to invest in and build a conducive environment for aspiring professional esports athletes from the MENA region to compete in local and global tournaments
- Ambitious growth plans, entertainment asset driven by advertising and sponsorships
Dubai, UAE and Riyadh, KSA - April 9, 2019
YaLLa Esports, one of the leading esports organizations in the MENA region, has completed and secured a seed funding round from a group of strategic investors, led by super angel investor Kushal Shah.
Finnish-born, Dubai-based esports trailblazer, Klaus Kajetski founded YaLLa Esports in 2016, having been heavily involved in building the regional esports ecosystem. With 20 years of esports and gaming experience, Klaus has grown YaLLa Esports to a globally recognized team with players and staff from multiple nationalities including the United Arab Emirates, Saudi Arabia, Egypt and Tunisia, having success in international and regional esports tournaments.
YaLLa Esports will use the funding to search and develop the best talent in the region; to build great team facilities and to help with travel costs to compete on a global scale, as well as for expansion across the MENA region. The startup aims to nurture regional talent through an organized personal growth structure, championing the gaming culture and building an environment for aspiring professional gamers to flourish and make esports a viable career.
Furthermore, YaLLa Esports aims to add key people on the management side to support the rapid growth. The focus will be on content creation, sharing the stories of home grown esports talent on a journey, catering to the dedicated fan base.
YaLLa Esports' business model is driven by sponsorship and advertisement in light of the fast-growing and significant viewership of millennials tuning into highly entertaining esports content. YaLLa Esports has already partnered with leading brands including ASUS Republic of Gamers, Logitech G and Western Digital.
Commenting on the seed raising, Klaus Kajetski said, "We have always strived to be professional and set an example for other esports organizations in the region, and this investment is the natural next step towards fulfilling that ambition. We are now better-positioned to enable amazing esports opportunities for dedicated people, as well as supporting even more aspiring esports athletes to fulfill their dream of a professional career."
Kushal Shah commented, "We are confident that YaLLa Esports is in a prime position to take regional esports live entertainment to new heights. We are also highly confident that the professionals (players and streamers) being developed by the team will become highly relevant influencers who will be sought after by brands to reach a younger audience."
Mishal Alireza, an investor and Board member of Tokyo Games, Saudi's leading Video Game retailer commented, "Video gaming and esports represent a fundamental paradigm shift in how people use entertainment and technology to interact and compete with each other. They are certainly a disruptive force in the traditional media and tech industries that are here to stay! We are all excited for YaLLa Esports to be a pioneer in this space and to represent our region on the global stage. We are also excited not just for the players who will compete, but for the jobs we hope to create locally for all those who are interested in working in the space or learning what the Esports world is about. This is a team after all, with the full supporting cast behind it."
YaLLa Esports regional success over the years started with their infamous Overwatch team that dominated the early scene. Thereafter in 2017, "Mazen" Akilan from YaLLa Esports was crowned the WESG Asia Pacific Champion in Hearthstone. Currently, YaLLa Esports is bolstering Adam "Sad" Ajej, one of the most successful Fortnite players in the Arab World, together with his duo partner Patrick 'Xited' Heiberg.
According to research undertaken by NewZoo, a global leader in games and esports analytics, worldwide esports revenues will hit US$1.1 billion in 2019 and the total esports audience will reach 453.8 million viewers this year.
Monetizing the next big thing in the MENA region: Seed funding round for Dubai-based YaLLa Esports oversubscribed