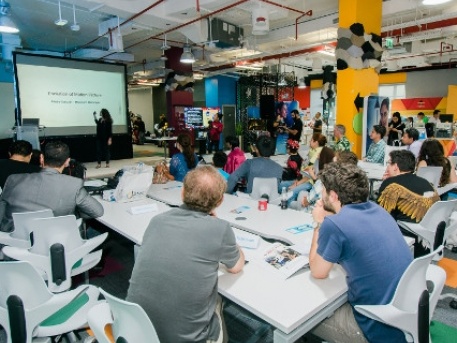 Mona Kattan and Sima Ved to be the key speakers of Dtec Forum Series
By MAGNiTT
Posted 4 years ago - Jun 10, 2019, 6:41 AM
Mona Kattan, the Co-founder and Global President of Huda Beauty, and the Founder and Vice Chairperson of Apparel Group, Sima Ved will be featured as the key speakers at the second edition of Dtec Forum Series this June. Dtec Forum Series is powered by Entrepreneur Middle East and this edition is going to be the latest one of this series of educational events targeting entrepreneurs.
The event is going to take place on Tuesday, June 25th this year, at Dtec in Dubai Silicon Oasis.
Other than Mona Kattan and Sima Ved, the Founder and CEO of The Luxury Closet Kunal Kapoor will also take the stage in this year's Dtec Forum Series. Registrations for the program will start at 9.30 on 25th June, and the opening address is to be delivered by Hans Henrik Chirstensen, the Vice President of Dtec, Dubai Silicon Oasis Authority.
According to Entrepreneur Middle East, Mona Kattan's exclusive on-stage interview is going to be the highlight of the event. Her company Huda Beauty is now a global brand, valued at over $1Bn, out of Dubai.
The Kattan sisters started their business with a mere amount of $6,000, and now Huda Beauty's excellent product line has reached 37.2 million followers via Instagram. The sisters also have quite a few million followers on their personal Instagram accounts as well.
The interview session with Mona Kattan is titled "Building A Global Brand In The Digital Age". Mona Kattan is expected to talk about how she and her sister used the power of social media to develop their business and gain success in no time. She will also open up about the challenges the sisters faced to take the business forward, and how they dealt with the obstacles.
The other Key speaker, Sima Ved, started her entrepreneurial journey when she was 23 with her husband Nilesh. Now their company has over 75 international brands spreading across 14 countries. Many celebrities have hailed Sima for her success, like Eva Longoria, the Hollywood actress. She said: "When you think about female empowerment, you have a vague figure of someone in your head. But then you meet Sima and you go like, oh, wait a minute; that's female empowerment, that's what it looks like!"
The founder and CEO of The Luxury Closet, Kunal Kapoor will also speak on a panel titled "Built To Win: Starting Up In The Middle East". Kunal's company has completed a growth funding round of $11 million and embarking into Hong Kong expansion. The goal is to build the world's largest pre-owned luxury marketplace.
It is expected that the response from attendees is going to be huge due to the presence of such influential personalities on the panels. They will give their valuable insight on mapping out a business vision, strong team building and ensuring positive and productive company culture.
---
Are you looking to be featured in our news? Send us your press release HERE ​
Are you a startup looking for talent? Post and promote your jobs for free HERE ​
Mona Kattan and Sima Ved to be the key speakers of Dtec Forum Series