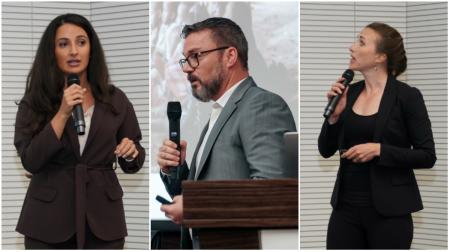 MODUL University team secures place on Expo 2020 accelerator programme with social impact investing app Carb-In
By MAGNiTT
Posted 4 years ago - Mar 3, 2019, 1:17 PM
By ZAWYA
SOURCE: ZAWYA - MODUL University team secures place on Expo 2020 accelerator programme with social impact investing app Carb-In
---
Dubai: A team of MSc students from MODUL University Dubai has secured a place on an accelerator programme, which is being conducted by Expo 2020 Dubai's global funding and partnership programme Expo Live in conjunction with the Sharjah Entrepreneurship Center (Sheraa).
The placement will enable the student team to further develop their start-up, Carb-In – a sustainable enterprise that will give UAE investors and individuals the chance to 'do well, by doing good'.
The bespoke accelerator programme, which supports student teams that secured funding and support as part of Expo Live's University Innovation Programme (UIP), is designed to empower young innovators with the tools necessary for the next stages of their entrepreneurial journeys.
Andrea Hesketh, David May and Yauheniya Nestsiarenka, three students on the master's program in Sustainable Development, Management and Policy, hit on the idea of Carb-In while studying a course under Professor Jeremy Williams that covers the emerging phenomenon of social impact investment.
The business idea is based around an app that will enable investors to make a positive social and environmental impact while generating private financial returns. With Carb-In, investors will be connected to renewable energy and other sustainability related projects in Africa, providing users with options to offset their personal carbon emissions through carbon neutralizing investment. The app will offer individuals a working mechanism to remain carbon neutral (or positive) through a range of investment vehicles that will earn them a profit.
Zaid Maleh, Managing Director of MODUL University Dubai, said: "This app, and the incredible effort of the students and university staff, underlines the commitment that we have at MODUL University Dubai to innovation and sustainable solutions. The Carb-In app and the hard work that has already gone into the idea is the best evidence there is of the quality of professors and faculty, and the attitude of the students day in, day out at MODUL University Dubai."
MODUL University team secures place on Expo 2020 accelerator programme with social impact investing app Carb-In