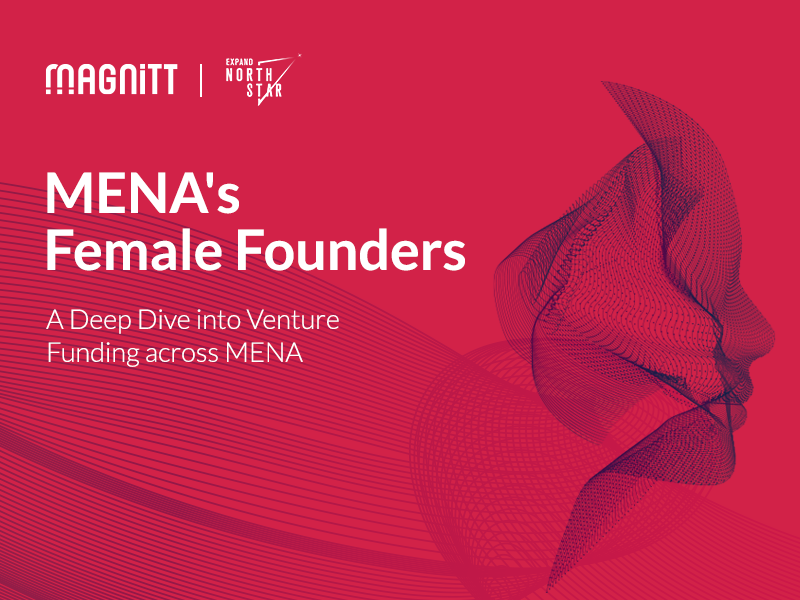 MENA's Female Founders: A Deep Dive into Venture Funding across MENA
By MAGNiTT x DWTC
Posted 2 months ago - Oct 4, 2023, 1:15 PM
Sponsored by
For the analysis in this article, we have looked at startups that have received venture funding with at least one female founder. 
---
The World's Largest Event for Startups and Investors
After the sell-out success of North Star 2022, North Star is expanding to the iconic Dubai Harbour for Expand North Star 2023, 15-18 October 2023, hosted by the Dubai Chamber of Digital Economy. 
---
MENA's startup scene is thriving, having grown at a compound annual rate of 39% in the past five years. However, startups with at least one female founder have a 24% share of the funded startups with founder gender data since 2018. We look to address the question of the prevalence and investment levels directed into venture-backed startups in MENA with at least one female founder. 
Overview
The MENA region has emerged as a vibrant startup hub, of the funded startups with founder gender data, startups with at least one female founder make up 24% of the total funded startup universe. Interestingly, All-female founder teams are 2X the number of Startups with a combination of Male and Female co-founders.  
In 2023, only 23 startups with at least one female founder have secured deals, compared to the 101 peak in 2021.
---
Funding
Funding by MENA startups with at least one female founder has risen by a 5-year CAGR of 21%, attracting $637M over 309 deals since 2018. Over the same period, MENA founders have raised close to $10Bn. Asian Expat Rita Huang of Logistics player iMile raised $50M and is one of MENA's top-funded startups having at least one female founder. Gizem Bodur, co-founder of FinTech Qlub, raised $42M. Egypt's Fatma El Shanawy of Fintech player Khazna has raised $38M.
---
Industry
Startups with at least one female founder are participating in verticals as varied as FinTech, E-commerce/Retail, and Transport & Logistics, accounting for 64% of funding raised by startups with at least one female founder. Aligned with regional trends, FinTech is the highest-funded sector ($193.7M), whilst E-commerce/Retail and Fintech have both secured the highest deal counts (54). 
Female entrepreneurs are also pioneering innovation. Startups like Zywa, a Gen Z-focused digital bank with female leadership and Y Combinator backing, are offering innovative solutions. The majority share of funding and deals secured by women-led startups has been in the FinTech industry. 
---
The Ratio of Female-Founded Startups to Total Funded Startups
Since 2018, 3X the number of male-only startups have received funding versus startups with at least one female founder and 5X versus those with only female founders.
In 2023 alone, startups with at least one female founder closed 23 deals, whereas 90 have been closed by male-only founders. This computes a share of 20% of deals so far in 2023.
---
Capital Providers 
We are now seeing the emergence of female angel investors / decision-makers in fund management firms, currently being embodied by Noor Sweid, the Managing Partner at Global Ventures, one of the most active VCs in the region. Amber Amleh and Reem Qawasmi of Ibtikar Fund (~40mn) have invested in over 20 Middle Eastern startups and Nuwa Capital, which recently announced its maiden $100M fund, which has backed the likes of Qashio and Homzmart with Stephanie Nour Prince and Sara Abu Risheh as a partner. 
---
Exits
Of the startups that have achieved exits since 2018, 19% have had at least one female founder. Notable M&A deals include The Entertainer's $100M acquisition by GFH Financial Group and Shuaa Capital's acquisition of Ambareen Musa-led FinTech Souqalmal. International players have also acquired women-led startups like USA's JumpCloud acquiring Lebanon's Myki.
---
Regional Dynamics
Regarding regional dynamics, the UAE is leading the charge among MENA geographies, being ~3x more than Saudi Arabia, Egypt, Bahrain, and Jordan combined. The country has also seen the most number of exits with 10 of the 18 being UAE-based. 
---
What's Next?
In line with the overall regional trends, VC activity for female-founded startups is down compared to previous years. Going by the numbers, there is a significant gap between funding in female-founded and male-founded startups. Also, only a handful of startups have recorded acquisitions since 2018. Perhaps the need for exits is what impedes initial investments as well. Whilst there is a gap today, the emergence of prominent female ecosystem leaders across startups and venture capital may signal an increase in investment in startups with female founders.
The piece has been created using MAGNiTT's Directories. Learn more about Our Data Methodology 
---
Get full insight into this startup scene. Access real-time data on startups in MEAPT
---
About the Sponsor
Expand North Star is the world's largest event for startups and investors. Across four days Expand North Star will present some of the world's best startups from over 100 countries, welcome 1000 VCs to raise funds, and scout for their portfolio.
---
MENA's Female Founders: A Deep Dive into Venture Funding across MENA