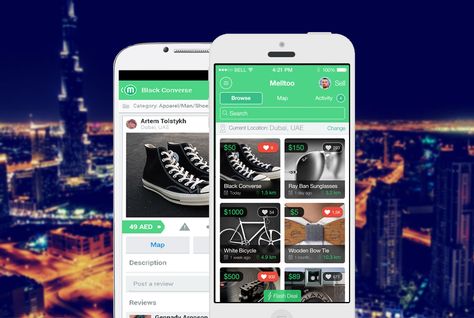 Melltoo raises $205,000 from Dubai-based investors
By MAGNiTT
Posted 8 years ago - May 5, 2015, 8:00 PM
A trio of Dubai's institutional investors have joined the first external round of funding of a Dubai-born peer-to-peer mobile marketplace for second hand items.
TURN8 accelerator, Womena, and Silicon Oasis Founders (SOF) invested a total of $205,000 in Melltoo Marketplace, a graduate of the in5 incubation programme founded by Morrad Irsane and Sharene Lee in March 2014.
They joined hands with angel investor David Pirrie to support the start-up's success in addressing the problem of trust in the marketplace through the power of social interactions in a mobile app.
The Melltoo apps have been downloaded over 140,000 times and attract around 700 new users on a daily basis.
Most of the users are highly engaged, spending an average of five minutes per session on the app browsing, commenting, and chatting with other users about their items for sale.
The confidence in the start-up's future development was echoed by Chantalle Dumonceaux, co-founder of Womena, a women-only angel investment network, who said: "The company has good traction in a large and growing market, an experienced, informed, and honest team, a good competitive edge and solid exit potential."
Kamal Hassan, programme director at TURN8, added: "We were intrigued by their focus on the user experience and their foresight in addressing issues such as delivery.
"They also had a well-conceived business plan and value proposition."
By virtue of their investment, TURN8 accelerator will take Melltoo under their wing, offering support and mentorship.
The co-founders of Melltoo are satisfied that the collaboration among the three institutional investors is a sign that local start-ups can benefit from the collective resources of institutional players.
"We aim to be, first and foremost, collaborative. And the more players with their skin in the game, the better for us and for the startup," added Dumonceaux.
"We respect these entities [TURN8 and Silicon Oasis Founders] and the teams behind them and are glad to work with them."
Speaking about their future plans, Morrad Irsane, co-founder of Melltoo, said: "The money raised in this round goes into preparing for the launch of our payment and delivery services.
"This includes improving our technology for ease of use and security as well as putting the logistical pieces in place for fast turnaround times on every transaction."
In-app payment and delivery services will launch in June 2015 allowing users to buy and sell their things without having to meet the other party.
Melltoo will provide a money-back guarantee for both buyers and sellers in every transaction that takes place via the app.
Source : Arabian Business
Melltoo raises $205,000 from Dubai-based investors