Top Mega Deals in 2021: MENA, Africa & Turkey
By Majd Shidiac, Content Editor
Posted 1 year ago - Jan 18, 2022, 1:49 PM
From the makers of 3.5x YoY funding growth, we present Emerging Venture Markets' Top Mega Deals of 2021. 
---
Request specific data sets, export tailored directories, and explore the full potential of our Platform. Reach out to our Sales Team
---
The time has come for the much-anticipated release of our State of Startup Funding- Emerging Venture Markets 2022 Free report, detailing the most prominent VC dynamics and top-performing industries across MENA, Africa, Pakistan, and Turkey. While the exceptional year for VC investment resulted in a $6.9Bn in capital deployed over 1,300+ deals, the unprecedented surge in later-stage deals has been rippling across geographies. In a plight towards safer later-stage funding rounds, later-stage deals (of $10M+) grew by 4PP between 2020 and 2021, to account for 12% of all transactions closed across geographies. This growth was observed across all geographies as well, as MENA records a 10% later-stage deal share of total transactions, Africa 11% (up by 3PP YoY), Pakistan 9%, and Turkey with a conservative 6%. 
However, the real watershed moment for startup ecosystems across EVMs, especially when considering 2021's later-stage deals, is the unprecedented funding surge of Mega Deals ($100M+). In a feat unique to a monumental year, Mega Deals raised in 2021 surpassed all Mega Deals raised in the past four years combined, with some startup milestones and geography firsts. While the only geography that is yet to close a Mega Deal, even though is expected in the near future, was Pakistan, we take a deep dive on the top Mega Deals of 2021 across MENA, Africa, and Turkey: 
 
---
---
---
Catch the Early-bird Access to our complete suite of full-year reports. Get on the list 
---
1. Turkey: Getir- $550M Series D
The champion of Q-commerce and EVMs' highest Mega Deal closer, Turkey-based Getir raised not one, but 3 Mega Deals in 2021. The latest, $555M funding Series D funding round not only gave Getir its Unicorn status, but also allowed it to expand across Europe with new sub-brands like GetirFood, GetirMore, and GetirWater. The value proposition was simple, delivering more than 1,5000 SKUs in minutes, a delivery window being challenged across EVMs by the likes of Airlift in Pakistan, Rabbit and Breadfast in Egypt, Yalla Market in the UAE, and Fiz in Kuwait. 
As previously mentioned, T&L startup Getir closed 3 of the 4 Mega Deals recorded in Turkey over 2021 with the 4th raised by gaming studio Dream Games. The 4 Mega Deals combined comprised more than 60% of the capital deployed across Turkey. 
2. MENA: Kitopi- $415M Series C
This year we have recorded a keen interest in Cloud Kitchen and Cloud Kitchen Tech ventures that surprisingly brought the vigor back to the MENA F&B sector. It was sizable investments in the likes of cloud kitchen Tech provider iKcon, digital solutions integrator GrubTech, and virtual restaurant Kitch that geared investor momentum over 2021. Yet, the crowning moment for the sector and a core driver in its 200%+ YoY growth in funding was accredited to cloud kitchen operator Kitopi closing MENA's highest Mega Deal of the year.
Remarkably, in a much-anticipated turn of events fueled by a surge in capital deployment across MENA, Saudia Arabia recorded its first-ever Mega Deals this year, while Egypt records its only Mega Deal dating back to 2017. In Saudi Arabia, cloud communication SaaS startup Unifonic closed MENA's second-highest Mega Deal of the year, while Egypt-based T&L turned FinTech startup Halan raises the third and final Mega Deal in 2021.  
 
3. Africa: OPay- $400M Series C
In a major win for FinTech across Africa, the Nigerian alternative digital payment solutions provider OPay closes the highest of Africa's 6 Mega Deals this year, up by 1 since full year 2020. Most remarkably, all 6 Mega Deals closed across Africa in 2021 were in FinTech by Neo and Open-banking startups JUMO and TymeBank, digital infrastructure builders FlutterWave and Wave Mobile Money, alternative payment solutions provider Opay, and finally the afro-mentioned crediting and micro-crediting solutions provider Halan.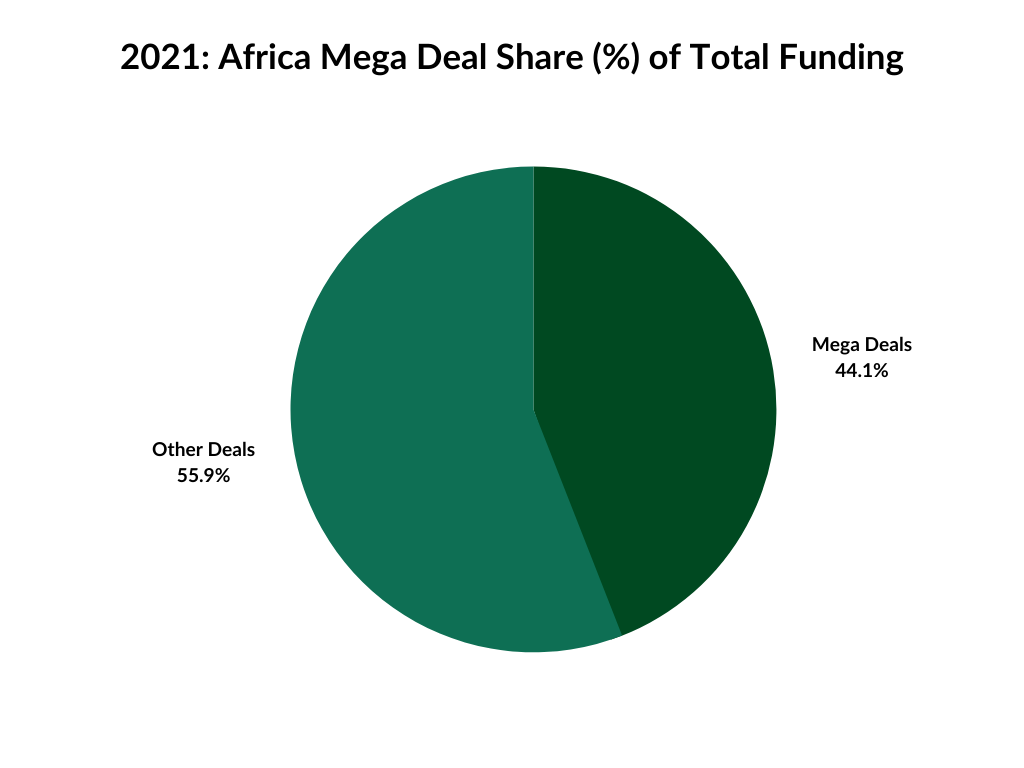 With plenty of record-highs and remarkable data points including a double YoY Exit growth and unprecedented international investor participation across geographies, make your own conclusions of full-year 2021. Download our Free State of Startup Funding- Emerging Venture Markets 2022 report and enter 2022 with extensive data. 
---
Scan this venture space. Access real-time data on 21,400+ startups in Emerging Venture Markets
Top Mega Deals in 2021: MENA, Africa & Turkey