Meet the DIFC Innovation Hub: A Home for the Ecosystem
By MAGNiTT x DIFC
Posted 10 months ago - May 19, 2022, 12:26 PM
Sponsored by
Sign up to the region's top comprehensive FinTech and venture capital environment offered by The Dubai International Financial Center (DIFC) to ease the challenges of entering a new market.
---
Drive the innovative and financial future of your company! Apply for the DIFC Innovation License Today
---
EVMs are characterized by the enticing combination of extraordinary recent growth and a wealth of untapped opportunities still to be explored. The Dubai International Financial Centre (DIFC) has set forth to not only catalyze this growth but more importantly empower its champions. Located in the heart of Dubai, the DIFC remains one of the region's leading innovation hubs, offering the broadest and deepest community of growth-stage startups, scale-ups, and investors. DIFC is designed to empower technology and innovation companies by easing access to the capital, talent, and resources they need to succeed – and its Innovation Hub is the driving force for entrepreneurs.  
For all VC players looking to operate or expand in MEASA (Middle East, Africa, and South Asia), here's why your next move should be moving into the DIFC: 
---
Drive the innovative and financial future of your company! Apply for the DIFC Innovation License Today
---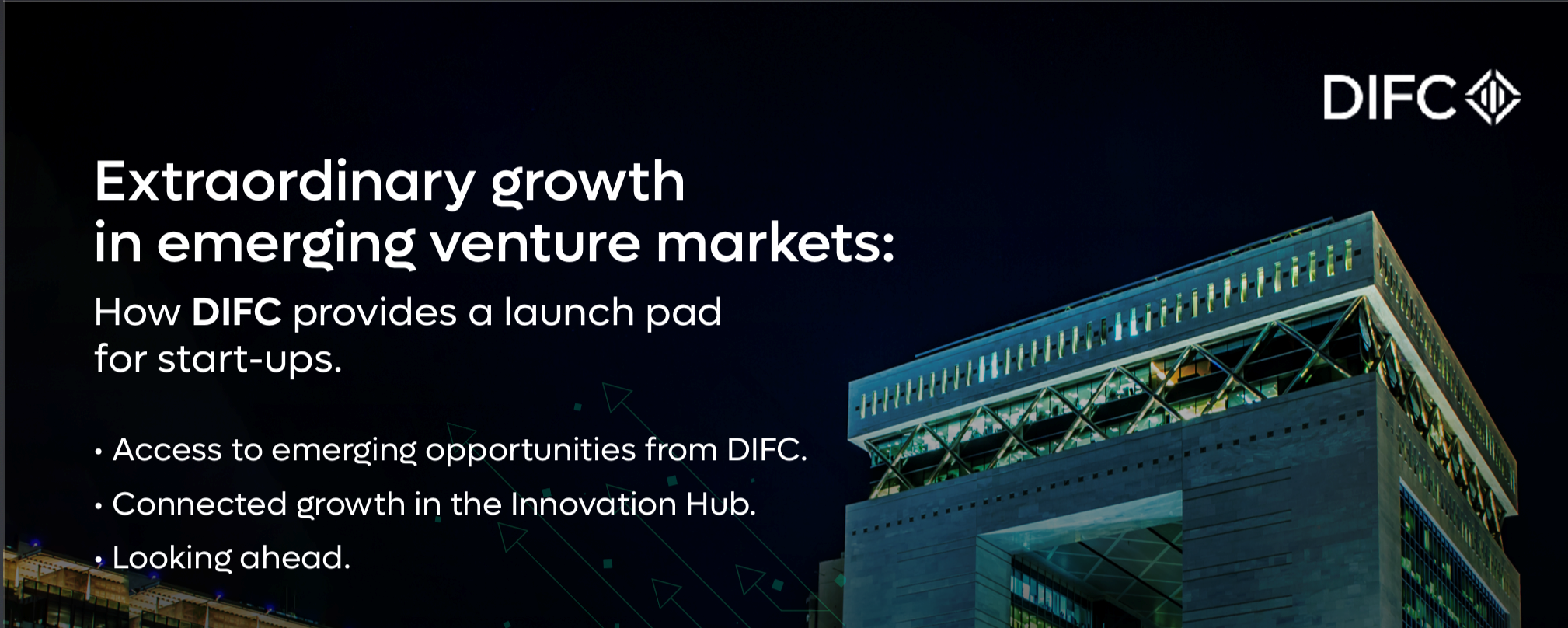 The Innovation Hub: The region's leading start-up community 
Inaugurated in May 2021, DIFC's Innovation Hub is crucial to Dubai's vision for the future and part of the Dubai Future District, the UAE Innovation Strategy and Projects of the 50. 
The Hub community includes early-stage start-ups, big tech institutions, unicorns, and sovereign wealth funds, including names like the Thunderbird School of Global Management, Ebury, Tarabut Gateway, and Amazon. This community is brought together through a regular calendar of events, such as Blockchain Week, the AI Festival, and others that highlight how creative minds are addressing emerging trends and solving global issues. Serving as a source of inspiration and a 'connect & build' opportunity for innovators of all walks of life. 
Access to market and resources
When it comes to scaling up, DIFC's Innovation Hub offers outstanding market access, thanks to Dubai's location in the heart of the UAE, the leading VC market in MENA, and the bridge linker to all core markets across MEASA. Businesses operating in Dubai have easy access to all the major markets of the region and beyond and can easily do businesses with leading financial centres in both East and West.
Startups and investors can access unmatched opportunities and resources, as the Innovation Hub is home to the largest cluster of venture capitalists, family offices, and institutional capital in the region. In 2021, the Future District Fund was launched, committing AED 1bn to increase start-up funding and attract venture capital funds to Dubai. 
---
Drive the innovative and financial future of your company! Apply for the DIFC Innovation License Today
---
Empowering institutions
DIFC is home to business-friendly institutions which are committed to the common goal of enabling innovation. The Centre operates a unique legal and regulatory framework that has startups in mind and aims to ease the challenges of entering a new market. The DIFC Courts' independent judicial system is the only free zone system in Dubai to operate under unique English-language common law, making it easy for international investors and entrepreneurs to operate here. The DIFC Authority oversees world-class regulatory infrastructure, including intellectual property and globally compliant data protection laws designed to protect and empower entrepreneurs.
A skilled, future-ready workforce is developed at the DIFC Academy, the region's most successful executive learning environment, through best-in-class business, law, and technological education. This makes it simple for startups to make the best, most qualified hires. 
The Hub is a melting pot of diverse players, from financial institutions to start-ups, angel investors, and unicorns. DIFC is already home to 17 out of the top 20 global banks, five out of the top 10 asset managers, and some of the MENA region's leading investors, including Middle East Venture Partners (MEVP) and VC firm Nuwa Capital. Through a rich event calendar and networking opportunities, as well as physical proximity enabled by dedicated office space the DIFC is fostering the next generation of disruptors amidst an ever-blooming innovation ecosystem- Register here to be part of the DIFC Innovation Hub.
---
Stay up to date on the initiatives, programs, and community at DIFC - visit their page here!
---
About the Sponsor
The Dubai International Financial Center (DIFC) is a financial center for the MEASA region. It is a pivotal and sector-specific business hub providing an ideal launchpad to tech start-ups and entrepreneurs with its DIFC Innovation License.
---
Meet the DIFC Innovation Hub: A Home for the Ecosystem