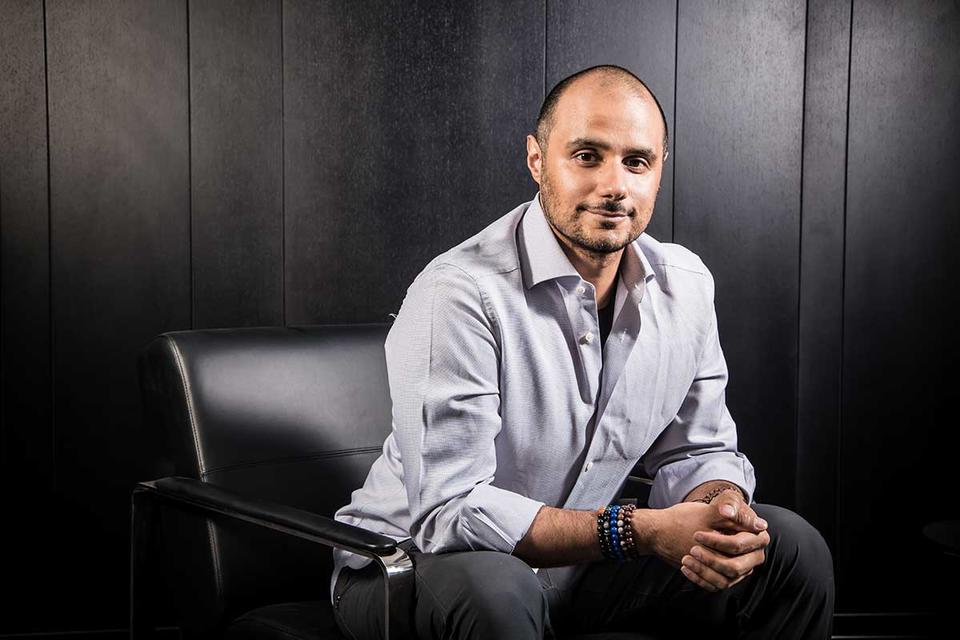 Meet Saudi Arabia's 'Tech Prince', Khaled bin Alwaleed bin Talal
By MAGNiTT
Posted 4 years ago - Nov 7, 2018, 11:35 AM
By Neil Halligan / Arabian Business
SOURCE: Arabian Business - Meet Saudi Arabia's 'Tech Prince', Khaled bin Alwaleed bin Talal
---
Prince Khaled bin Alwaleed bin Talal is using canny investments in a wide range of Silicon Valley tech firms to help the planet, bring global knowhow to the Middle East and boost his bottom line
Prince Khaled bin Alwaleed bin Talal turned 40 this year, but the man who's steadily making a name for himself as the Middle East's most prominent impact investor didn't take too much time out to celebrate.
"I was asleep at 10.30pm," he laughs, as he invites CEO Middle East to take a seat in his corner office with outstanding views of Dubai Creek.
The four-decade mark is a milestone in anyone's life but over the course of an hour-long chat with the prince it's clear that he also sees this as a time of tremendous opportunity.
Our conversation veers from Silicon Valley to Petra, and from the Middle East's start-up ecosystem to the prospects for Saudi Arabia.
Prince Khaled's interests can effectively be split into two distinct areas. There's KBW Investments, the Dubai-headquartered holding company that counts Raimondi Cranes and other construction-related entities in its portfolio. Arada, the developer that has been making headlines across the Gulf for its eye-catching projects in Sharjah, falls into this category.
But it's the second portfolio, KBW Ventures that is gradually also coming more to the fore, thanks to a series of investments into companies that are gaining traction in a number of different sectors around the planet.
"We've seen really, really good returns," says Prince Khaled, of KBW Ventures, which has now grown to a team of seven executives.
"Granted this doesn't happen all the time, but one of the companies we invested in, we got about a five-and-a-half or six times return, which is decent for the venture world. But we're in the early stages right now, and we're just planting the seeds of where the company will be."
Clear strategy
At first glance, there appears to be little rhyme or reason to the bewildering array of firms within the KBW Ventures portfolio.
There's Geltor, a California-based start-up that makes plant-based collagen. Prolacta, a life sciences company that is developing human breast milk formula for premature babies, is already present in "20 percent of the hospitals in the US now," Prince Khaled points out.
Then there's Zipline, a drone delivery service that is currently flying medical supplies to rural parts of Rwanda.
Throw in cryptocurrency outfits, a lengthy list of plant-based and lab-grown food manufacturers, LED and electric vehicle projects in Jordan and a fast-growing partnership with National Geographic's Ocean Odyssey, and it seems tough to draw the threads of this diverse investment strategy together.
For Prince Khaled, however, the strategy is clear.
"One of our criteria is you have to be profitable, you have to have an actual product that people can get behind," he says. "I usually don't invest in seed, I invest in Series A [rounds], B, maybe C and D is a little late."
In addition, each investment is in a company that KBW Ventures believes has the capacity to impact the planet positively in the future, while Prince Khaled also says that bringing the very best that Silicon Valley has to offer to the Middle East is also a prime consideration.
"Right now, every company that I've worked with, we've set out plans for them to come into the region," he says. "Why? Not because of how promising the region is, but I believe the region can benefit from amazing companies, amazing technology, amazing thinkers and driven entrepreneurs. Our economy and our people need new ideas and fresh blood. Sure, we're getting some ideas organically from the region, but to get some influence internationally is something I'm a very big proponent of.
"By default, a lot of these companies are going to want to expand in the US first – that's natural. They're also naturally going to want to go into Europe. The regulations there are pretty tough, so you have to jump through a lot of hoops, and then maybe Asia. I'm here as an investor to educate these companies, these CEOs. I explain to them what the Middle East has to offer, the purchasing power here. So we open the door for them and really educate them about the fact that this is a market they need to focus on."
Future of food
Bringing a Silicon Valley mindset to the Middle East is no easy task, but Prince Khaled seems determined to accomplish the task step by step. A clear area of focus is the future of food, which is perhaps no surprise given his well-known agenda with regard to veganism, animal rights and the effect the livestock industry has on the environment.
Among the investments and partnerships that KBW Ventures is linked to is Beyond Meat, a Los Angeles-headquartered plant-based food manufacturer whose 'Beyond Burger' recently became available in the Gulf. JUST, another Californian producer, makes plant-based mayonnaise and a vegan egg alternative that has already been picked up by a number of America's biggest retailers. Memphis Meats, based in San Francisco, is developing lab-grown (or 'clean') meat and has also seen interest not only from the likes of Tyson Foods and Cargill from the conventional meat industry but also from Bill Gates and Richard Branson as well.
Not only that, but Prince Khaled has also teamed up with Plant Power Fast Food, a San Diego outfit out that is presenting itself as the vegan alternative to McDonald's, and plans to open an outlet in Dubai by the beginning of 2020.
"I'm in talks with a company right now that will import all these products to the region on a wholesale basis," Prince Khaled says. "For me, this is something that I need to do, because I need to educate people that other alternatives are out there. And they can't just be available in just one or two small chains – they need to be available in Carrefour, in Spinneys and in LuLu, so people can see they are readily available.
"Take JUST Egg for example – it's new to the market and they can't make enough of it as it's just flying off the shelves in the US. We're trying to get an allocation for that here in the Middle East. Beyond Meat is absolutely killing it in the US – it's clear they have a market they need to fulfil there and expanding internationally isn't necessarily on their radar. But they do have a supplier in Europe that we're working with so we can get supplies here in the Middle East."
In addition, KBW Ventures has also tied up with US celebrity chef Matthew Kenney to create Folia, a plant-based menu that was launched earlier this year at the Four Seasons Hotel Los Angeles at Beverly Hills, while Prince Khaled's own Plant Café is already open in Bahrain. While a further 10 Plant Cafes had been earmarked, that number has grown considerably.
---
Source: arabianbusiness.com
Meet Saudi Arabia's 'Tech Prince', Khaled bin Alwaleed bin Talal