MEAPT 2 Months into Q1: Top Funding Rounds in 2022
By Majd Shidiac, Content Editor
Posted 1 year ago - Mar 9, 2022, 9:43 AM
We highlight critical shifts in VC dynamics across the Middle East, Africa, Pakistan, and Turkey while we explore MEAPT's top 3 funding rounds in the first 2 months of Q1 2022:
---
Request specific data sets, export tailored directories, and explore the full potential of our Platform. Reach out to our Sales Team
---
 With two months into the beginning of the year, changes in VC dynamics across Emerging Venture Markets could shape the rest of 2022. In the least, making a note of the market shifts between January and February could signify investor inclinations and new market entries; one interesting highlight being Sequoia Capital India's FinTech debut in MENA's 2 largest markets with investments in Lean Technologies (KSA) and Tabby (UAE). Surely, VC investment take-off for this year has been nothing short of steady, with Mega Rounds and Major Late-Stage deals already on the table. 
Investor inclination for later-stage deals, which thrived in 2021, remains solid 2 months into 2022. This trend pulled its weight, especially in geographies like Kenya, where despite raising an equivalent of 23% of total transactions closed in full-year 2021, the geography has already surpassed FY funding by more than $40M. This was partly attributed to major investments in sustainable energy startup M-Kopa, nonperishable goods marketplace Copia Global, and alternative network provider Poa Internet. Over in MENA, and in an unprecedented situation, Saudi Arabia was able to surpass the UAE and Egypt in capital invested for the longest time between Jan & Feb, being the first geography to cross the $200M mark in funding this year. However, with major rounds closed by BNPL provider Tabby and mobility SaaS startup AHOY in March, the VC ecosystem in the UAE was able to catch up and equalize the tides. 
While VC backers invested big this year, they also gained big with highlight Exits like that of Lebanese Tech startup MyKi acquired by US-based JumpCloud. With January and February shedding light on critical investment trends for this year, we explore MEAPT's top funding rounds in the first two months of 2022- Funding rounds recorded between January 1, 2022- February 28, 2022: 
---
---
---
Access our suite of Full Year 2021 Reports covering MENA, Africa, Pakistan & Turkey. Browse our latest and pick your data focus
---
Turkey: Dreams Games- $255M Series C
Closing its second consecutive Mega Round ($100M+) the Turkish mobile gaming studio has been spearheading the gaming scene over the past two years. This budding industry, which showed early signs of success back in 2016 with 6 deals closed in the sector, was the industry of choice for investors in 2021. Dominating as the most-transacted sector, the gaming industry observed a 525% YoY growth in transactions to observe a record 6,680% YoY growth in capital invested driven by major investments in the likes of Dream Games, Libra Softworks, Panteon, and Ace Games. 
Closing less than quarter of the total number of deals closed in 2021, the Gaming industry in Turkey has already raised north of 90% of total capital raised last year, signifying major tickets and investments in anticipated startups including Mobile Game developers Spyke Games and Fomo Games. 
Africa: Flutterwave- $250 Series D 
2 months into the beginning of the year and FinTech remains the dominant sector across Africa and peer Emerging Venture Markets. As recorded in our Africa 2022 Venture Investment Report, the FinTech sector was the highest funded and most active industry in all top 4 geographies (except Egypt, where Halan's $120M Mega Round ranked the T&L industry in first place) raising south of $2Bn in full year 2021.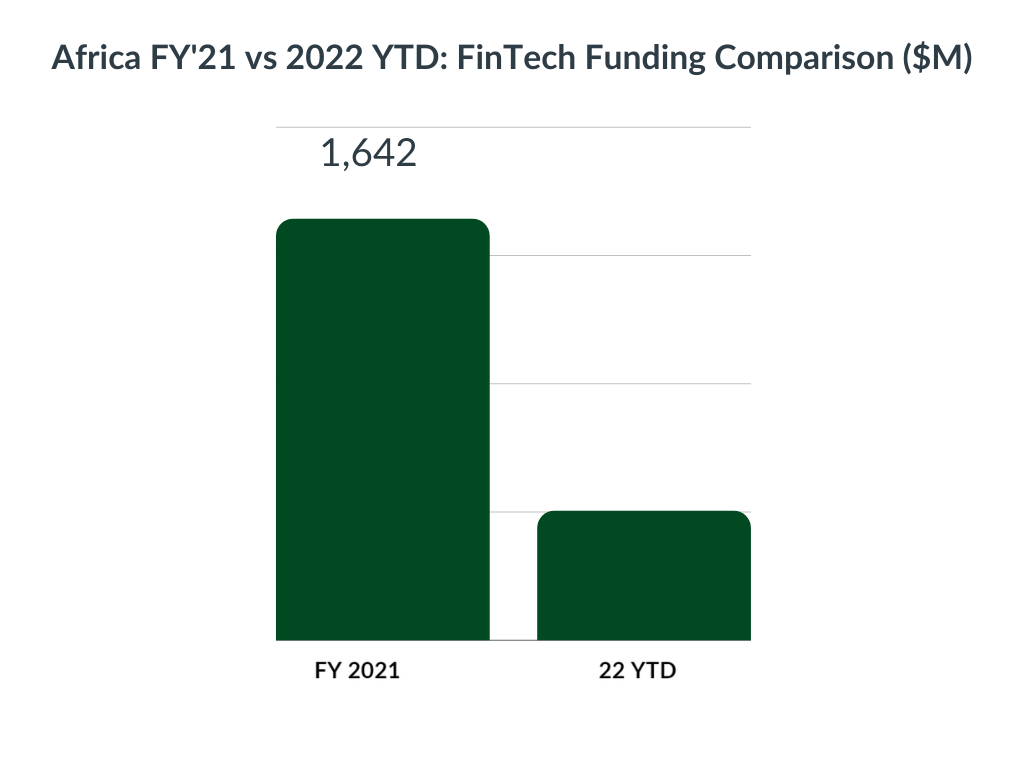 With Flutterwave's $250M Series D, its second Mega Round ($100M+) to date, the FinTech sector across Africa has aggregated 31% of all FinTech funding raised in Africa in full-year 2021; attracting investments from major players including Tiger Global, Salesforce Ventures, and B Capital Group. 
The Middle East: Rain- $110M Series B 
Another big win for the FinTech sector across Emerging Venture Markets, with the Middle East's first Mega Round for the year closed by MENA-based Cryptocurrency exchange platform Rain. As recorded in our MENA 2022 Venture Investment Report, the Blockchain and Cryptocurrency segment ranked second by total capital raised in the Later-Stage category. Crypto Exchange platforms raised south of $50M, with the exceptional fundraise by UAE-based Cryptocurrency platform BitOasis (UAE) driving 60% of these funds. Sizable investments were also raised by CoinMENA (Bahrain) and Sheesha Finance (UAE) to bring the global Cryptocurrency drive to the Middle East. 
Being one of the earliest movers into the space which allowed Rain to help set the regulatory and market cornerstones for Cryptocurrency in the Middle East, the MENA-based startup has attracted investments from global backers like Kleiner Perkins, CoinBase, and Global Founders Capital. 

Pakistan: Truck It In- $13M SEED
With 3 Mega Deals by Turkey-based delivery network Getir, 1 Mega Deal by Egypt-based logistics startup and micro-crediting service provider Halan, and the highest funding round in Pakistan to date closed by delivery startup Airlift, the Transport & Logistics (T&L) sector across EVMs has captured investor attention in 2021. As recorded in our Pakistan 2022 Venture Investment Report, the T&L sector observed more than 220% YoY growth in capital investment over 2021 to cross the $110M mark. While we highlight the development of hyperlocalized T&L solutions in Pakistan, we also highlight the Truck It In's co-positioner on the highest funding round scale for Jan-Feb 2022. The Pakistan-based FinTech and alternative payments pioneer NayaPay has also raised $13M in its SEED round to roll out P2P hybrid solutions to serve the unbanked segment of the population.

Get the full oversight over the FinTech Space in 2021. Purchase our FinTech 2022 Venture Investment Report
or Download our State of Startup Funding- 2022 Emerging Venture Markets Report for Free. 
---
Scan this venture space. Access real-time data on 21,400+ startups in Emerging Venture Markets
MEAPT 2 Months into Q1: Top Funding Rounds in 2022