Mapping the Middle East: BNPL and other FinTech trends in 2021
By Majd Shidiac, Content Editor
Posted 1 year ago - Feb 18, 2022, 10:31 AM
Mapping the Middle East's most attractive FinTech sectors based on the Later-Stage Deal ($3M+) distribution as recorded in our FinTech 2022 Venture Investment Report
---
Request specific data sets, export tailored directories, and explore the full potential of our Platform. Reach out to our Sales Team
---
The FinTech sector has witnessed an exceptional evolution throughout the years across Emerging Venture Markets. Surely, the Pandemic put pressure on startups- both in the unprecedented challenges teams scrammed to solve for and in the Risk-off approach that resulted in a 45% YoY funding dip in 2020. Last year, however, was a turning point for the industry as it marks its leading position in almost every geography. 
Many milestones were achieved by FinTech startups across the Middle East, Africa, Pakistan, and Turkey as funding grew by 550% YoY and total transactions recorded an almost 60% increase. Surely the 5 FinTech Mega Deals closed in Africa were core drivers in crossing the $2Bn mark in funds, yet a deeper dive into the data we find that FinTech growth was prevalent in all key regions. In Africa, accounting for more than 60% of all capital deployed across the continent in 2021, FinTech startups closed the highest number of deals in each of the top 4 geographies Egypt, Nigeria, South Africa, and Kenya. In geographies like Nigeria, the sector accounted for more than 70% of total VC investment in the country, while this proportion is driven to almost 90% in South Africa. Pakistan also showed remarkable growth in the sector, not only did VC investment grow by more than 2,500% YoY to near the $100M mark, but the sector also recorded its highest funding round to date closed by alternative payment platform TAG. 
Over in MENA, while the UAE reigned as the leading FinTech hub both in number of deals and VC investment deployed in the sector, Saudi Arabia and Egypt made great strides in the past year to catch up. Driving the almost 200% YoY growth in funding backing the sector in 2021, MENA's top 3 geographies accounted for more than 80% of all capital deployed in the sector. The region's top 5 funding rounds closed by Tabby, BitOasis, Rasan Information Technology, Expensya, and Dopay- accounting for north of 40% of capital deployed in the sector, attracted investments from global players like MSA Capital (China), Delivery Hero (Germany), Jump Capital (US), and Force Over Mass (UK). 
 
---
---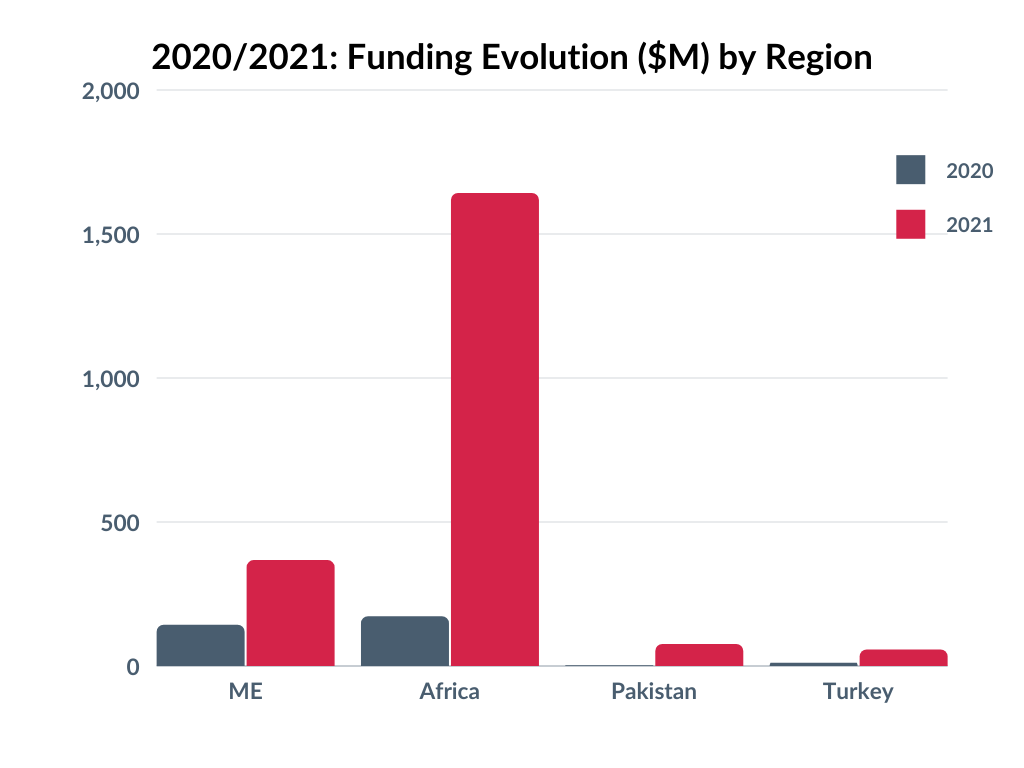 In efforts to spot the VC trends in FinTech, we zoom in on the Middle East and map out the hottest market propositions for investors in 2021. In order to do so, we're taking a sample of the total transactions, focusing on Later-Stage Deals ($3M+) that took place in the Middle East over the past year. Out of the 109 FinTech deals closed in ME, Later-Stage Deals ($3M+) consisted almost 30% of total transactions, which gives an overview of the FinTech Trends in ME over the past year, here's how it's looking: 
BNPL Solutions and Peer-to-Peer Platforms Ranked 1st
In the Later-Stage category, BNPL solutions and Peer-to-Peer payment platforms gained the most VC interest in the Middle East. BNPL solution providers whether B2B or B2B2C raised the lion's share of capital while equaling P2P payment platforms in number of deals (4). Driven by the ME's second-largest FinTech funding round to date closed by BNPL solution provider Tabby (UAE), along with sizable investments in Lamaa (KSA), Postpay (UAE), and Tamara (KSA), the BNPL vertical accounted for 21% of all capital raised in the sector over 2021. 
Cryptocurrency Exchange and Open Finance make for big contenders
Surely, the innovation and level of disruption needed in both of these verticals require sizable investments, and in 2021 VC investors in ME were able to drive just that. Ranking second by total capital raised in the Later-Stage category, Crypto Exchange platforms raised south of $50M, with the exceptional fundraise by UAE-based Cryptocurrency platform BitOasis (UAE) driving 60% of these funds. Sizable investments were also raised by CoinMENA (Bahrain) and Sheesha Finance (UAE) to bring the global Cryptocurrency drive to the Middle East. 
Another global trend that made its way to Emerging Venture Markets was Open Banking, with Tarabut Gateway (Bahrain) raising two rounds to champion this vertical in the Later-Stage category. We make a nuanced differentiation, however, between Open Banking and Open Finance- while both promote the integration of APIs and the leveraging of open financial data, a surface-level difference is in the type of financial institutions these services are being offered to. Sizable investments in Open Finance innovators Telr.com (UAE) and Nym Card (Lebanon) also made their way amongst the top 5 largest FinTech verticals in the Later-Stage category over 2021.  
 
Big Wins: Banking, InsurTech, and Investment 
Surely, Saudi's Top FinTech round in 2021 closed by Rasan Information Technology ($24M), and the $5M raised by the UAE's nascent InsurTech pioneer Hala هلا (UAE) were remarkable milestones for the Banking & InsurTech sectors. While sizable investments in digital investment platform Sarwa ($15M), and Investment Literacy platform Baraka ($4.1M), both coming out of the UAE, are attracting more players looking to empower individuals across the ME to enter the global capital markets. 
 
Access more data in our recently released report  FinTech 2022 Venture Investment Report
Get extensive visibility over all Emerging Venture Markets, download our Free State of Startup Funding-2022 Emerging Venture Markets Report 
---
Scan this venture space. Access real-time data on 21,400+ startups in Emerging Venture Markets
Mapping the Middle East: BNPL and other FinTech trends in 2021