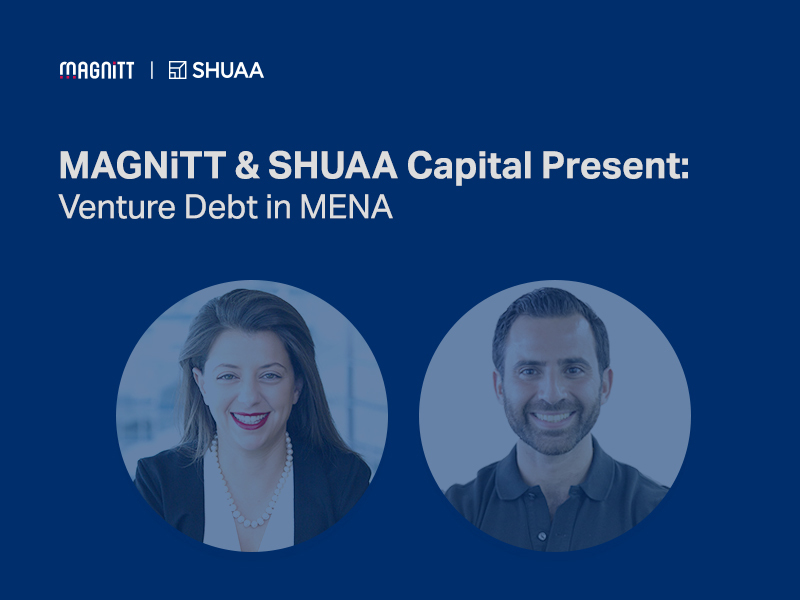 MAGNiTT and SHUAA Capital Present: Venture Debt in MENA
By MAGNiTT
Posted 7 months ago - Dec 22, 2021, 4:46 PM
Request specific data sets, export tailored directories, and explore the full potential of our Platform. Reach out to our Sales Team
---
While many alternatives for funding remain available for startup exploration, Venture Debt is gaining more traction by startups across the Globe, and surely starting to make a splash in our Emerging Venture Markets. In MENA, Tech giant and music streaming platform Anghami as well as AgriTech startup and controlled environment pioneer Pure Harvest have sought after Venture Debt at some point of their fundraising journey. Globally, Venture Debt has become a viable financing tool for established startups like Airbnb, Uber, and Careem. 
As recorded in our 2021 MENA Venture Debt Sentiment Report in collaboration with SHUAA Capital, two of the top factors most interesting to MENA-based startups and investors when considering venture debt is the non-dilutive access to capital on one hand, and the cost of debt on the other. On a top-level, startups with a proven financial track record seek Venture Debt in congruence with or as a follow up to their equity round. In this manner, Venture Debt will act as an extended runway between funding rounds or a much-needed capital influx at times of struggle. While some sectors like SaaS, where startups have a stable and sizable source of income are attractive applicants for Venture Debt, the nascency of MENA's Venture Debt dynamic allows room for exploration. 
We bring you a special conversation between MAGNiTT's Founder & CEO Philip Bahoshy and Natasha Hannoun Head of Debt at SHUAA Capital on Venture Debt, untapped potential, and MENA's latest financing solutions: 
 
To access all the insights on Venture Debt readiness in MENA, download the full free report. 
---
Scan this venture space. Access real-time data on 21,400+ startups in Emerging Venture Markets