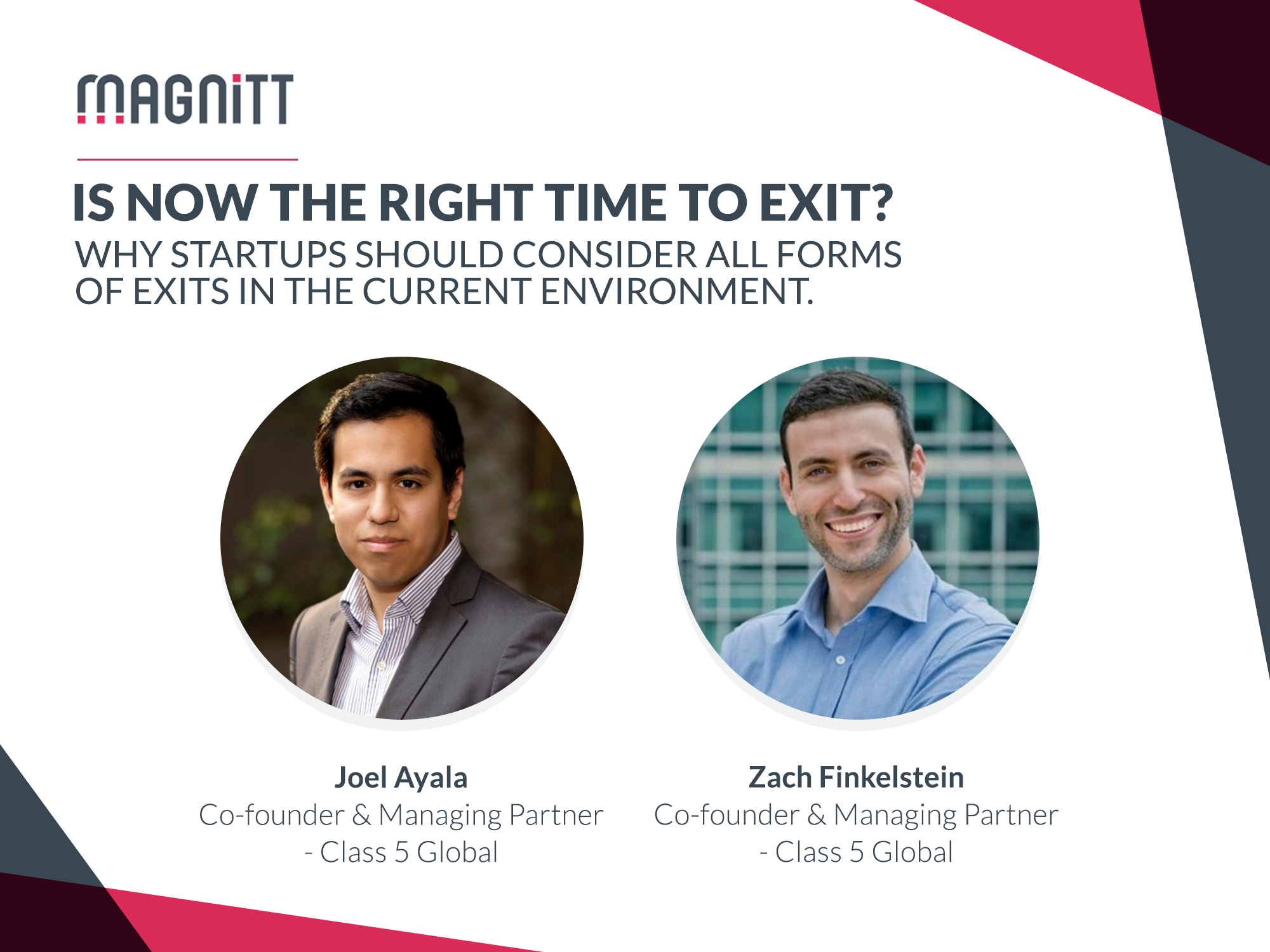 Why Startups Should Consider All Forms of Exits in the Current Environment
By MAGNiTT
Posted 3 years ago - May 6, 2020, 2:27 PM
Are you a startup and considering if now is the right time to plan an exit? In this webinar, MAGNiTT CEO Philip Bahoshy catches up with Joel Ayala and Zachary Finkelstein of Class 5 Global to discuss why startups should consider all forms of exits in the current environment.
They explored several topics including:
If it is a global phenomenon that governments are focusing on technology as a potential solution to employment and the digitalisation of economies, or if it is only particular to MENA regions
Joel says that when it comes to the GCC, it's different to a lot of emerging markets. The government has done a great job of pushing initiatives and helping to create these ecosystems, for example, Singapore has done a great job of this. But if you look at Mexico, Brazil, Indonesia and so on, it is still very much early days of government involvement and getting these ecosystems off the ground. The GCC has been a great leader in helping to bring these trends on board.
Why now is the right time for M&A, who should be considering this, and what type of startups should look at exit opportunities?
Zachary believes that there has been a decent amount of activity since the crisis came about, for example, Microsoft has actively made acquisitions. The environment continues to change, but he says there have been 3 considerations in the M&A market that have generally kept the environment more restrained:
1. More mature companies rely on debt, but less so in tech acquisitions as they do not buy out companies with cash
2. There's a more logistical issue. If people want to do major M&A projects, it's difficult when you're unable to sit in a room and have discussions. These logistics issues affect fortune 500 companies and all types of buyers across the world.
3. There is a discrepancy on price where sellers are inclined to think that this is a blip and the price that they had two months ago is the price that they deserve now. Buyers are saying the stock has moved in x-direction (depends on the day), and we deserve a discount for the uncertainty and what is happening in the market.
However, this is an exciting opportunity for buyers. There are two types of sellers – normal sellers and distressed sellers. Distressed activity will happen and will probably pick up as they are forced to sell. In terms of normal sellers, people who have to make compromises in most cases at the moment depends on each sector e.g. the grocery industry most likely do not have to make many compromises right now.
What the logic as a startup founder should be when thinking about analysing your market, and what the logic is by which you should say "this is what I should do instead of growing organically"?
Joel discusses that when you look at the companies themselves in terms of horizontal, vertical or geographical, it comes down to the founder's management, their vision, and understanding the synergies you can drive from M&A opportunities.
If you look at a lot of software companies, some of their main drivers of growth and profitability, are retention and being able to upsell.
When you think about M&A opportunities, what is interesting for them is vertical integration. So if you're a software company, how do you get into your customers inventory, supply chain, their payments, and really engrain yourselves into all the things that they're doing? There's opportunity to potentially acquire products that can help you go down the vertical chain which will increase retention, and also, 'land and expand', this is something a startup can do if they have other products that they can offer and upsell.
Joel says that when you look at some market places, network effects are important. In some market places, having supply density can help you win and create network effects. So when you're thinking about horizontal expansion, it can make a lot of sense. If you're 20% of a market, you can potentially pick up another 10 or 15% with an acquisition that can drive more density in your marketplace.
Geographically, we see startups that are pretty well established, have a well-oiled machine behind them, have a product and tech team that can scale and are starting to look at opportunities e.g with Uber/Careem where it made sense to expand geographically, and they had the capabilities to do so. 
He provided some advice to founders and says to think long and hard, take a break, take a breath, talk to stakeholders, talk to investors, think about what you're about to embark on. The hardest part about M&A is the post-integration, the people part, putting that together, and not necessarily drawing up a deal that makes sense.
If it is the role of investors to push startups to look for these opportunities, and should investors be encouraging of it or cautious?
Joel believes it depends, he has personally been very involved with companies and their acquisitions where that has been part of the strategy of how to scale and how to go into different verticals, but then there are different startups where it makes less sense - you may lose focus of the core product and it's also a capital intensive endeavour. Therefore, there are situations where it makes more sense, but it also depends on the founder and management team – are they equipped to do this, do they have the right team, the right infrastructure internally in place to get this done? It is a big product lift, a big tech lift, and a big finance lift so sometimes some of the younger startups aren't ready to do it yet. Some of the startups that are scaling are maybe focusing on certain verticals and aren't able to execute on integrating anything else.
Zachary opens up about there being many different flavours of VC investors. He says we've all had different experiences, and people like us tend to be cautious because we've seen how hard M&A can be. He shares that they are always very supportive of their companies, and always put full resources and efforts into helping them have a great transaction and integration, but also always preach caution. They have also seen other people who have had amazing one-off luck in the M&A space and they'll tell all their companies to consolidate, so there are different flavours of investors. The best ones will always be supportive and help you once a decision has been made.
How a startup that may be distressed or looking to exit should approach a competitor to build the relationship, and how the conversation should evolve
Zachary shares his thoughts and says that there is an ideal circumstance and a less than ideal.
In the ideal, there's a cliché that he believes in, "good companies are bought, not sold". More often than not, the best companies or the ones that have the most options on the table, aren't appearing to proactively sell themselves. However, great founders will be selling themselves all the time but the market shouldn't know it. He shares his advice, that it's never too late to build a relationship with your competitors, even though it can be awkward and you may not be sure what you can disclose to them. It can be hard but overall there are chances to reach out and meet up at e.g. conferences, so build that relationship.
There are two reasons for this:
1. You want your competition and other potential buyers to get to know you, become comfortable with you and understand the value of your business.
2. If you want to have a successful post-merger process or even negotiation process, it's important for people to get to know each other so you can have less confrontational and more constructive negotiations when the time comes.
Therefore, the ideal situation is you're always selling yourself and by selling, meaning getting to know the relevant, potential buyers over a long period of time. However, it's not always like this or possible to be done like this.
Once things become more accelerated, maybe the founder wakes up with a change of heart, maybe the business isn't going to be as big as they thought, or are worried that the business is at risk of becoming distressed, you may have to throw those assumptions away at which point there's less of a playbook. The best way to get buyers to be aware of you in those situations is not to contact them directly, but you can always have your investors etc. reach out. 
Are you a startup looking for investment? Apply for funding to 75+ investors now.
Other topics included if there is value in hiring a banker to do the selling for you, what the best way is to manage divergent views at board level when it comes to M&A, what the broad things are that you need to achieve in order to be able to list a company, and much more.
To check out the full discussion, watch the Webinar below now.
Why Startups Should Consider All Forms of Exits in the Current Environment