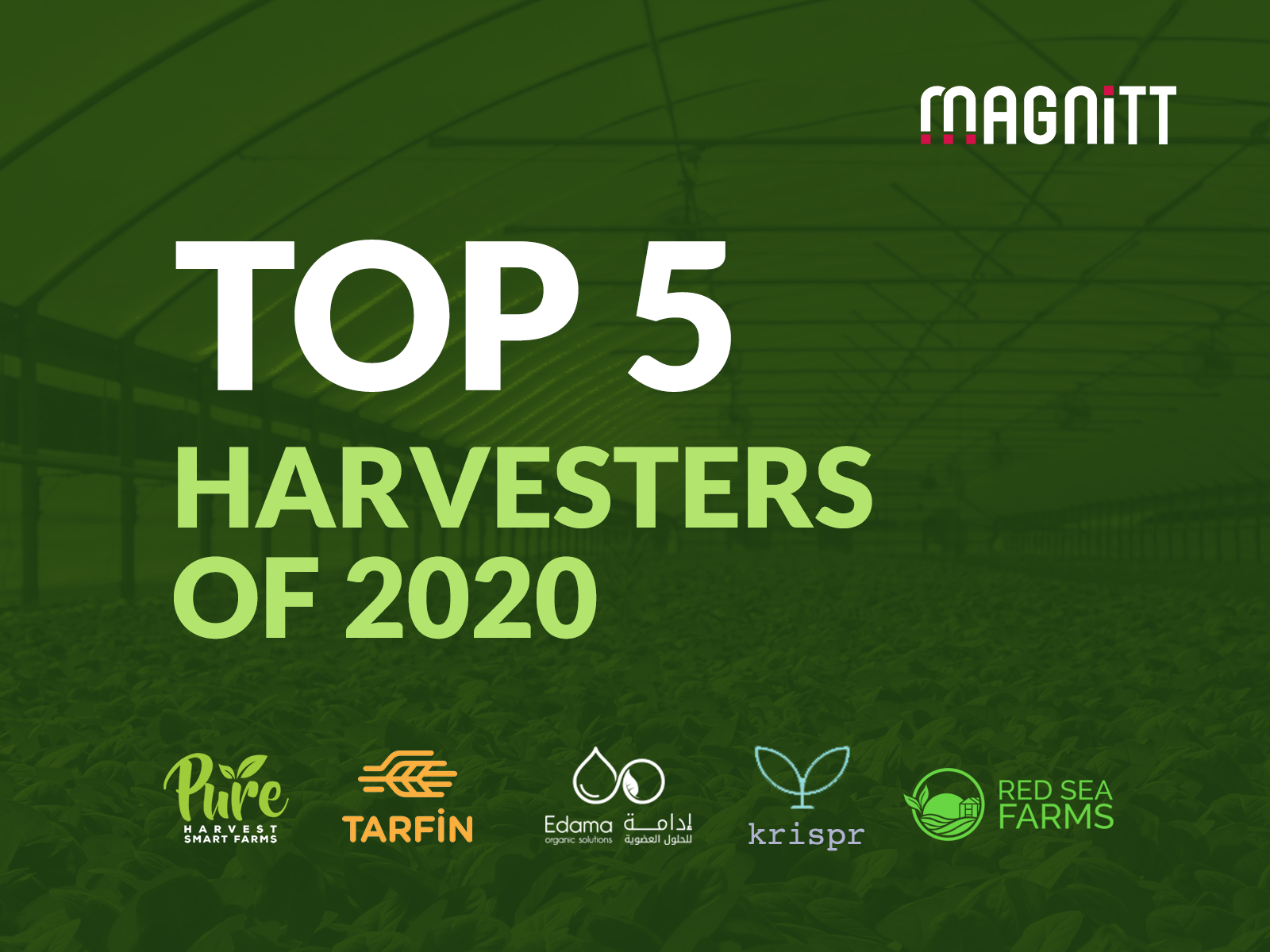 Meet the top 5 investment harvesters of 2020
By Zara Choudhary, Content Executive, MAGNiTT
Posted 3 years ago - Nov 17, 2020, 11:24 AM
As of November 2020, Agriculture startups in the MENA and emerging markets space have witnessed 18 investment rounds take place this year. Agriculture, or as we are seeing now, Agritech, is a fast-growing (pardon the pun) industry that involves the practice of a variety of technologies to help disrupt the traditional sector as we know it.
Around 90% of food in the GCC is imported, which in itself attracts several issues, including food security and food waste. Traditional ways of Agriculture in the region also carry problems, from water scarcity and soil erosion to a lack of mechanical innovation and 'poor quality' of land. We are now seeing regional startups using innovative and cutting-edge technologies to help solve these challenges, transform the archaic ways of the industry, and improve sustainability. These startups are leveraging technology such as AI and big data analytics to shift the industry to focus on vertical and urban farms, aeroponics, seawater farming, digital platforms for farmers, amongst others. 
Additionally, key entities, accelerators, and governments are encouraging entrepreneurship in Agritech; for instance, The Abu Dhabi Government launched a Dh 1B programme to support the establishment of agricultural technology companies in the emirate, whilst The Abu Dhabi Investment Office (ADIO) recently announced individual partnerships with agriculture startups in a bid to boost the emirate's agriculture technology capabilities across land, sea, and space, and promote innovation to address global food security challenges. ADIO previously invested $100M to bring four agriculture technology companies to the emirate as part of government efforts to attract high-skilled talent and cutting-edge research. 
Despite the funding rounds and increased interest in Agritech, the industry within the region is still developing, but appears to be on the up-and-up. To that effect, meet the top 5 funded startups in the MENA and emerging markets Agritech space so far this year:
---
Get the Top Startup Stories directly to your inbox! Subscribe to MAGNiTT Newsletters
---
Pure Harvest Smart Farms is a UAE-based, technology-enabled agribusiness startup focused on local, sustainable cultivation of premium quality fresh fruits & vegetables sold year-round at affordable prices versus comparable quality imports. They develop and operate high-tech, climate-controlled farms to grow a variety of crops and sell products directly into the markets in which they operate.
In April of this year, Pure Harvest secured a $20.6M Series A funding round, putting them in the top spot. 
---
2. Tarfin

Turkey-based Tarfin is a digital platform that provides farmers with access to high-quality farm inputs with competitive credit terms. Their mission is to use cutting-edge technology and big data analytics to reduce the costs of fertilizers, feed, and other farm inputs, to make agriculture profitable even for the country's smaller, underbanked farmers.
Tarfin raised a $5M Series A investment, from several investors in September of this year.
---
Edama champions sustainable solutions with its circular economy business model. Edama recycles organic waste into innovative agricultural products tailored to meet the challenges of food and water security in arid regions.
Earlier in the year, the startup secured a $780K Seed fundraise.
---
4. KRISPR

KRISPR is a UAE-based urban indoor vertical farming company, passionate about bringing together the best elements of science and technology to the cultivation of beyond organic quality food. The company's vision is to sustainably address the demand for chemical-free, great tasting, highly nutritious fresh produce globally.
KRISPR received its first funding, a $600K Pre-Seed round in May. 
---
Red Sea Farms is reducing the carbon and water footprint of the food sector by developing and delivering environmentally sustainable, saltwater-based agricultural systems. Their vision is to develop saltwater technologies that enable economically viable food production in water-scarce communities around the world, giving people more access to healthy & locally-grown produce.
Red Sea Farms announced a Bridge round of $380K towards the top of the year, following their Seed round in 2019.
---
Did we miss anything? Connect with me and share your thoughts!
Are you a startup looking for investment? Apply for funding to 95+ investors now.
Meet the top 5 investment harvesters of 2020