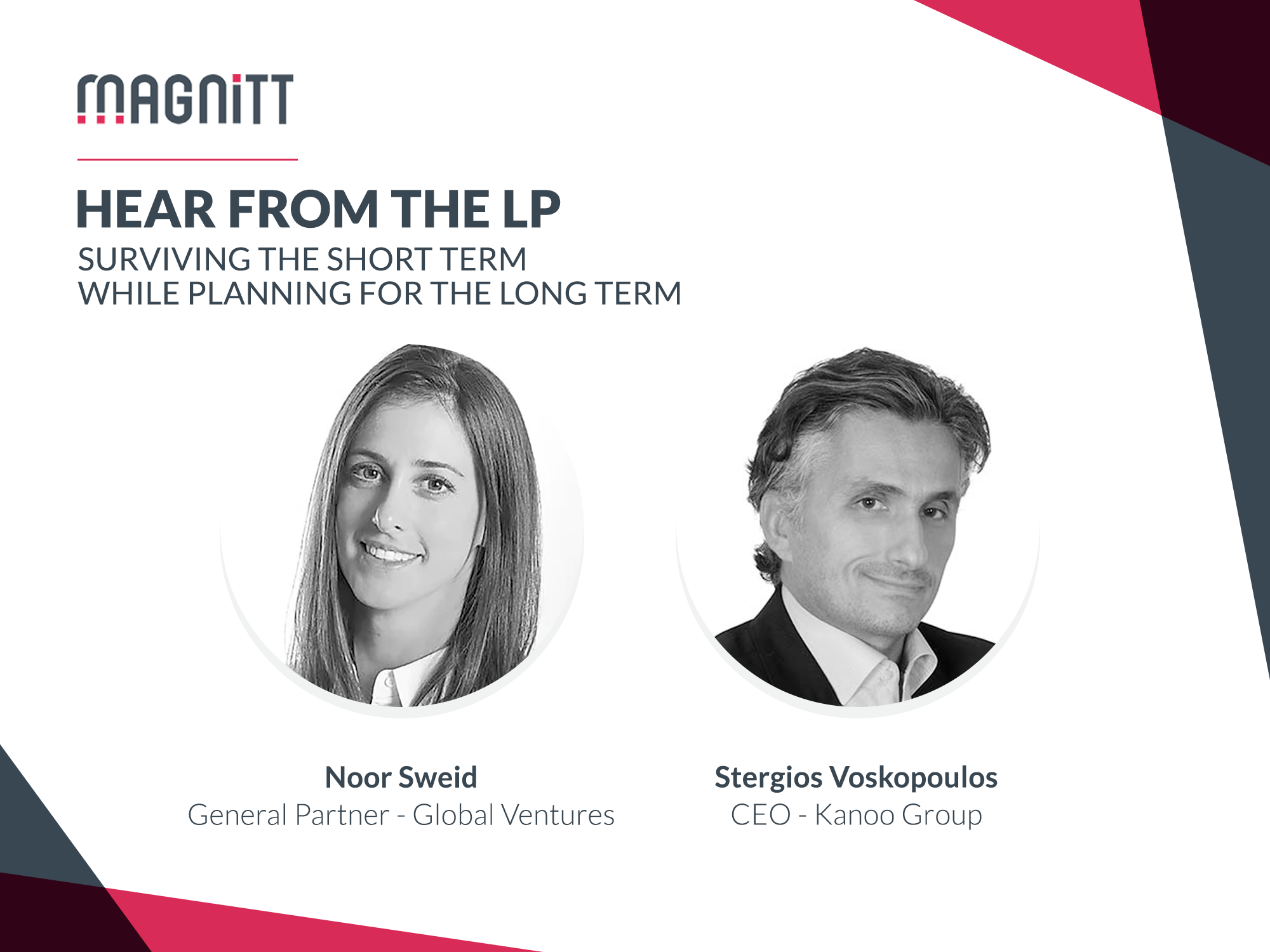 Hear from the LP - Surviving the short term while planning for the long term
By MAGNiTT
Posted 2 years ago - Apr 29, 2020, 1:18 PM
Struggling with decision making on how your business can survive in the short run, but also plan for the long-term, once the current crisis comes to an end? In this webinar, MAGNiTT CEO Philip Bahoshy catches up with Global Ventures' Noor Sweid and Kanoo Group's Stergios Voskopoulos, to find out how to balance short and long-term goals for your company.
They explored several topics including:
Why they chose to go through the VC route as opposed to investing directly
Philip mentions that the LP/GP relationship is important as startups tend to forget that the VCs you're speaking to have their own investors and so it's important to understand their mandates and what they're doing, and also to understand what the appetite is for venture as an asset class in the region.
Stergios explains that Kanoo Group has a dynamic investment programme on which they allocate through funds but not only in VCs, they have many asset classes. He says that they want to play a more value-adding role within asset management, and so sometimes participate in investment committees. They see how they can extract and add value.
What it means for a GP to be fundraising from LPs and how it is similar/different to how a startup fundraises from a VC
Noor says that from a VC perspective, raising money is about raising a pool of capital that is opportunistic, so we like to think we know exactly what to invest in, but when we talk to LPs, we have some semblance and sometimes we have made some investments. Yet, we still ask people to trust us to go out and find opportunities and select the ones that we believe will create the biggest return.
Noor believes it's the same in that you're trying to raise capital, but it's different in that you don't have a company with a balance sheet, operations, revenue etc. Instead, you're simply asking someone to trust that you can find all of these different products that are relevant and pick the best ones. The experience of how we can help companies grow becomes a lot more important as LPs need to have confidence that you can leverage and multiply. It's more than one company that we're helping grow and the confidence that we will see; the most interesting deals, the most relevant needs to be there. It's a lot more personal, a lot less company.
What an LP would be looking for in a VC
For Stergios, it is about connecting with the team... he says when talking about VCs, you are not talking about mega-funds, you're talking about small teams, small dynamics, and so you need to connect and believe in the team. They also need to have a good relationship amongst themselves, and you need to be able to view if there is a long term perspective there with no risk. 
They can have the right strategy and track record, but they also need to understand how the founder feels - they need to have founded companies themselves so that they are more experienced.
What the dynamic between LP and GPs should be 
Stergios shares that he has constant communication - calls, updates on portfolios, full transparency. You have to stand by your founders. You are there to guide them. He believes that as LPs, you are not there to monitor, but to add value and help where you can. You want to make sure your investment is secure and returns will be there at the end.
How this opportunity can be used to build a stronger unit as a MENA venture investment space
Noor says that there has been lots of collaborations amongst VCs over the last month or two, more than before. As an increasing amount of capital flows into the ecosystem, there'll be more collaborations amongst the VCs as the funds will be larger and there'll be an ability to support each other and grow. 
The opportunity lies in different sectors. Historically it was e-commerce which now has a massive opportunity again. When looking at other industries, healthcare, healthtech etc., the ability to raise money and scale will be faster than before. Every crisis presents different opportunities.
Advice for startups who are looking to fundraise
Noor believes that you need to forget what investors want to see today and instead need to show how you're adding value to the new economy, is there an opportunity for growth? This is what you invest in as a VC, the opportunity for growth. In 6-9 months, once you are stable and everything iss under control, you will need to ask, have done your optimisations and streamlining? If you want to think about fundraising, think about 6-9 months from now. The questions asked will be, how did you streamline during the crisis? Who are the employees you let go of? Why did you let them go? They will be trying to understand your decisions.
She says that as VCs, we expect our LPs on our next fund to ask us, why did you invest in this company during the crisis? Why not this company? Every decision you make now, will be scrutinised in 6-9 months if you are raising money. Make the right call, but you need to defend your judgment and be ready to explain it when we come out of this.
Are you a startup looking for investment? Apply for funding to 75+ investors now.
Other topics included, why now is the time to try new things, how a founder can protect its core idea in a market full of copy cats, which type of companies will be the breakaway success stories that will come out of the current environment, if they are helping startups to grow into international markets, if you should carry out due diligence on LPs, and much more.

To check out the full discussion, watch the Webinar below now.