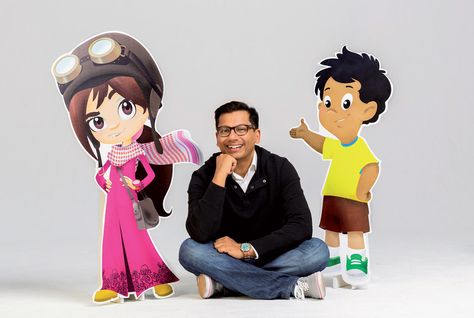 Growl Media closes Series A funding
By MAGNiTT
Posted 9 years ago - Aug 9, 2014, 8:00 PM
A Dubai-based tech start-up has secured Series A investment to expand its 'edutainment' content for young children into TV, film and merchandise.
Children's app developer Growl Media received the investment from the Auvest Group, an alternative investment and advisory firm, which will acquire a significant minority stake in Growl.
Under the terms of the agreement, the Auvest Group also has an option to increase its shareholding.
Dinesh Lalvani, CEO and founder of Growl, said: "The funding will enable us to expand our product offering to webisodes and TV, continue to build our stable of apps, enhance Eureekah, our technology platform built in-house, and bring our content to new markets."
Since its launch in April 2013, Growl has published nine apps based on two characters, Alfie and Zee, which target two to six year olds in the Indian and Arabic-speaking markets.
The company plans to double its team over the coming months as it prepares to launch its first series of webisodes in Arabic, featuring Zee.
Zee was recently announced as the brand ambassador for the Samsung Galaxy Tab for Kids in an agreement signed between Growl and Samsung.
With the number of smartphone users growing every day, the potential audience for their products is significant and stretches from North Africa and Turkey, through the Middle East to South Asia and South East Asia.
Parents with children already represent about 35 percent of Growl Media's market footprint while parents living in the diaspora also represent a significant audience, citing difficulties in instilling a sense of identity and cultural roots in their young children.
Humayun Shahryar, CEO and founder of Auvest, said: "Growl is poised to become a dominant player in the market for children's content in the MENASA region and we are excited to be part of this journey with Dinesh and his talented team."
Source : Arabian Business
Growl Media closes Series A funding