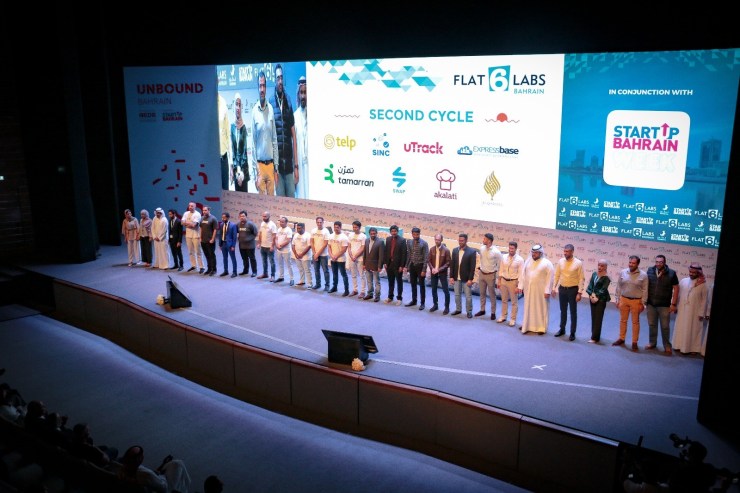 Flat6Labs Bahrain Graduates ​its Second Cycle
By MAGNiTT
Posted 4 years ago - Mar 10, 2019, 11:16 AM
By: Startup MGZN
SOURCE: Startup MGZN - Flat6Labs Bahrain Graduates ​its Second Cycle
---
Flat6Labs Bahrain hosted its Second Demo Day at The National Theatre of Bahrain, where eight startups from its second cycle showcased their businesses in front of an audience consisting of VIPs, investors and other prominent officials.
The second cycle received over 200 applications from more than 40 countries which was then narrowed down to a final selection of eight Startups that consisted of teams both locally and internationally, with businesses offering products and services from a wide range of industries such as SaaS, FinTech, EdTech, F&B, E-commerce and more.
Throughout the four-month intensive developmental program, they were given access to world-class trainers, mentors and coaches as well as a host of perks, office space, legal support and company registration in the Kingdom of Bahrain.
"We are grateful for the outstanding support from our partners Tamkeen & EDB, whose efforts have contributed to accelerating entrepreneurship in Bahrain and our work towards growing the local startup ecosystem." said Ryaan Sharif, Managing Director of Flat6Labs Bahrain. 
The Labour Fund Tamkeen's Chief Executive Dr Ebrahim Mohammed Janahi praised the key role of this program in assisting startup ventures to become fully operational and sustainable businesses.
"As part of Tamkeen's objectives, bridging the gap between startups and potential investors and growth opportunities help boost the private market's performance. It inherently supports the attraction of investments, while supporting Bahraini enterprises including startups to pursue their expansion as local commercial drivers.
This also marks Flat6Labs Bahrain's 1 year Anniversary of launching in the country, during which it has invested in a total of 16 startups, 8 of which being Bahraini. Over the course of its two cycles, Flat6Labs Bahrain has received over 500 applications, from over 45 countries.
Flat6Labs Bahrain Graduates ​its Second Cycle