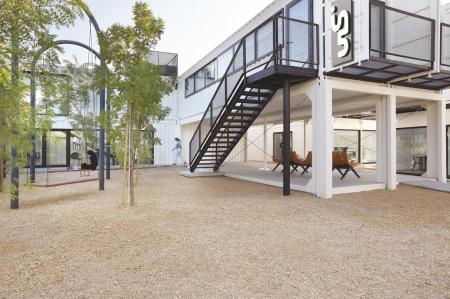 First in5, DDFC Members' Exhibition to be held during Dubai Design Week
By MAGNiTT
Posted 4 years ago - Nov 6, 2018, 11:22 AM
Press Release
Dubai-UAE: in5, an enabling platform for students, entrepreneurs and established professionals, and Dubai Design and Fashion Council (DDFC), will showcase a curated selection of its members' works during Dubai Design Week, the region's largest creative festival.
This exhibition, to be held at in5 Design at Dubai Design District (d3), will run from 12 to 17 November and increase awareness about the social, cultural and economic impact of the creative industries in the UAE and across the wider region.
Exhibiting architects and designers from the in5 Design and the DDFC community include Abdallah Almulla, Andrei Baluta, Anne-Isabelle Saint-Pierre, Asna Moazzam Khan, Elie Abou Jamra, Irem Akbaharer Arslan, Heba Farahat, Fabidha Safar Rahman, Sara AlYousuf, and Yara Habib.
Jazia Al Dhanhani, Chief Executive Officer of DDFC, said: "Dubai stands at the forefront where a myriad of opportunities is being created for design businesses to establish and thrive in the Middle East. It remains our mandate to support this momentum and expand our ecosystem to help drive creativity, innovation and entrepreneurship. Running in parallel with Dubai Design Week, this exhibition will present the perfect platform for our members to showcase their creative works on a larger scale."
In addition to the exhibition, in5 Design will also feature interactive workshops and cultural experiences relating to architecture, design and entrepreneurship. A number of the activations will be led by startups who are being incubated at in5 and will host a variety of talks, demonstrations and more for the public.
Riyad Joucka, Founder and Lead Architect of MEAN* Middle East Architecture Network, a research design collaborative and participant at the event, said: "As an in5 Design-incubated startup, we are delighted to participate in this defining design-inspired event. We invite anyone with a keen interest in design and architecture to attend our 'Open House' event, and gain first-hand insights on the use of new technologies such as Scripting, 3D-Printing and Augmented Reality that will help visualise and create prototype structures."  
Another participant, Nicholas Sykes, Co-founder and Managing Director of Urban Surveys, said: "We are thrilled to be part of this inaugural event. As a member of the in5 Design community, we welcome architects, real estate developers and project managers interested in laser scanning and aerial drone surveying technologies with detailed 3D modelling capabilities to visit us during this unique showcase event at d3."
Hassan Bello, Founder and Curator of The AJALA Project, said: "As an in5-incubated startup, we encourage all stakeholders from the art, music and culture spheres to attend our upcoming event 'AJALA Nights'. The event will provide visitors with an opportunity to check out amazing artworks by local artists, enjoy live music performances by emerging talent in the UAE and gain interesting insights from curated talks across multiple disciplines."
With all eyes on Dubai starting Monday, in5 will host the inaugural members' exhibition from their newly-renovated design innovation centre alongside a number of interactive workshops, talks and live performances to be enjoyed by all.
---
Too much startup news to keep track of? Subscribe to MAGNiTT Daily and receive a snapshot of the top MENA startup news articles directly in your inbox: http://eepurl.com/dKYcrI
First in5, DDFC Members' Exhibition to be held during Dubai Design Week