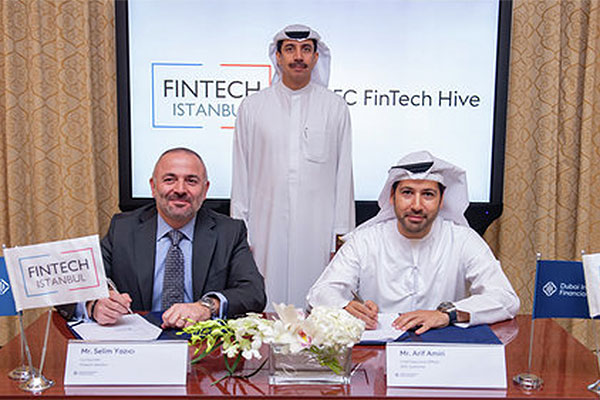 By: Trade Arabia
SOURCE:  Trade Arabia - FinTech Hive at DIFC signs three agreements
---
FinTech Hive at Dubai International Financial Centre (DIFC), the region's first and biggest FinTech accelerator and hub, signed three new agreements with FinTech hubs –FinTech Saudi, Milan's FinTech District and FinTech Istanbul during the second edition of the Global Financial Forum in Dubai.
The agreements bring the size of FinTech Hive's network of strategic partnerships to 14FinTech hubs in various parts of the world.
The Forum attracted 700 leading figures from across the financial services industry to hear expert insight from some of the sector's biggest names.
The Forum took place under the theme 'Unlocking Growth in a Changing World', and the incredible line-up of speakers included investment guru Mark Mobius, Sir Gerry Grimstone, the former Chairman of Barclays Bank, and Nicolas Cary, co-founder of Blockchain.
Speakers also included His Excellency Essa Kazim, the Governor of DIFC. In his welcome remarks, he announced that the size of the wealth and asset management sector at DIFC is now worth $424 billion. He also revealed that the Centre had risen from 15th to 12th on the latest Global Financial Centres Index, reflecting the record-breaking success of DIFC over the past 12 months.
Kazim said: "Over the past 15 years, DIFC has grown into what is today a focal point for the global business and investor community, and a testament to this is amount of capital being raised in the Centre. The approximate size of the wealth and asset management industry in DIFC is now USD 424 billion. To put this in context, that is equivalent to roughly 30 percent of the combined GDP of all GCC countries.
FinTech Hive at DIFC signs three agreements