F&B in MENA: Head in the Clouds
By Majd Shidiac, Content Editor
Posted 10 months ago - Sep 16, 2021, 11:00 AM
Interested in more data on startup investments? Access our data on 6,250+ startup funding rounds
---
The Food & Beverage industry in MENA and across Emerging Venture Markets has been observing post-pandemic growth after a dip in funding and number of deals in early 2020. Funding into Food & Beverage(F&B) startups in MENA has observed its fourth consecutive yearly growth, from raising only $14M in 2018 to an unprecedented $512M in 2021 YTD as recently recorded in our August 2021 Venture Investment Dashboard. 
MENA, being the hub for Food & Beverage VC activity has raised almost 99% of all funds invested in F&B startups across Emerging Venture Markets. Driven by Kitopi's $415M Megadeal, a 300% YoY growth in funding, the MENA Food & Beverage ecosystem has broken yearly, half-yearly, and quarterly funding records over 2021. Yet, what is most remarkable about this data is the rise of investor appetite in Cloud Kitchen Service startups between 2020 and 2021. 
What could be driven by a pandemic pain point, where restaurant owners were pushed to close their front-of-house operations and users were forced to order-in during lockdown, is developing to become a Tech and Data-driven wave in the Food & Beverage industry across Emerging Venture Markets. From Cloud Kitchens, Virtual Restaurants and Brands, to supply-chain cloud support services, F&B startups are unlocking the $4Bn potential of online delivery in MENA. 
---
---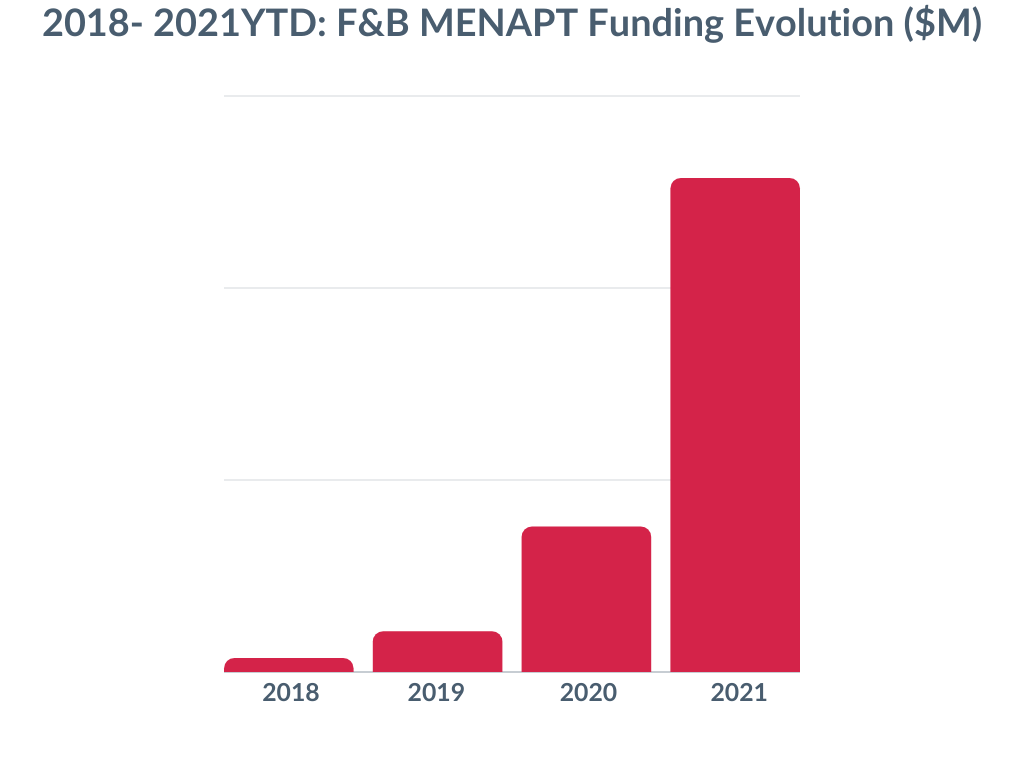 To understand the growth potential of Cloud Kitchen service startups, one can look at the volume of funding backing pioneers in the hub, where the UAE seems to be leading the wave. Of the 10 investments in F&B startups in the UAE over 2021, 4 were full-fledged cloud Kitchens: this year's top-funded startup Kitopi ($415 Series C), second and third-most funded startups iKcon ($20M Series A) and Kitch ($15M Series A), and virtual restaurant Maison Duffour which raised $400K in a funding round earlier this year. 
So what is a cloud kitchen and what are the multiple models and third-party aggregators that can be integrated into the supply chain? Looking at MENA's top Cloud Kitchens Kitopi, iKcon, Kitch, and Kitchen Nation (all based in the UAE) Cloud Kitchens are delivery-focused optimized facilities that can either be offered as a service (KaaS), where established restaurants can rent a part of the space, or set up in-house creating a Virtual Restaurant. A cloud, dark, satellite, or ghost kitchen is not an entirely new concept, where Chinese take-out and pizza parlors have been championing the delivery-focused approach to space optimization, but it's the Tech-driven potential and data-driven possibilities that are allowing startups to create unprecedented revenue streams.
The concept behind a cloud kitchen is not just at the front-end, where the end goal is to function through digital food aggregators delivering food to customers, it starts in optimizing every SQM of your kitchen space. Sweetheart Kitchen, which was acquired by Delivery Hero late last year, has cracked this model. To optimize its facility and workforce fully, Sweetheart Kitchen created a virtual restaurant that operates multiple brands, which proved highly lucrative for the UAE-based startup as it raised $42.5M in Series B and Series C fundraisers over 2020. By creating multiple menus based on the raw material and skillset at hand, Sweetheart Kitchen benefits from economies of scale in purchasing raw materials, cross-marketing opportunities in communicating their brands, and most importantly aggregate data from all brands allowing them to optimize their offering.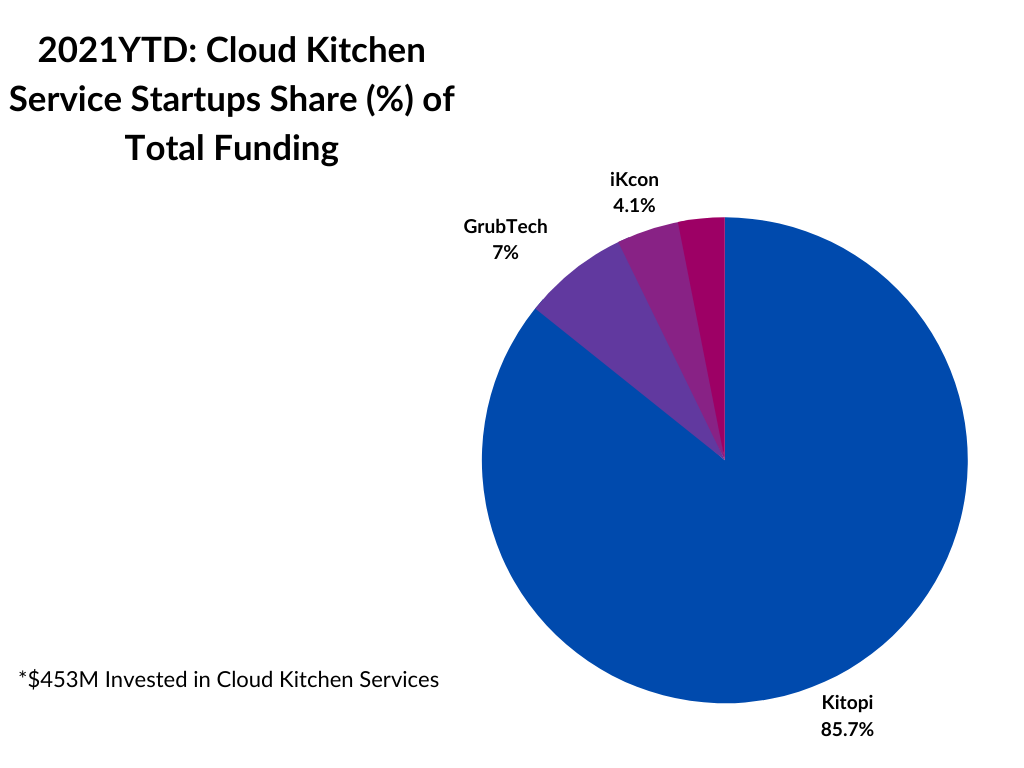 The sprout of cloud kitchens enables and is a part of a greater trajectory towards cloud services in the F&B industry across Emerging Venture Markets. SaaS startups in F&B are utilizing technology to optimize different aspects of the value chain where virtual restaurants like SweetHeart Kitchen could engage with B2B marketplaces like Elkaso or Supy to refill their stocks. Cloud kitchens depend on multiple food aggregators like Elmenus or Deliveroo, which could even be consolidated into one interface with SaaS solutions from end to end startups like GrubTech, In order to dispatch their food items or could create their own delivery network in-house which is the case for Krush Brands.
---
Want to know who's active in the F&B Scene? Browse 830+ Startups in Emerging Venture Markets