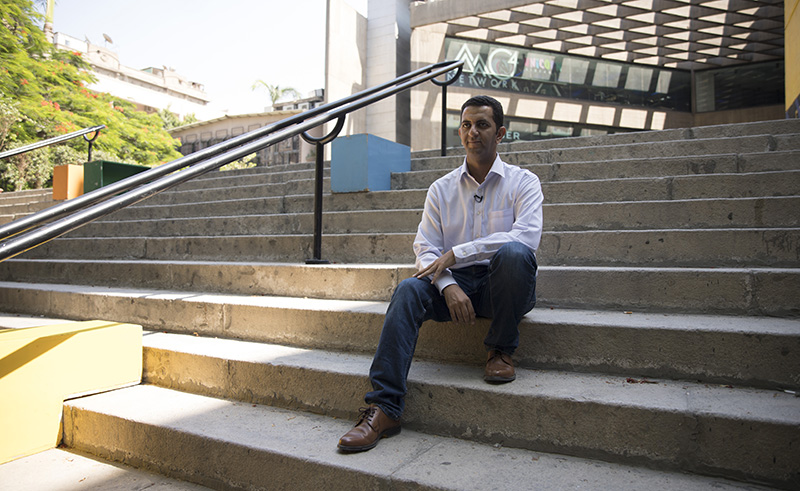 This Entrepreneur set off on a Mission to Hack "Digital Injustice" and raised $100,000 in Oman
By MAGNiTT
Posted 5 years ago - Jun 11, 2018, 7:22 AM
By Leena Eldeeb / Startup Scene
SOURCE: Startup Scene - He Set Off On A Mission To Hack "Digital Injustice" And Now Just Raised $100,000 In Oman 
---
It's 2000-and-something, and everyone's around the board members of an Egyptian fabless design house for wireless chipsets, as they brag about their website's ranking on Google's search engine. "I felt guilty as I knew it's a logical fallacy, since there was no relation between your ranking on Google and the quality of your product or content," Amir El-Sherbiny tells Startup Scene ME.
El-Sherbiny worked for this design house as a marketing executive once he graduated from Telecommunications Engineering; his first mission was to optimise the company's website to rank high on Google. "It's not fair; if you don't have good SEO skills but your content is high quality, you may end up buried in the second or third pages of Google results and nobody will know about you," he says, as he recalls the inception of Webville, the startup that has just raised $100,000 in funding. 
In 2014, three years after this company got acquired by Intel, El-Sherbiny went to the RiseUp Summit looking for inspiration, where he met Dave McClure, the founder of 500 Startups, and found the inspiration he was looking for. "McClure inspired me to take the risk and launch my startup," El-Sherbiny recalls. So, he quit corporate and dedicated his time to hire people and built a team to prove their concept. 
 

McClure inspired me to take the risk and launch my startup.
"We rolled out an app and a plugin for people to rate content, but we didn't succeed because we were met with the dilemma of the chicken and the egg; If we have no rating there won't be users, and vice versa," he says. But since there were users on social media anyway, why not make use out of their interactions on the content circulating on their feeds and convert them to votes expressing the rating of the content? Enter WebVille, an engine created by El-Sherbiny, who took it to Ireland's Web Summit in November 2015 to test the waters in the global ecosystem. "The feedback was positive from both technical and business backgrounds," he says, "because there was an actual problem: how can one discover good content from the huge amounts on the worldwide web," he rationalises.
500 Startups' Dave McClure inspired this engineer to abandon corporate and embark on his dream to start WebVille.
The team behind WebVille got back home eager to utilise this feedback. With an engine ready to be exploited, they wanted to approach the regular users roaming about social media. First they identified five verticals which people interact with the most in the MENA region: News, Sports, Technology, Food and Religion. "In the beginning, our product was a real-time website displaying ratings from the five verticals and got surprised that most of the traffic is generated through mobile phones," El-Sherbiny says. "So, we fixed the website accordingly."
They watched the interaction of users on Facebook, and found that 140 percent of the users are interacting with food, while 10 percent are interacting with the four other verticals. "Besides, food content is timeless," he reflects. Even though the other verticals are important and very controversial when it comes to interaction, when it comes to monetisation it gets risky, El-Sherbiny says. "We have all seen what happened when [famous Islamic Preacher] Amr Khaled made this advertisement promoting Wataneya chicken last month."
---
Source: startupsceneme.com
This Entrepreneur set off on a Mission to Hack "Digital Injustice" and raised $100,000 in Oman