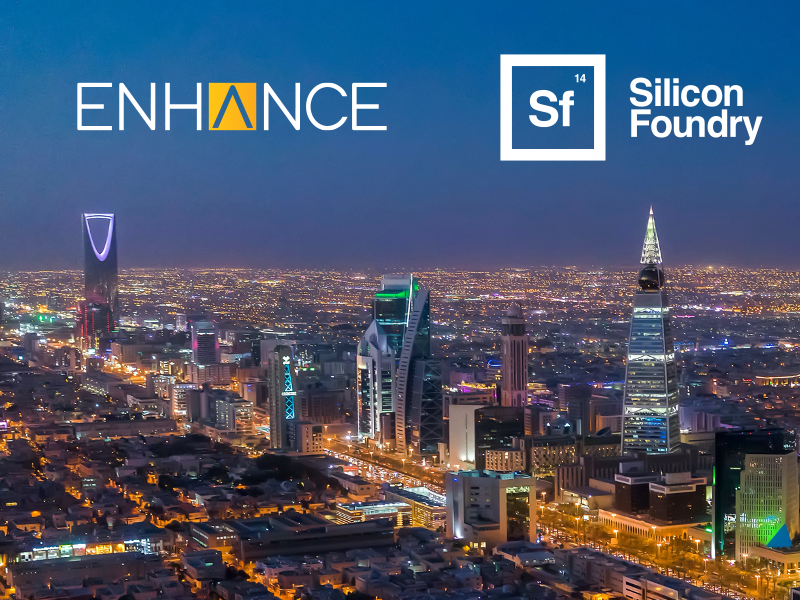 Enhance and Silicon Foundry enter into Strategic Partnership
Source: Press Release
Posted 2 years ago - May 6, 2020, 9:41 AM
Enhance, the MENAPT region's leading startup studio, today announced it has entered into a strategic partnership with the US-headquartered innovation advisory platform Silicon Foundry.
Launched in 2016, Enhance focuses on building innovative vertical marketplaces in the Middle East, North Africa, Pakistan, and Turkey. Its first venture 'joi Gifts' is now the region's largest online gifts marketplace. Enhance is currently working on launching a number of new ventures across various verticals. 
Founded in 2013, Silicon Foundry is a membership-based advisory platform that works closely with leading global corporations to discover, connect and engage with leading startups and emerging technologies, in order to unlock high-impact, business opportunities.
MAGNiTT got in touch with Founding Partner of Enhance, Ritesh Tilani to delve into what they are hoping to gain from this exciting partnership, "Having a partner based in a more mature ecosystem like Silicon Valley gives us access to invaluable insights. Their network in the Valley is unparalleled, and having access to sources of new business models and growth methodologies will give us a considerable competitive advantage. At the same time, we look forward to helping Silicon Foundry expand to the region and support large enterprises and government organizations in adopting and implementing leading-edge innovation models and methodologies."
Ritesh also shared what this partnership means to him in this current time, "As we scale up our activity and start launching new ventures more frequently, it's critical for us to pick the right models. Learning from more mature ecosystems such as Silicon Valley, with the help of partners such as Silicon Foundry, increases our chances of picking the winners, and provides a higher likelihood of success for each of those models. It allows us to be much more competitive and creates more value for our stakeholders."
Under the alliance, the two firms will leverage their complementary capabilities and expertise to bring leading-edge innovation models and methodologies, such as startup studios, to large enterprises and government organizations in the MENAPT region. The partnership will build strategic bridges between Silicon Valley and MENAPT and provide curated access and opportunities for stakeholders of both firms across the two innovation markets.
With offices in Saudi Arabia, the United Arab Emirates, Jordan, Egypt, and Turkey, Enhance provides the physical operations and network to tap into business opportunities across the region. "Local partnerships are an important part of our strategy when we expand into new markets," said Steve Gotz, Partner at Silicon Foundry. "We have found that combining our global network and expertise with a strong, respected and deeply connected local partner, like Enhance, is a powerful formula for success."
Ritesh has big ambitions for the company as he opened up about his big picture vision for Enhance, "Enhance is a founding member and sits on the advisory board of the Global Startup Studio Network. With the support of many of the leading investors in the region and abroad, we have already grown our first portfolio company 'joi' into the largest online gift marketplace with a unique delivery experience and the best brands, such as Godiva, Magnolia Bakery, Armani Dolci, etc. We now plan to reuse the infrastructure we have put in place using joi to roll out many more vertical marketplaces, each one designed to be a disruptor in its space. Over time, we will have a large portfolio of businesses that work together under the same entity to share resources, reduce the cost and time to scale, and offer significantly higher value creation with less funding. This will also allow us to attract top talent, not just from within the region, but from around the world."
[Startup studios are based on the principle of sharing know-how and resources across multiple ventures to increase their viability. Shared resources include marketing know-how and databases, technology, funding, and talent. Startup studios have become common with over 430 studios operating currently around the world with about half in the US, and Europe rapidly catching up.]
Ritesh also shared a sneak-peek into some of Enhance's exciting new ventures, "We are working on a number of new ventures. One in particular that's about to launch in the next 1-2 weeks allows customers to support their favorite local businesses in getting through the COVID-19 crisis by paying them now for future purchases. We invite local business owners across the Middle East to register their businesses with us at www.tojjar.me"
---
COVID-19 further suppressed the number of deals in MENA-based startups in April but total funding increased by 202% as EMPG joined MENA's unicorn list by raising $150M from existing shareholders. Learn more details in MAGNiTT's April 2020 Dashboard.
Enhance and Silicon Foundry enter into Strategic Partnership