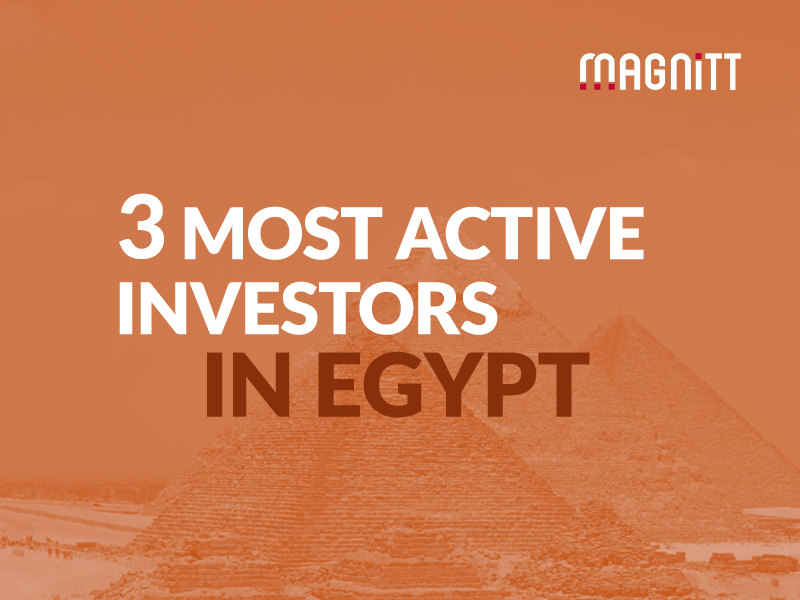 Meet the 3 most active investors in Egypt
By Zara Choudhary, Content Executive, MAGNiTT
Posted 3 years ago - Nov 4, 2020, 11:43 AM
MAGNiTT's 2019 Egypt Venture Investment Report found that 2019 was a record year for the Egyptian startup ecosystem by deals & funding and for the first time in history, the country ranked first by the number of deals in the region, surpassing the UAE; the country's final deal ranking for the current year is yet to be seen. However, Egypt did witness more than a 100% increase in their total funding from H1 2019 to H1 2020, so it's feasible to say that we may see a similar result, despite the impact of COVID-19.
The increased interest and spike in investment activity in Egypt's entrepreneurial ecosystem can be attributed to several reasons. With accelerators on the rise in the country, they are providing startups with much-needed and consistent support and investment opportunities; of the 3 most active investors in the region, 2 are local incubators. Alongside this, the government is making a conscious effort to help scale and encourage the space to thrive. For instance, initiatives such as the Central Bank of Egypt's EGP 1B fund ("The Central Bank's Financial Technology Unit") have been launched, as well as the Bedaya Fund - Egypt's first governmental fund that is private sector-led, which provides financing opportunities for startups in the food, agricultural, manufacturing, services, and information technology sectors. 
Similarly, the country provides a large addressable market for entrepreneurs, with Egyptian students and professionals increasingly turning toward entrepreneurship to capture the opportunity of the quickly developing market. 
Ziad Mokhtar, former Managing Partner at Algebra Ventures said, "Egypt is seeing a second wave of entrepreneurs and investors that are more mature and experienced. The population is also starting to embrace technology for everyday activities and we see that large but young tech firms are a great source of talent and inspiration."
---
Discover more than 1,600 Egypt-based startups on MAGNiTT
---
Meet the 3 investors who have invested in the highest amount of Egypt-based startups by the number of deals, from 2015 - 2020 and discover who your potential next investor could be:
1. 500 Startups

59 deals
500 Startups are one of the most active seed-stage venture capital firms in the world. Since their inception in Silicon Valley, 500 Startups has invested in over 2,000 companies via 4 global funds and 14 thematic funds dedicated to either specific geographic markets or verticals. Out of the 2,000+ companies, they have invested in 59 Egypt-based deals:
NowPay, La Reina Exchange, Mumm, Nawah-Scientific, RiseUp, buseet, Vetwork, and more. Check out all of 500 Startups' investments.
---
53 deals
Falak's ambition is to find and empower talented and ambitious early-stage startup founders, in order to help them thrive in the region's rapidly changing entrepreneurship landscape. Their sector-agnostic programme focuses on honing startups' product-market fit, finetuning their business, operating and revenue models, growing their customer base, and raising follow-on investments. Falak Startups has invested in 53 deals over the past 5 years:
Rabbit, SKN, Taqatak, Bypa-ss, Apoteka, Raseedi, Trendster, and others. Discover all of Falak Startups' investments.
---
50 deals
Flat6Labs Cairo fosters and invests in bright and passionate Egyptian entrepreneurs with cutting-edge ideas. Launched in 2011 as the first Flat6Labs office in the MENA region, they support and encourage entrepreneurs throughout the critical first steps of development. Flat6Labs Cairo startups that meet predefined criteria by a designated committee are also nominated to receive grant funding of up to $25K each depending upon the sector. Over the past 5 years, they have been involved in 50 deals in the country: 
Brimore, BeXel, CuroTrip, Mosawer.net, Wasel, Conative-labs, and several others. Learn more about Flat6Labs Cairo's investments.
---
Did we miss anything? Connect with me and share your thoughts!
Are you a startup looking for investment? Apply for funding to 95+ investors now.
Meet the 3 most active investors in Egypt