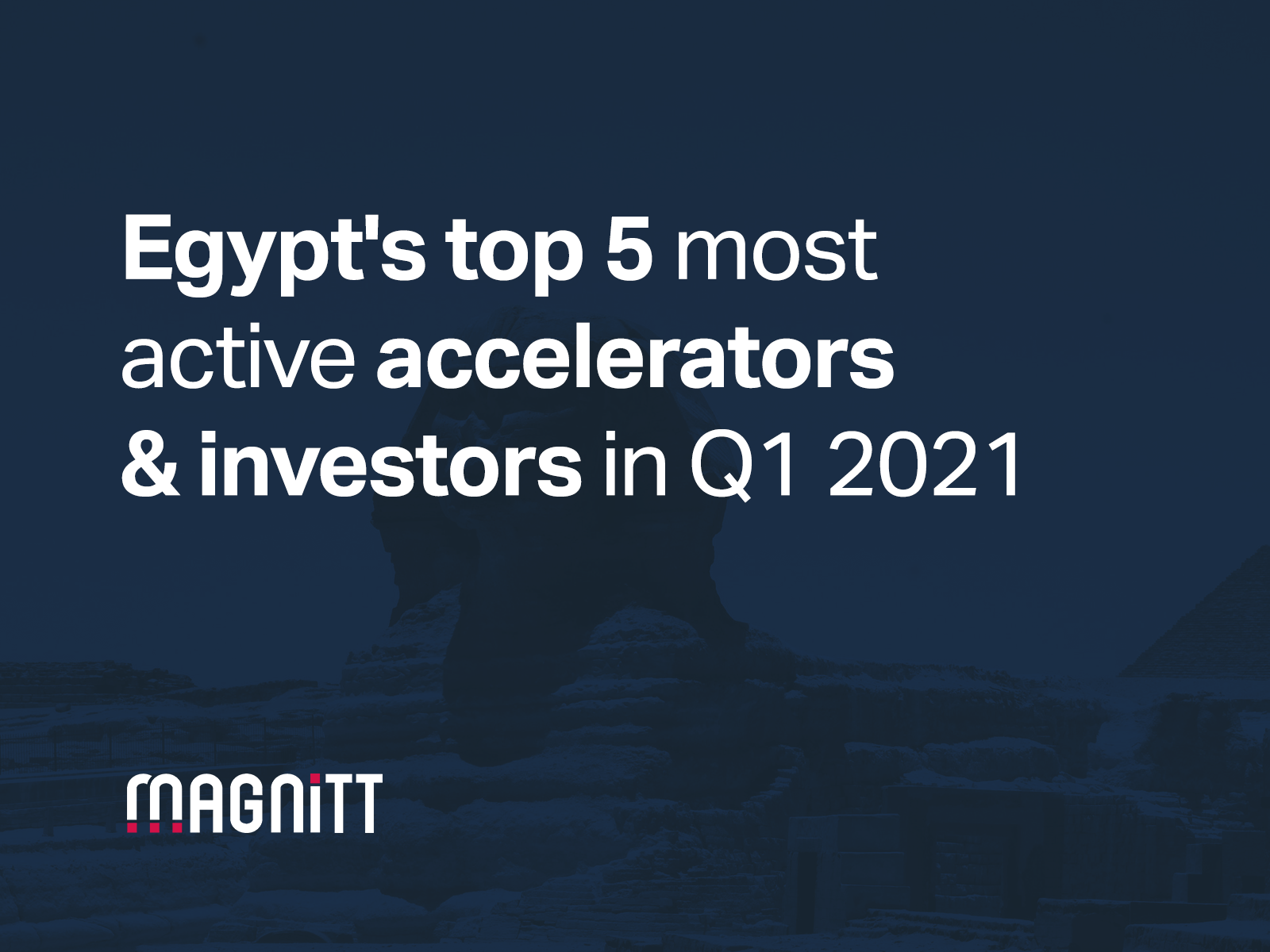 Meet Egypt's top 5 most active accelerators and investors in Q1 2021
By Asad Sheikh, Marketing Analyst, MAGNiTT
Posted 2 years ago - Apr 19, 2021, 11:01 AM
Despite being one of MENA's consistently thriving startup ecosystems, the first quarter of 2021 was something of a reality check for the Egyptian startup space.
When compared to the high of the same period last year, and amidst the continued challenges of a pandemic-struck year, in Q1 2021 the Egyptian ecosystem saw a drop in capital deployed, with this amounting to only one-third of the investment fundings in Q1 2020. Albeit, there was an initial spike in January, total transactions dropped by 13% YoY, and even the top 5 deals closed were heavily skewed, as they represented 57% of all capital deployed in Egypt.
Consequently, despite an adverse impact on the numbers, it was not all negative, as there were five accelerators and investors that were able to close a total of 15 startup deals, thereby maintaining a degree of momentum for the country's ecosystem.
To that effect, here are the five accelerators and investors who drove investment in Egypt's startup space, according to MAGNiTT's Egypt Q1 2021 Venture Investment Report.
---
---
1. Flat6Labs

10 deals
Flat6Labs is one of MENA's leading Seed and early-stage venture capital firms, which also runs a renowned startup program in the region. Annually, Flat6Labs invests in 100+ innovative and technology-driven startups, enabling thousands of passionate entrepreneurs to achieve their daring ambitions and ultimately becoming their institutional co-founders.
---
2. AUC Angels

3 deals
AUC Angels is the first university based company in the Middle East that builds educational products for developing angel investors, leads angel investments, has a startups​ investment-readiness program, and builds an angel investor network across the Middle East. It aims to support and provide adequate access to capital for promising and high-growth startups.
---
3. Brinc MENA

2 deals
Brinc is an ultra hands-on hardware accelerator that supports entrepreneurs looking to unlock the world's data through connected solutions. Launched 5 years ago in Hong Kong, today Brinc has offices in Bahrain, Barcelona, Poland, and India, and looks to invest into early-stage IoT startups operating in the GCC and MENA region.
---
2 deals
EFG-EV Fintech is a startup accelerator/early stage VC fund designed and established to nurture, support and empower financial technology startups poised to disrupt or challenge the status quo in the financial services sector and contribute to the development of the Fintech ecosystem in Egypt.
---
2 deals
Foundation Ventures is an early-stage venture capital fund focused on Egypt and the MENA region backing exceptional founders building industry defining companies, which unlocks massive growth for their portfolio companies, by giving them access to the largest distribution channels in the country.
---
Are you a startup looking for investment? Apply for funding to 110+ investors now
Meet Egypt's top 5 most active accelerators and investors in Q1 2021