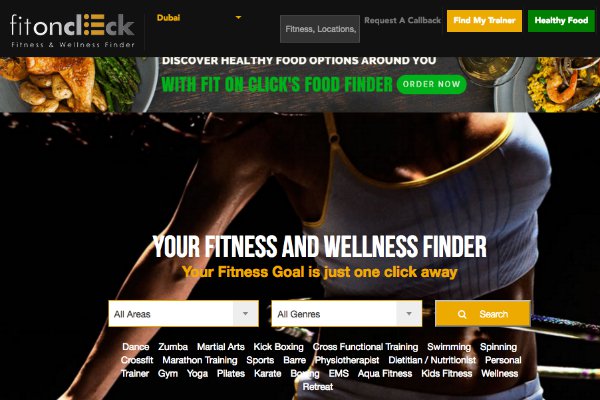 Dubai fitness start-up FitOnClick seeks $1.5m in funding
By MAGNiTT
Posted 6 years ago - Jul 20, 2017, 7:39 AM
SOURCE: Gulf Business - Dubai fitness start-up FitOnClick seeks $1.5m in funding
---
Dubai-based online fitness start-up FitOnClick is seeking $1.5m in funding as it eyes expansion beyond its home market.
Speaking to Gulf Business, founder and CEO Ben Samuel said the company had added to its website offering in recent months with a new system to connect users with personal trainers and a healthy food ordering feature.
The two-year-old firm is also planning to revamp its website within two months and launch a smartphone application as it seeks to expand into the wider Gulf.
"Definitely we are trying to reach out to other countries. The first thing we're trying to do is go to Oman, Kuwait and Saudi Arabia. So we'll be launching soon in these three countries by January 2018," Samuel said.
"We are also thinking of launching in Sri Lanka in partnership with some really good names who played cricket there before. We're just in the initial phase of talking but could well be launching in Sri Lanka as well."
To support these efforts the company will be looking to expand its eight-strong workforce and is in talks with investors.
"A couple of investors came to us, so we have given them the audit report and accounting. Maybe three or four months down the line we might get the first round of funding," Samuel said.
"We're looking for $1.5m again it depends upon if we launch in other countries we'll be looking for more investments."
However, the CEO stressed that the company was already "self sustainable" and was looking for advisory support as much as funding as it continues it considers its next step.
Middle East and North Africa start-ups attracted $140m in investment through 87 transactions in the first half of the year, excluding online shopping platform Souq.com and ride app Careem, according to a recent report by start-up community platform Magnitt.
The company said the region was in line to match if not exceed last year's funding in start-ups, with e-commerce (16 per cent), technology (13 per cent) and fintech (10 per cent) the most attractive sectors for investors.
---
SOURCE: Gulf Business - Dubai fitness start-up FitOnClick seeks $1.5m in funding
Dubai fitness start-up FitOnClick seeks $1.5m in funding