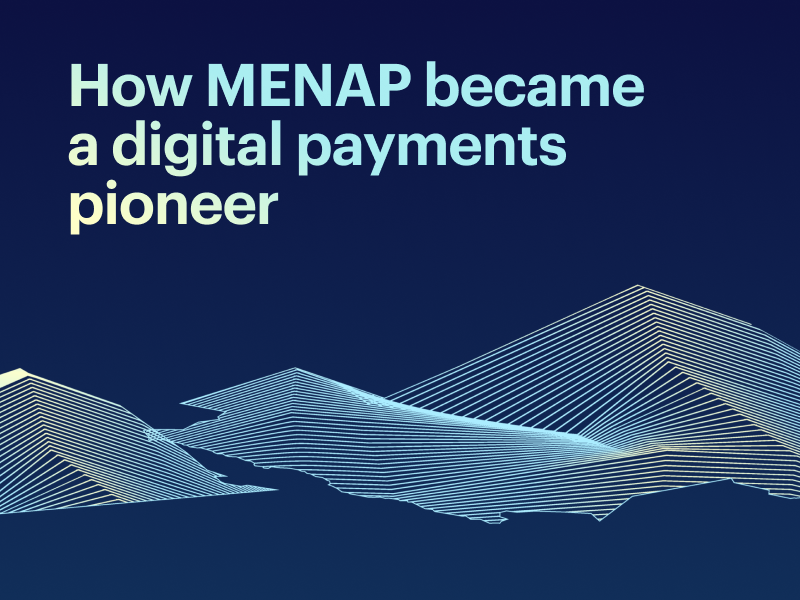 How MENAP became a digital payments pioneer
By Remo Giovanni Abbondandolo- SVP of MENA Checkout.com
Posted 2 years ago - Dec 14, 2021, 12:28 PM
Interested in more data on startup investments? Access our data on 7,490+ startup funding rounds
---
Early signs of a Tech boom in MENA and across all Emerging Venture Markets could be traced to the first ventures creating online marketplaces. This revenue tapping disruption led by E-commerce ventures across industries in MENA, Turkey, Pakistan paved the way for next-generation ecosystems to start forming and elevating. As E-commerce industries in MENA gain more investor attraction, growing in funding from 131M in 2019 to almost $300M by Q3 2021, the FinTech space was also observing a congruent growth. 
As most recently recorded, funding in FinTech spaces across MENAPT has grown more than 420% YoY signifying a staggering capitalization on internet adoption and E-commerce familiarization. A greater driver for FinTech innovations this year has been setting the infrastructure for online payment and exploring the many payment solutions available- namely, of the top deals closed this year across MENAPT was UAE-based Tabby, Turkey-based Colendi, Pakistan-based Tag, and Egypt-based Paymob. 
In light of their recent report "MENA's Digital Transformation" we invite Remo Giovanni Abbondandolo, SVP of MENA, Checkout.com to give us insight into the intricacies and potential of this digital elevation in Emerging Venture Markets. As the UK-based FinTech provides digital payment solutions globally, they survey more than 10,000+ users in MENAP to bring out key takeaways:
---
---
---
All you need to know on MENAP's digital payment evolution. Download the Free Report by Checkout.com
---
The way consumers pay across the Middle East, North Africa, and Pakistan (MENAP) is fast evolving. We've seen the rapid adoption of digital payment methods in every market in the past eighteen months. This is as the impacts of the COVID-19 pandemic led more people to use digital commerce channels and raised hygiene concerns around cash. 
Checkout.com's latest research of 13,000 consumers across the region shows the true extent of this evolution. The data finds that 60% of consumers say they prefer to pay using a digital payment method. This is a 20% increase from 2020. Unsurprisingly, we see the use of cash has plummeted. According to reports from Visa, its usage has declined by as much as 75% in some markets.
But what's interesting is that we're not simply witnessing a 'forced' change in behavior due to initial pandemic protocols. Instead, there's a genuine shift in consumer mindset. And that's not only leading consumers to embrace digital payments at scale. It's leading them to experiment with a wide variety of payment methods. 
---
All you need to know on MENAP's digital payment evolution. Download the Free Report by Checkout.com
---
The emergence and meteoric growth in the use of buy now, pay later (BNPL) encapsulates this trend. Checkout.com's data finds that a quarter of the region's population has used a BNPL option in the past 12 months. Numbers mean that the MENAP region has quietly become a BNPL leader, with the pace of adoption outstripping that seen in North America and Europe. 
Saudi-headquartered, Tamara, is one of the region's BNPL leaders. In the past six months, its transaction volume has grown by 75% on average month-over-month and it's onboarded over 1,200 major brands. It also announced the largest Series A round in the region, led by Checkout.com. Tamara's CEO and Co-Founder, Abdulmajeed Alsukhan, told us that he's not surprised that consumers in the region have embraced BNPL. "It's no big secret that MENA's payments ecosystem has long needed improvement," says Alsukhan. "BNPL provides a great alternative to cash as it replicates the experience of receiving the product or service before paying for it. Also, compared with traditional credit cards, BNPL is transparent and easy to use, which also appeals to consumers.
"Merchants offering BNPL are not only providing their customers with a better experience," adds Alsukhan. "They're also likely to see their revenues increase. That's because customers paying with BNPL tend to convert more often at the checkout and place larger orders than they would when using other payment methods. To put this in perspective, we typically see a merchant's checkout conversion increase anywhere between 10% to 30% when offering BNPL. While their Average Order Values increase by 30% on average — and by as much as 85% in some cases." 
---
All you need to know on MENAP's digital payment evolution. Download the Free Report by Checkout.com
---
Moving away from traditional forms of payment towards new forms of digital payments like BNPL creates a tremendous opportunity to transform the experience businesses provide customers. Those brands that capture this opportunity are set to unlock new growth opportunities and increase revenues.
We see this first hand at Checkout.com as we work with the region's largest brands to support them as they rethink the role payments play in their organizations. With our innovative payments technology, businesses can quickly adapt and offer their customers the region's most popular digital payment methods. And our on-the-ground teams of payment experts work in partnership with our merchants to help them analyze their payment flows to uncover the optimum solution to meet their objectives. 
This work has allowed businesses like OSN to stop accepting cash payments entirely from their customers. Instead, they're now using Checkout.com to offer digital payments like Apple Pay across the region, Fawry in Egypt, KNET in Kuwait, and mada in Saudi Arabia. The move has reduced risk, cut costs, and allowed them to open their service to a new segment of customers. 
MENAP's payments landscape is alive with innovation, and the speed of change we're seeing is phenomenal. And our data shows no signs of this slowing down. For instance, over 50% of consumers say they'll use BNPL at least once in the coming year. What's exciting is that these trends are not only transforming the interactions between consumers and businesses. They're laying the foundations to embrace digital across every sphere and unlock prosperity and growth for all across the region. 
Download Checkout.com's latest report to get exclusive insights into how businesses can meet the expectations of consumers across MENAP. 
 
---
Check out with a  cart full of insight. Browse 1,500+ E-commerce startups in MENA
How MENAP became a digital payments pioneer