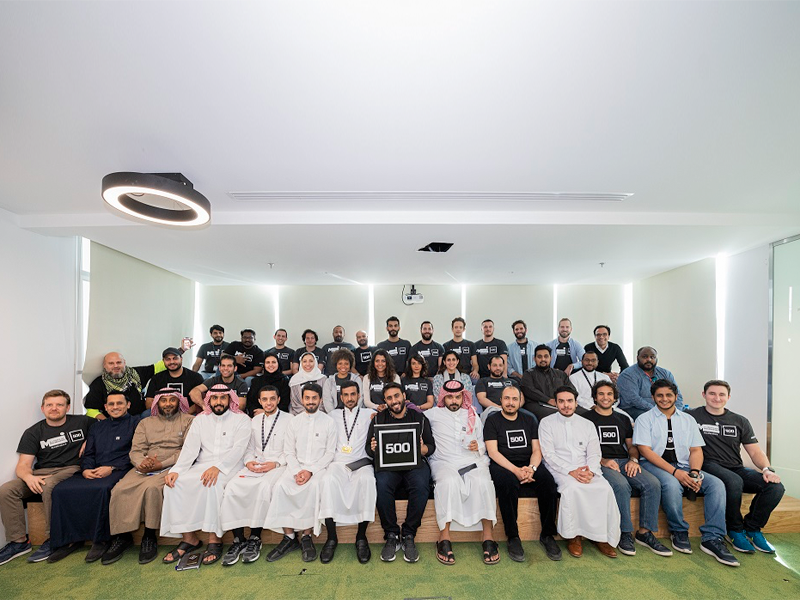 500 Startups and Misk Innovation announce the third cohort of the MENA accelerator program
Source: Press Release
Posted 3 years ago - Apr 29, 2020, 11:32 AM
Global venture capital firm 500 Startups and Misk Innovation announced today that 16 companies in Misk500's third batch have successfully completed the 14-week accelerator program.
With this batch, 500 Startups and Misk Innovation continue on their mission to discover and back the most talented entrepreneurs in the Middle East and North Africa, as they face unexpected challenges amid the COVID-19 pandemic.
In the name of safety and in support of founders, 500 Startups and Misk Innovation quickly pivoted their program to an online format to provide founders with the tools and guidance they need to succeed in a more challenging environment. Drawing lessons from 500 Startups' successful Digital Demo Day in March at its San Francisco flagship accelerator, the Misk500 program will culminate on May 11 in a virtual demo day. 
Attendees from across the MENA region can watch the streamed event on YouTube at 9:30 pm KSA Time and engage directly with the founders. Attendees will also have first access to presentations, demo videos, team bios and more.
Batch 3 consists of a diverse group of MENA startups hailing from Saudi Arabia, Egypt, United Arab Emirates, and Jordan. They are building B2B and B2C solutions to issues in several sectors, including fitness, recruiting, e-commerce and healthtech. With this batch, 500 Startups will have a total of 150 investments in the MENA region.
Misk Innovation, the key program partner in this endeavor commented on the partnership, saying, "The MiSK Foundation, in proud partnership with 500 Startups, shows its persistence to deliver. Despite the obstacles of the COVID-19 crisis, the accelerator is still producing results. No matter the situation, akin to the entrepreneurial spirit, the Misk Foundation is committed to playing its part in cultivating the entrepreneurial ecosystem through its diverse initiatives. We believe that our partnership with 500 Startups proves valuable in reflecting our commitment, especially during the current COVID-19 situation, by taking our initiatives virtually."
Sharif El-Badawi, Managing Partner, 500 Startups MENA, said: "I would like to congratulate our founders, their teams and our mentors for the smooth and seamless transition of the accelerator program to fully remote teaching. Despite the challenging times, the founders have gained valuable insights from the program."
The companies in Batch 3 are:
• Appgain.io: Helps mobile marketers get more users and improve retention in one single platform.
• Bankiom: A digital bank that allows customers to open a current account and quickly download a virtual debit card on your smartphone.
• Bondai: The first marketplace to help group travellers discover and book curated touristic experiences in Saudi Arabia.
• Circle: A mobile app that enables property managers to better engage with their tenants, handle their requests, and reduce operational costs.
• COVETI: Enables independent fashion designers to produce on-demand garments in under 72 hours through a curated network of suppliers.
• DigitaSport: A SaaS platform that helps sports teams and leagues build their own mobile app to engage with their fans.
• ElCoach: A mobile app that helps you achieve your health goals through personalized fitness and nutrition plans.
• Elva: A wearable device that allows patients to adhere to their medication regimen.
• Johrh: The leading online abaya store in the GCC, selling a range of quality designs at affordable prices.
• MWJ: A marketplace to buy new and pre-owned certified luxury watches in Saudi Arabia.
• Tammwel: An online gateway to find the best, personalized loans for all your needs with instant approval.
• Tasaira App: A mobile app that helps Saudi drivers get tailored quotes from trusted repair shops.
• Wee: The first electrical scooter sharing provider in Saudi Arabia.
• Wuilt: A website builder where you can create your own Arabic website in under 5 minutes.
• Yovza: A SaaS platform that helps construction companies in MENA quickly digitize their approval workflow.
---
Are you a startup looking for investment? Apply for funding to 75+ investors now. 
Careem's acquisition was a defining moment for MENA's Delivery & Transport industry, but what lies ahead? Find out more trends on one of the region's top startup industries in our new 2019 MENA Delivery & Transport Venture Investment Report. 
500 Startups and Misk Innovation announce the third cohort of the MENA accelerator program